4 Fixes If Your Budget Keeps Failing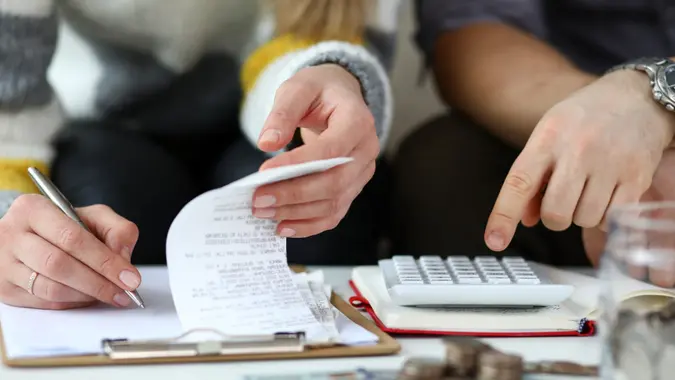 megaflopp / Getty Images/iStockphoto
Even though it's a new year, Americans are still reeling from the effects of the coronavirus pandemic. And while many people have suffered financially, some good has come from the bad. According to the First National Bank of Omaha's Pandemic Financial Impact Survey, released in September 2020, 72% of respondents said that the pandemic has caused them to become more organized when it comes to finances. Even so, 55% admitted living paycheck to paycheck — an uptick from 49% of respondents in FNBO's Financial Planning Survey released in spring 2020.
Read More: 50 Ways To Live the Big Life on a Small Budget
Now, more than ever, having a budget is vital to help you manage your money. But a budget is worthless if it doesn't work. To help you troubleshoot, here are four common reasons budgets fail and their fixes.
Your Budget Is Too Time-Consuming
A budget takes work, which means you have to dedicate the time. But that doesn't mean you have to spend every Saturday poring over spreadsheets to make your budget a success.
Make Your Money Work for You
To fix this fail, find ways to make working on your budget more efficient. A variety of user-friendly budgeting apps are available to help you manage your budget in real time. With a budgeting app, you can sync your bank accounts, so your budget automatically updates as you spend. You can also set up notifications to alert you if you're in danger of overspending. Other features budgeting apps offer are tracking expenses via category or merchant and monitoring the cost of subscription services.
Your Budget Doesn't Give You Enough Flexibility
If your expenses fluctuate from month to month, a rigid budget with no room for adjustments won't work. You need to be able to roll with the financial punches.
Find Out: 35 Useless Expenses You Need To Slash From Your Budget Now
To fix this fail, find a budgeting plan you can live with, such as a zero-based budgeting plan, which assigns every dollar a job. While that may sound inflexible, it doesn't have to be. To make your budget more flexible, look into a budgeting app, like YNAB, which uses zero-based budgeting but allows you to adjust your spending categories as needed. That means if you overspend in one category during the month, you can pull from a different category that still has unused funds.
Make Your Money Work for You
Your Budget Doesn't Help You Deal With Surprise Expenses
If you're living paycheck to paycheck, it doesn't take much to throw your budget into chaos. An unexpected car repair, a dental emergency or a broken appliance can cost hundreds — or thousands — of dollars that your budget can't handle.
Related: How I'm Sticking to a Budget and Spending Less During COVID-19
To fix this fail, add a "Surprise Expenses" category to your budget and set up automatic transfers of $50 from each paycheck to your savings account. If you don't have a savings account, open one. Many banks offer promotional bonuses — sometimes hundreds of dollars — when you open an account and complete qualifying activities, like depositing a certain amount within a specified time period. If you happen to open a new account and score a cash bonus, use it to boost your emergency savings balance.
Your Budget Allows You To Spend More Than You Make
One key sign that your budget is failing is if you only pay the minimum payment due on your credit cards each month. If you do this, you are likely spending more than you make — and using your credit cards to help you make up the shortfall.
Looking Ahead: How To Budget and Plan For a Vacation in 2021
To fix this fail, stop using your credit cards. Then, dedicate a portion of your budget toward paying each credit card's minimum payment plus the current interest charges. If you don't have any money in your budget to spare, you need to make adjustments. Look at your discretionary spending — think takeout, clothing and streaming subscriptions — and see where you can cut back. Then, put those newfound dollars toward your credit card debt each month.
Make Your Money Work for You
More From GOBankingRates
Make Your Money Work for You