How TikTok Is Helping Gen Z Tackle Budgeting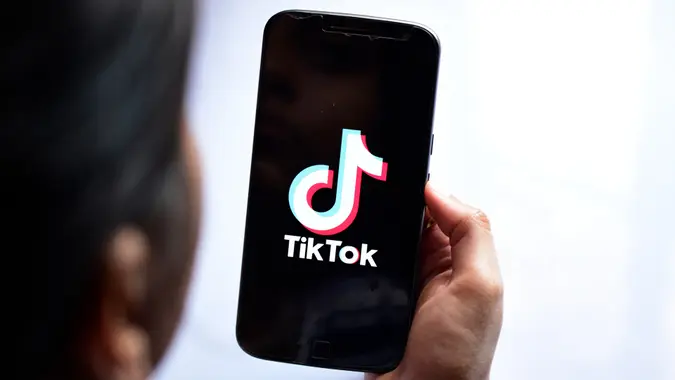 Funstock / Shutterstock.com
TikTok has become not only a popular app for the latest news and funny videos, but also a valuable platform young generations are using to seek advice on managing their money effectively. According to a recent survey from marketing company Vericast, 34% of Gen Zers are getting financial advice from TikTok.
Thanks to savvy financial creators and an approachable app platform, TikTok has completely changed the game for young people as financial advice and information are now more accessible than ever. 
Here are some key ways TikTok is helping Gen Zers tackle budgeting and why it's so beneficial for young Americans to be financially literate. 
4 Ways TikTok Is Helping Gen Z's Financial Literacy
The earlier young people learn how to budget, save and invest, the better. Here are a few ways TikTok is streamlining this process.
Easy-To-Digest Videos
"'TikTok is helping the Gen Z generation become more financially literate through easy-to-digest videos on essential topics," said Natalie Warb, financial expert at CouponBirds. "'FinTok' is allowing the younger generations to comprehend important information on personal finance and investing through popular hashtags such as #StockTok."
Make Your Money Work for You
The platform's engaging short-style videos make it easy for users to go down a rabbit hole of financial advice and spend hours obtaining essential savings and spending insight without it feeling like a draining chore.
Take Our Poll: Who Has Given You the Best Money Advice You Have Ever Received?
Unintentional Financial Literacy
Currently, "What I Spend in a Day" videos and other similar money-related topics are blowing up on the platform, where content creators show how they budget their day in cities such as New York or L.A. These videos display financial transparency as well as how feasible it is (or not) to live in an expensive city. While it might not seem like it, this type of video is promoting financial literacy and starting conversations among Gen Zers about budgeting and money management.
"Financial literacy is vital to any generation, however, integrating financial advice and information into our social feeds is an easy way to become more educated in these topics without even realizing it," Warb said. "Users should be encouraged to fact-check any information before acting on the advice to ensure the details are correct."
Positive Feedback Loop of Learning
For Gen Zers, it's second nature to reach for their devices to find out anything they want to know, and TikTok's algorithm lends itself to an accelerated financial learning process. If a user wants to learn more about finance or budgeting and is watching content in that area and engaging with those videos, TikTok's algorithm will send them more of that content. 
Make Your Money Work for You
Free and Accessible Content
TikTok is undoubtedly breaking down the barriers many Americans faced before its existence, as the free platform is making financial advice more obtainable than it ever has been. Before TikTok, people who wanted to access financial advice had to do their own research — which, while free, also took more time and effort — or seek out a financial advisor.
The cost to see a financial advisor depends on the payment structure used by the advisor, but those who charge a flat rate typically cost between $2,000 and $7,500 per year. Advisors may also charge a percentage of the client's account balance, typically 0.25% to 1% per year.
While having a financial advisor is undoubtedly valuable, it's less appealing when you don't have much money to begin with. In this way, TikTok is doing an excellent job of bridging the gap between young Americans who want financial advice but can't afford a personal advisor. By building financial literacy now, Gen Z is able to start integrating healthy money habits without going out of their way or paying an expensive fee to do so.  
I'm a Self-Made Millionaire: These Are the 6 Investments Everyone Should Make During an Economic Downturn
Make Your Money Work for You
Popular 'FinTokers' and Why You Should Follow Them
TikTok is flush with engaging and informed financial content creators who are happy to help Gen Z manage their money and build good financial habits. Not only can young Americans get great advice in under three minutes, but these content creators help ease financial stress while breaking down money basics in a step-by-step way.
Check out these three popular accounts if you want to get started on FinTok.
YNAB (@ynabofficial)
The TikTok account for You Need a Budget (YNAB) is flush with everything young Americans need to know about setting goals and taking control of their finances. If you're looking for a FinTok account that emphasizes a positive and informed approach to money habits, look no further.
Tori Dunlap (@herfirst100k)
Tori Dunlap, @herfirst100k, is a TikTok money expert and the author of "Financial Feminist: Overcome the Patriarchy's Bullsh*t to Master Your Money and Build a Life You Love." After she managed to save $100,000 by age 25, Dunlap started using her platform to empower other women to feel financially confident. Dunlap's videos are a must-see for every feminist Gen Zer looking to obtain better money skills and achieve financial independence.
Seth Godwin (@seth.godwin)
Seth Godwin, who you can find @seth.godwin on TikTok, started his account during the COVID-19 pandemic and presents financial news regarding the investing world in an easily understandable way. In addition to being a great account for those who want to keep up with the latest financial news, his account is also ideal for anyone wanting to gain budgeting tips. Godwin's videos feature financial tips and tricks great for those new to the money world, such as why you shouldn't consolidate your debt and tips for buying a car in 2023. 
Make Your Money Work for You
More From GOBankingRates
Make Your Money Work for You