How to Tactfully Bow Out of Group Trip Activities When You Can't Afford Them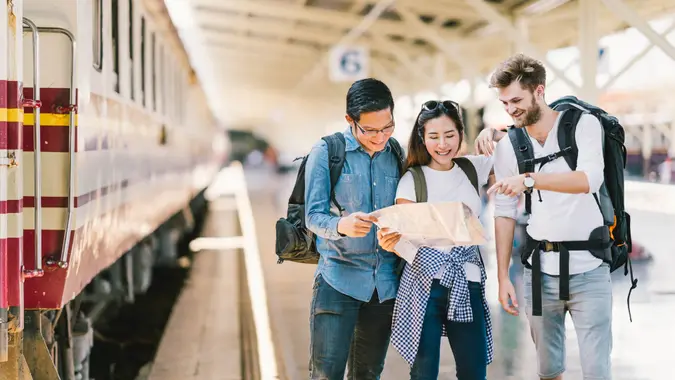 beer5020 / Getty Images/iStockphoto
You love spending time with friends, but you're not made of money. Lately, you've been invited to a few group trip activities that sound fun, but just aren't in your budget.
See Our List: 100 Most Influential Money Experts
Find Out: 7 Things You Should Never Do When Planning for Retirement
This makes sense, considering prices for things like travel and dining out are on the rise.
For example, the average cost of a weekend domestic trip averages $725, including a roundtrip ticket and a two-night hotel stay — nearly 25% more than in 2019 — according to Hopper. Additionally, restaurant menu prices surged 7.7% from June 2021 to June 2022, according to the National Restaurant Association.
"We are living in very challenging times and our lives have changed tremendously," said Maryanne Parker, etiquette expert and founder of Manor of Manners. "Many businesses collapsed during the pandemic, many income streams got lost and even the most promising organizations are suffering big losses." 
What was once considered a normal lifestyle can appear extravagant at the moment. Therefore, she said attending events like group trips, wine tastings and even a birthday celebration can be problematic.
Parker said there are several considerations to weigh to avoid offending someone, while also preserving your loyalty to them.
Make Your Money Work for You
How Important Is This Particular Group Activity
"In many occasions, we need to determine how important the occasion is and what it is about," she said. " If we are invited for a wine tasting, but we are no longer wine lovers — many things changed during the pandemic — we can definitely turn down the offer to participate."
She said this is because the main reason for gathering is no longer important to you, so you wouldn't be able to enjoy it as you used to.
"We simply should explain that this could have been a great opportunity, however, we are leaning towards different types of entertainment and if there is another option in the future, we would love to attend," she said.
In the past, you might've attended just to be part of the group, but Parker said it makes sense to be more selective in terms of entertainment when money is tight.
Who Will Be Attending
It's inevitable that you're closer to some friends than others, so Parker said this should guide your response. If you're invited by a close group of friends, she advised being honest with them that the trip isn't currently in your budget.
Make Your Money Work for You
"On another hand, if the group of people are not that close to us and simply feeling empty seats, we should be comfortable to say 'no' to them — of course in a polite manner," she said.
If you're not sure how to be courteous, but firm, she offered up a suggestion.
For example, "Thank you for thinking of me, unfortunately, I won't be able to attend the group trip at this time, please keep me informed for future events. Have a wonderful time!"
Take Our Poll: Are You Concerned That Social Security Benefits Will Be Reduced During Your Lifetime?
How We Will Be Affecting the Group if We Do Not Attend
It's possible this trip was actually your idea, but unexpected events caused your finances to take a hit.
"If we were the initiators for the trip this might be rather unfortunate if we won't be able to attend our own trip," Parker said. "We have a few options, to cancel, to find a way to attend, or appoint someone else to take our place for this particular trip."
Make Your Money Work for You
No doubt, you'll feel a mixture of guilt and disappointment if you're in this situation, but try to find a silver lining.
"Life happens and we should look for the best way possible," she said. 
The Guilt Attendance Is Not Beneficial for Anyone
It's inevitable that your friends will be disappointed that you cannot attend. However, Parker said it's always better to decline instead of feeling obligated to go, despite not having the money.
"Many times the peer pressure is stronger than us and we give in because we feel guilty," she said. "Usually the guilty involvement is not beneficial for anyone, because we do not enjoy the event  —  and in many cases, our body language shows more than we would love the world to know about it."
Do Not Burn Bridges
Not having the money to afford an activity with your friends can leave you both frustrated and disappointed. Therefore, it's not uncommon for emotions to get the best of the situation, but Parker emphasized the importance of always trying to be polite and kind when declining an invitation.
"Many people might be excited to see us, and even if we cannot attend now, there is always another event and a group trip in the future," she said.
Ultimately, your real friends adore you no matter how much money you have to spend on group activities. Anyone who makes you feel bad about not being able to afford an event probably isn't worth your time anyway.
More From GOBankingRates
Make Your Money Work for You