I Put All My Bills on Autopay: Here's What It Taught Me About Budgeting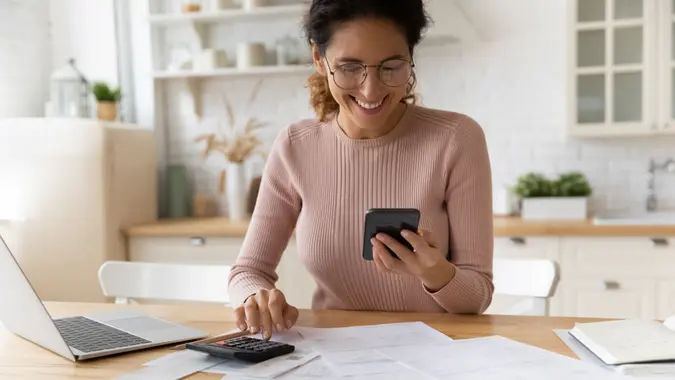 fizkes / Getty Images/iStockphoto
Most people know they can schedule some of their monthly expenses to be deducted automatically from their bank account, and that some service providers even offer discounts to customers who use autopay.
They probably also know that most experts advise picking and choosing which bills to put on autopilot because it's safer to pay some the old-fashioned way.
But one entrepreneur took the efficiency of autopay to the extreme by scheduling every one of his obligations to pull from his bank account automatically every month without his human final review no matter what kind of bill it was.
Here's what worked, what didn't and what his experiment taught him about budgeting.
Is There Such a Thing As Over-Optimizing Your Finances?
Dmitriy Shelepin is the founder, CEO and head of search engine optimization (SEO) at MiroMind, an agency that helps businesses improve their organic search, drive relevant traffic and convert it into qualified leads.
A natural hound for efficiency, Shelepin saw an opportunity to apply his skill at optimizing search and social to his own financial life by automating every single one of his monthly expenses.
But personal finance is different from digital strategy, and putting all your bills on autopilot is a radical departure from best practices according to mainstream financial advice.
Make Your Money Work for You
Here's what Shelepin learned from his extreme experiment in budgetary streamlining.
In Terms of Cost and Convenience, There Was Plenty To Like
Shelepin's experiment yielded mostly positive results. First, he enjoyed an unprecedented level of convenience by putting all his bills on autopilot while also dodging the personal finance landmines of missed payments and the penalties they bring.
"Autopay helped me save time and money," said Shelephin. "I don't have to worry about forgetting to pay a bill, and I can avoid late fees and penalties."
On top of that, he was surprised to learn that autopay helped him stay on budget.
"I can see exactly how much money is going out each month on recurring expenses and I can make sure I have enough money in my account to cover them," he said.
Shelepin also believes removing the human factor helped him rein in unintended spending.
"When I don't have to think about paying a bill every month, I'm less likely to make impulse purchases that could derail my budget," he said.
The Experiment Produced Other Positive Side Effects, Too
Although some providers offer an autopay discount, the primary benefit of setting and forgetting is that it eliminates the monthly chore of paying bills — but Shelepin's experiment yielded other advantages, as well.
"Knowing that my bills are being paid on time and in full gives me peace of mind," he said.
Make Your Money Work for You
The strategy could also improve the financial profile that lenders use to determine your risk factor and interest rate when issuing loans.
"On-time payments are one of the most important factors in your credit score," said Shelepin. "By using autopay, I helped ensure my payments were always on time."
Finally, not only is autopay less labor-intensive, but it's less messy.
"Not having to receive and pay paper bills can help reduce paper clutter in your home," he said.
Convenience Can Lead to Complacency
Removing himself from the bill-paying equation saved Shelepin time, stress and perhaps even money. But it also reinforced a crucial budgeting commandment — tuning out can breed complacency, and complacency can sink your finances.
"If you're not careful, you can overspend if you have too many recurring expenses on autopay," he said. "It's important to review your recurring expenses regularly and make sure you can afford them all."
He also noted the danger of over-relying on automation, considering the technical difficulties he occasionally encountered. 
"Autopay systems can sometimes fail, so it's important to monitor your bank account regularly to make sure that your payments are being processed correctly."
The Big Autopay Takeaway: The Experts Mostly Got It Right
In the end, Shelepin's experiment confirmed what most experts have long advised — that automation is smart for some expenses, but not for others.
"Autopay is a good option for bills that you know you'll need to pay every month, such as rent, mortgage and insurance," said Shelepin. "It's also a good option for bills that you don't want to think about, such as gym memberships and streaming services.
"But autopay may not be a good option for bills that vary from month to month, such as credit card bills, or bills you may need to cancel or change, such as subscriptions and services. Overall, autopay can be a great way to save time, money and stress. However, it's important to use it carefully and to monitor your spending regularly."
More From GOBankingRates