Put These 5 Monthly Bills on Autopay — Here's Why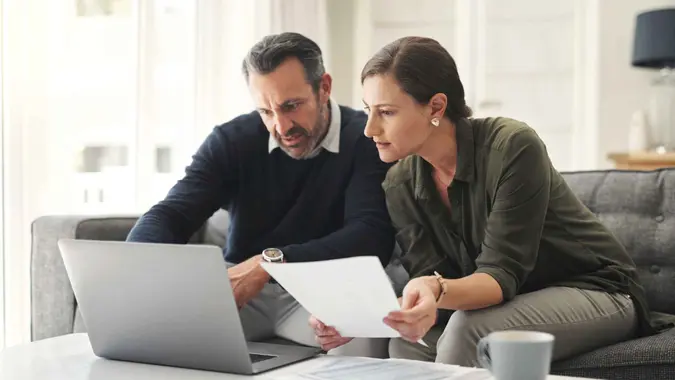 shapecharge / iStock.com
If you're a busy person, you know your life can move a mile a minute. And when you have too many obligations but not enough hours in the day, some tasks — like paying a bill on time — fall through the cracks.
Paying a bill late, or forgetting to pay it completely, can have serious consequences. Late payments can lead to hefty fees and can damage your credit score if they are reported to the credit bureaus. But if you use autopay, as long as you have enough funds in your bank account, your bill payments will be sent by the scheduled due date.
Autopaying bills is often regarded as a no-brainer when it comes to managing your finances efficiently. But which bills should you put on autopay? Everything that's available or just a select few? Here's some much-needed perspective from financial experts on their own personal experience.
Credit Card Bills
Alissa Krasner Maizes is a licensed attorney and registered investment advisor, as well as the founder of Amplify My Wealth. "I prefer to simplify managing my finances by automating the payments of my recurring individual service-related bills and my credit card bills," she said. "Still, while I appreciate being able to automate bill payments, it is not a set-and-forget task. Rather, I regularly review the statements as they become available and posted to my accounts, ensuring the charges are accurate."
Make Your Money Work for You
She added, "I prefer not to leave things to chance and appreciate that I never need to worry about being late, negatively impacting my reputation or credit report, receiving late charges and ultimately allowing me to use my time and energy towards other things to help me amplify my wealth."
Mortgage Payments
If you're a homeowner, you probably understand the importance of safeguarding your credit score. One crucial aspect of that is making consistent mortgage payments. Late or missed payments can have a huge impact on your credit score. Your mortgage payment is likely your largest expense each month, making it a top priority to ensure timely payments.
Jim Eutsler, wealth advisor at HCM Wealth Advisors, shared, "I put my house payment on autopay, because I like to pay a little extra each month to chip away at the principal, and by setting it to autopay, I simply think of that extra money as now what my house payment is."
Insurance
"Insurance bills are one of those non-essential bills that you should absolutely pay on time, which is why I always set my life and health insurance bills on autopay each month," said Cath Brands, chief marketing officer at Flintfox.
Whether it's car insurance, health insurance or life insurance, falling behind on payments can have serious consequences. Car insurance providers may terminate your coverage, leaving you holding the bag in the event of an accident. Health insurance can be lost after just one month of non-payment, forcing you to bear the burden of medical expenses. You also run the risk of losing coverage until the next open enrollment period.
Make Your Money Work for You
Retirement Contributions
Lisa Shelby, senior editor at ThePricer.org, said, "I've set up automatic contributions to my retirement account and investment portfolio. This strategy, often referred to as 'dollar-cost averaging', allows me to consistently invest, irrespective of market conditions, and benefit from the power of compounding over time."
Utility Bills
Tim Connon, founder of Paramount Quote Insurance Advisors, said, "For my phone, I do not want any service interruptions, because I could wind up missing important calls and having to go through the hassle of getting it turned back on. My internet and electricity are crucial to me working from home, so I always make sure they are on auto-pay to avoid any possibilities of those utilities being shut off.
"This allows me to enjoy things like a vacation knowing everything is paid automatically or [handle] an emergency that requires me to go out of state to possibly check on family at random. Situations happen, so by having these crucial bills on auto-pay, I can avoid the pitfalls of it."
Consider Using Your Credit Card To Pay Your Bills
When you use your checking account for autopay, you may be missing out on rewards from your credit card.
Ashley Fricker, senior editor of BadCredit.org, shared this tip: "I have a few accounts set up to auto-pay from my credit card account to receive various credits and protections. For example, my Platinum Card from American Express gives me a $20 digital entertainment credit each month that I use to offset the cost of my Hulu subscription. I also use this same card to pay my AT&T bill to get the cellphone insurance coverage. My [American Express] payment is then auto-drafted from my checking account each month, and I have it set to pay the full statement balance to avoid interest charges."
Make Your Money Work for You
Review and Pay Some Bills Manually
"I've chosen not to put my credit card bills on autopay," said Shelby. "Instead, I review these bills manually each month. This allows me to keep a close eye on my spending, spot any potential fraudulent charges, and ensure I'm not paying for services I no longer use."
And James Allen, founder of Billpin.com, said, "I put my utilities, mortgage and credit card bills on autopay. Why? Because I believe in the power of automation to free up mental space and time. With autopay, I can set it and forget it. But here's the controversial part: I don't put everything on autopay. My gym membership, for instance, is not on autopay. I want to feel the pinch every month, to question if I'm getting my money's worth. It's a small act of rebellion against the convenience of modern life, a reminder that not everything should be so easy to forget."
Vance Cariaga contributed to the reporting for this article.
More From GOBankingRates