Is a Return to Pre-Pandemic Spending Causing You To Go Over Budget?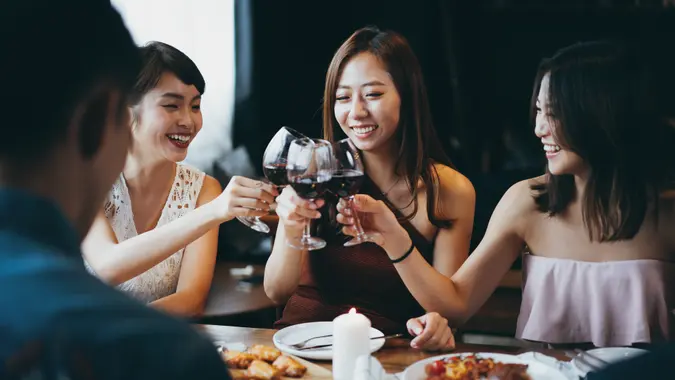 AsiaVision / Getty Images
During pandemic lockdowns, many Americans significantly reduced their spending on dining out and entertainment. But now that the world has reopened, many Americans are back to their old spending habits — or may even be spending more than pre-pandemic to make up for lost time.
A recent TD Bank survey found that the shift to pre-pandemic habits has indeed been driving some consumers' inclination to overspend. Here's a look at where people are overspending — and what you can do to stay within your budget.
30% of Americans Are Overspending on Dining Out
The percentage of consumers who report overspending on dining out at restaurants and bars tripled compared to 2021 — 30% versus 10% — the TD survey found.
"A lot has changed from 2021 to 2022, and there's a lot of things that are driving that overspend," said Mike Rittler, general manager of retail card services and personal lending and business development at TD Bank. "One is just the access — to be able to be out and about doing things. The other is inflation. But I think regardless of the reasons, there's a lot that can be done."
The best way to stop yourself from overspending when going out to restaurants and bars is to know in advance how much you are going to spend — and keep to that amount.
"Have that plan and stick to it," Rittler said. "Make sure you're managing your cash in a way that makes sense to you. Sometimes that might mean skipping the dessert, or maybe prioritizing the dessert and skipping the appetizer, depending on what floats your boat. Having that in mind before you go out, the awareness of where you want to be and what you want to spend on that evening, can really help you stay within your plan."
Make Your Money Work for You
10% of Consumers Overspend on Entertainment Purchases
No consumers reported overspending on entertainment purchases in 2021, but 10% now say they tend to overspend in this area. The key to keeping on budget in this category is to be more selective about what you choose to spend your money on, Rittler said.
"For me, what it comes down to is, what's going to really bring the most level of enjoyment and satisfaction from my spending? Prioritize those things that are really going to matter, whether it's a favorite artist that you're going to go see or the movie you want to go see," he said. "I'll spend a little more on the things I really want to do, but I'll eliminate some of the spending on things that are just nice to do."
54% of Americans Overspend on Shopping
Shopping is the category that most Americans tend to go over budget on. According to the TD survey, "while most people are still more likely to go overboard when shopping online, consumers who attribute overspending to shopping in-person more than doubled from 12% in 2021 to 29% in 2022."
In order to stay within your budget, it's important to resist impulse purchases, both when shopping online and in-store, Rittler said. One way to do so is to be an informed shopper and only buy what you know is actually worth the money.
"Do research on what you want to buy, especially on big-ticket items," he said. "Be smart, do your research and really find the best deal for you."
Make Your Money Work for You
When it comes to shopping in-store, you may face additional pressures and temptations that can cause you to overspend.
"You could be working with a salesperson, and that could be putting some pressure on you as well," Rittler said. "I think [being] a well-armed consumer helps. You'll know the right questions to ask, you'll know what's important to you and you won't be as easily influenced."
Another way to prevent making impulse purchases in-store is to enlist the help of an accountability partner.
"Have a trusted confidant with you that will help you steer clear of some of the traps and the FOMO purchasing that can take place," Rittler said. "Sometimes, if you just have somebody that you share some of your goals with, they can help you stay in line."
The Role of Inflation
Even the savviest consumers may find that they are still going over budget this year due to inflation and the rising costs of their everyday expenses.
"One of your key categories — groceries — is up 7.4% year over year in January, according to the Burea of Labor Statistics," Rittler said. "That's a huge increase. If you think about the items that are fundamental staples to your everyday life — groceries, gas, dining out — all of those are costing more now, so even the best-laid budget is going to look different now."
Because you will inevitably have to spend more on essential items, Rittler notes that you may need to adjust how much you have budgeted for discretionary spending.
Make Your Money Work for You
"If you don't want to get into debt, you have to make those adjustments," Rittler said. "Having a plan is not a one-time thing. It's ongoing. It has to adjust to what's happening in the environment, it has to adjust to what's going on in your life. In this particular case, inflation is one of those external factors that's going to affect what your plan looks like, so it's really important to stay on top of that."
How To Bounce Back From Overspending
If you spent more than you can afford at the beginning of 2022, now is the time to take steps to bounce back.
"The lookback is really important," Rittler said. "Look back over that first quarter to see where did you go a little awry, where could you have done a little differently, or what categories changed because of the environment we're in. Once you understand that, it's like OK, moving forward, how do I make the adjustments to keep me in balance? If some of those staple items are going to take more of your paycheck, then what are the sacrifices you're going to make?"
This may mean delaying large purchases or doing more of your shopping at discount retailers or thrift stores.
"You have to adjust to your behavior," Rittler said. "If you overspend, it's not going to be sustainable for the long term. It's never too late to take the lookback, understand where you were and understand the changes you could make going forward."
More From GOBankingRates