Student Loans: Here's What Borrowers Will Cut From Their Budgets When Payments Resume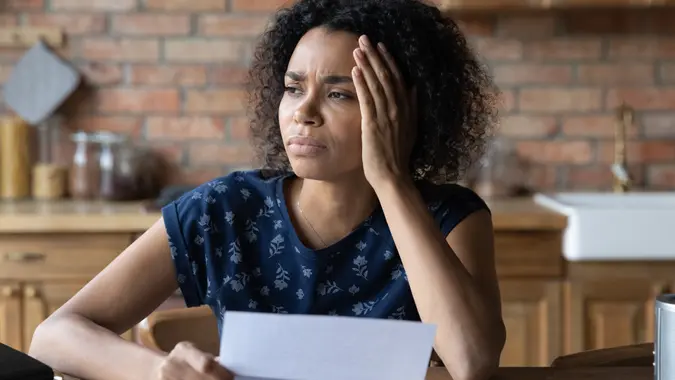 fizkes / Getty Images/iStockphoto
On Sept. 1, the federal student loan pause is set to end and 43 million Americans who were affected by the pause will start repayments. While several extensions to the payment schedule have allowed borrowers a respite during the pandemic, they are feeling the pressure of having gone 18 months without payment only to now be facing increasing inflation and interest rates.
GOBankingRates surveyed over 1,000 Americans across the country and talked to an array of financial experts to learn how borrowers will be handling the repayments — and offer ways to combat the expenses and stay financially healthy.
33% of Student Loan Borrowers Say They Will Need a Side Gig for Supplemental Income
It's hard to imagine student loan borrowers, likely out of college and working a full-time job, having to take up a new side gig to account for the monthly repayments — but it is the reality. Accordingto survey respondents, 33% of Americans with student loans say they will need to take on a side gig when repayments resume. 
Picking up a side hustle comes along with some extra responsibility, which borrowers might want to consider when choosing what type of side gig will work best for them.
"If you take on a side-gig, make sure you are making estimated tax payments across the year," said Jay Zigmont, financial planner and founder of Childfree Wealth. "It may seem simple and efficient to pick up a side-gig, but you are effectively running your own business and you are responsible for taxes, appropriate insurance and managing finances." 
Side Gigs To Consider
When it comes to paying back student loans, a side gig can help alleviate financial stress and generate income. 
"Some of the side gigs that may help are freelancing, evening jobs and working overtime for extra pay where that may apply," said Tracy Ackler, CEO and recruiter at GetPaydayLoan. Part-time jobs that may fall into these categories include yard maintenance, bookkeeping, remote writing, consulting and web design.
Make Your Money Work for You
It is important for borrowers to find a side gig that works with their schedule and skills in order to maintain loan repayments and avoid burnout. 
41% of Student Loan Borrowers Say They Will Be Saving Less
As loan payments resume, many borrowers will need to reassess their finances to acclimate to the monthly payment schedule. This may entail taking money from savings and retirement funds to contribute toward monthly loan payments. According to the GOBankingRates survey, 41% of Americans with student loans will be putting less money into savings when repayments resume. 
These savings borrowers are dipping into may have also taken a hit due to high unemployment rates and the financial burdens of the pandemic, leaving borrowers with heightened anxiety regarding repayment.
How To Save Money While Paying Student Loans
In order to pay off student loans, it is important to create a financial plan and continue accumulating wealth to offset the loan costs. Borrowers can also start saving and preparing for the payments in advance.
"Begin acclimating to the payment schedule starting now," said Peter Dunn, CEO of Your Money Line. "For example, you can begin making 'payments' to yourself each month and gradually increase the amount until you're making the full payment in September. Not only will you have the full payment amount already carved out in your monthly expenses, but you will also have a nice sum of money set aside from the payments you made to yourself."
Make Your Money Work for You
27% of Student Loan Borrowers Say They Will Defer Other Debt Payments
More than 1 in 4 borrowers, 27%, cited that due to monthly repayment costs they will be deferring other debt payments, such as credit cards and mortgage payments, but Acker said this isn't a good idea. 
"I would not advise loan borrowers to defer any other repayments that they should make in order to concentrate on student loans," Acker said. "In the deferment period, the other loans will be accumulating interest. My advice is for people to find a way for repaying all loans simultaneously to avoid further increments in interest."
39% of Student Loan Borrowers Say They Will Be Eating Out Less
More than 39% of student loan borrowers said they will be eating out less when repayments resume due to lack of room in their budget for meals out. Experts voiced that eating out is still possible on a tight budget, but it is important to plan and set money aside for these nights out. 
Tips for Eating Out and Grocery Shopping on a Budget
The costs of student loan payments can make paying for everyday necessary expenses, like food, seem daunting. However, with careful budgeting, it is possible to eat out and cut back on food and grocery costs during loan repayment. 
"While dining at a favorite neighborhood steakhouse is tempting, it can quickly consume your budget," said Kevin Steward, co-founder of USBadCreditLoans. "These luxuries should be reserved for special occasions. Eat out, take out and order delivery food once a month. Purchase your groceries in bulk."
More From GOBankingRates
Make Your Money Work for You