These 7 Common Purchases Are Extremely Overpriced — Are There Any You Can Cut From Your Budget?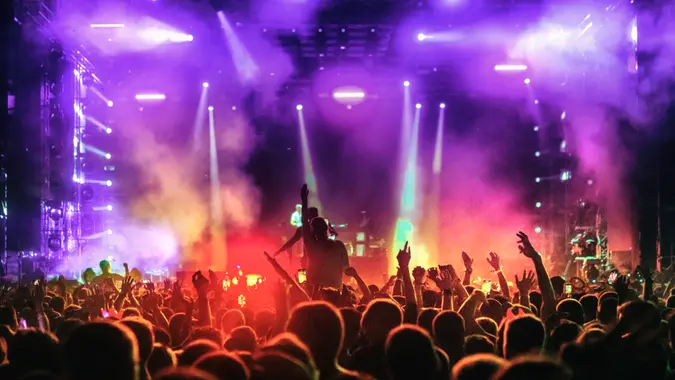 gilaxia / Getty Images/iStockphoto
In October, CNBC reported that persistent high inflation and consumer prices were responsible for the typical U.S. household spending $445 a month more to purchase the same goods and services they did a year ago, according to Moody's Analytics.
See: 11 Grocery Items To Buy at Dollar Tree
Read: 3 Ways Smart People Save Money When Filing Their Taxes
Find: 10 Things To Stop Buying in 2023
Given the current economic climate, many Americans have already begun to axe discretionary purchases and are trimming their budgets of things they can do without. Here are 7 common costly purchases that everyone should think about when they are trying to maintain a healthy budget.
Unlimited Cellphone Data Plans and Apps
People are consuming more mobile data on their smartphones each year. According to a 2021 report by Ericsson, the monthly global average usage per smartphone now exceeds 10GB per month. But give your phone a good once over and you might find you're using a lot less data than what you're paying for — and are rarely utilizing apps that burn through data. Unlimited phone plans are an easy sell, but refusing to pay for data you'll never use is an easier save. After you've looked at ways to save on your smartphone plan, do the same for your cable TV or satellite plans, if you still have them.
Make Your Money Work for You
Gourmet Coffee
Unlike grocery store and restaurant visits, escalating prices haven't kept people away from spending money at coffee shops and cafes over the past couple of years. According to The Wall Street Journal, despite steady price increases and much cheaper options at home, purchases at coffee shops and cafes rose 1.9% from June 2021 to June 2022 as other food service consumer spending nosedived. As Business Insider stated, "While many people prefer high-end coffee, it can be a spending trap, especially when you're paying for the coffee to be made in front of you."
Concert and Sports Events Tickets
When it comes to live entertainment, few things beat seeing a concert or going to a sporting event. Getting to witness live action is a magical experience, especially now that events are often back to operating at full capacity. However, with tiered "dynamic pricing" structures now the norm, concerts and sporting events have drawn criticism for being too expensive for the average fan. Ticket gouging and exorbitant concession prices have driven the cost of a three-hour event in the high hundreds — or even thousands — of dollars. Once in a lifetime events are actually quite rare, so choose them wisely… or opt to save your money.
Make Your Money Work for You
Cars
Cars are hardly common or small purchases you can trim from your budget. But with new car prices and financing rates constantly increasing (alongside insurance premiums, fuel and maintenance costs), many Americans are thinking twice before taking the plunge. And it's not just new cars that are causing financial burdens. As CNN noted, the average price of a used car in December had dropped from the record high in April 2022, but used cars are still very expensive. Today's average used car price is about the same as the average new car price in 2010, according to CNN. Many Americans are driving less and changing insurance providers in an attempt to save money. Some are quitting driving altogether, opting to use public transportation instead.
Food Delivery
Food delivery companies made a killing during the pandemic. However, many people, trapped by a fast-paced lifestyle that leaves little time for food prep or cooking, are still caving to the convenience and lure of food delivery. Food and its delivery charges can add up quickly if you're ordering meals a few times a week. Groceries are expensive but, like making your own coffee, preparing meals at home is always less expensive, and more satisfying.
Gym Memberships
'Tis the season for resolving to get in shape and investing time and money at your local gym. But the price of a gym membership can range anywhere from $10 to $100 per month — and that's not including joining and annual fees, as well as workout apparel and footwear. If you're finding that you don't work out as often as you intend to and you're paying over what you want to, now's the time to do something about it, despite your desire to get in shape. Untouched gym memberships, like unused automatic monthly subscriptions, are "money drains" and should be honestly looked at when you're looking at way to bulk up your budget.
Make Your Money Work for You
Take Our Poll: What Are Your Financial Priorities in 2023?
More: 10 Clever Ways To Save Money
Anything Name Brand or at Full Price
One of the unexpected bonuses of living in a time of scrimping is that it has forced people to cut costs, search for discounts and educate themselves on important things like reading packages, understanding markups and comparison shopping. There is a reason discount and bulk grocery stores are so popular, and it has little to do with inferior products. Paying for overpriced, brand-name groceries or household staples when there are so many near-identical options is a financially unwise move. And paying full price for anything nonessential should be questioned when you're at a store or about to press "pay now."
More From GOBankingRates
Make Your Money Work for You