Top 5 Things To Cut From Your Budget in February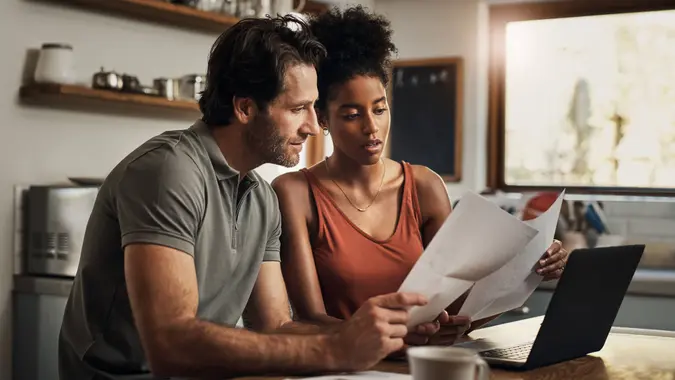 PeopleImages / Getty Images
The first month of 2021 is officially in the books, and you're looking to reset your financial goals. Perhaps your original money resolutions were too tailored to post-pandemic life — which isn't happening anytime soon — or maybe you just fell a bit off track in January.
Budgeting 101: How To Create a Budget You Can Live With
Either way, you're ready to start trimming your budget, so you can improve your financial health. Deciding which expenses to eliminate can be a challenge, but you'll thank yourself at the end of each month when you see how much money you've saved.
Helpful: 19 Ways To Tackle Your Budget and Manage Your Debt
The U.S. is still several months away from vaccinating enough people to get us in a better place with the COVID-19 crisis. Therefore, the easiest way to trim your budget is to focus on products and services you don't really need right now.
Your Car
If you're a two-vehicle family currently working from home, you might consider selling the car that sits unused in the driveway. The average monthly payment for a new vehicle is $554, while a used one averages $391 per month, according to Experian, so this is a major savings opportunity. Another option is to contact your insurer and see if they offer a discount for a vehicle not currently on the road or with reduced mileage.
Make Your Money Work for You
Related: 35 Useless Expenses You Need To Slash From Your Budget Now
Clothing
As a fashionable person, you're accustomed to purchasing new clothes regularly. The thing is, you're probably spending most of your time at home in sweats amid the pandemic. It's easy to rationalize buying clothes now to wear when life returns to normal, but there's a good chance a certain trend will have passed, you'll no longer like the item or it won't fit right anymore.
Your Nails
You take pride in being well-groomed, so you've continued getting regular manicures and pedicures throughout the pandemic when possible. The thing is, a basic manicure costs an average of $22.75, while a basic pedicure averages $36.45, according to Statista.
Read More: 17 Biggest Budgeting Mistakes You're Making
There's nothing wrong with indulging yourself sometimes, but you probably don't have many opportunities to show off those perfectly polished nails these days. However, since you're likely at home most of the time, swapping your professional manicure and pedicure for a DIY one is an easy way to cut costs.
Make Your Money Work for You
Coffee
In your pre-pandemic life, you likely bought coffee-to-go regularly, because you weren't at home. Whether you needed a caffeine boost at work or while running errands, not having easy access to your own coffeemaker meant you needed to hit up a local coffee shop.
Money Advice: Tips To Keep Your Finances in Order Without Sacrificing What You Want
However, if you're home most of the day now due to the pandemic, consider putting coffee runs on hold. At Starbucks, a grande coffee averages $2.10, rising to $3.65 for a grande latte, according to Fast Food Menu Prices. Making coffee at home will equate to greater savings than you might imagine.
Subscriptions
Chances are, you're paying a monthly subscription fee for at least one — probably more — product or service you don't really use. Whether it's a streaming service, subscription box, magazine or software program, canceling your membership will save you money with little-to-no sacrifice. These services are likely on autopay, so carefully review your monthly bank and credit card statements to spot them.
Find Out: How I'm Sticking to a Budget and Spending Less During COVID-19
Reducing your monthly spending might sound daunting, but it will probably be much easier than you think. After you adjust to the budget cuts, you'll enjoy watching the savings add up, while creating new habits that better serve you during the pandemic.
Make Your Money Work for You
More From GOBankingRates
Make Your Money Work for You