5 Ways Americans Cover Emergency Expenses Without Cash — Are Any Actually a Good Idea?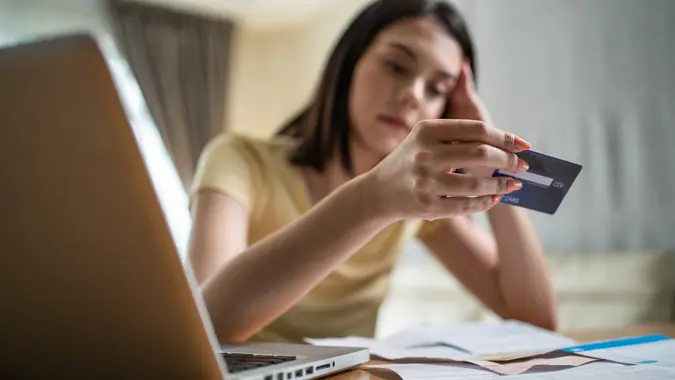 Kiwis / iStock.com
One of the first rules of personal finance is to establish an emergency fund to cover unexpected expenses or a sudden loss in income. The general guideline is that you should have enough money in your emergency fund to cover three to six months' worth of expenses, but the reality is many Americans fall far short of that goal.
A new Federal Reserve study of U.S. households found that more than one-third of U.S. adults (37%) couldn't even afford to pay an expense as low as $400 without borrowing money or selling something. That was up from 32% in 2021 and close to the pre-pandemic levels seen in 2019.
Some groups saw bigger changes than others. Last year, 43% of parents with children at home said they couldn't cover a $400 emergency expense with cash — down from 50% in 2021. One possible reason is that the expanded Child Tax Credit for 2021 was no longer in effect in 2022.
Make Your Money Work for You
Americans who can't afford to pay a $400 emergency expense with available cash have to come up with other means to pay. Here are the top five ways Americans cover emergency expenses without using cash, according to the Federal Reserve study (respondents could use multiple answers):
Use a credit card and pay it off over time: 16% of survey respondents
Borrow money from a friend or family member: 9%
Sell something: 6%
Bank loan or line of credit: 2%
Payday loan, deposit advance or overdraft: 2%
More than one in 10 respondents (13%) replied that they would not be able to pay the expense at all.
Of the above options, only one will keep you from going into debt — selling something. That's the best option if you have something of value that you don't mind parting with (although if it has personal or family value, you might want to reconsider selling it).
It's rarely easy asking a friend or family member to lend you money, but if you feel comfortable doing so, that might be a good option when you are in a financial bind. In most cases, you'll just have to pay back the sum you borrowed, with no interest attached. Just make sure you have a written agreement for when the loan should be repaid — even if it's a close family member. This will show that you are serious about repaying the money and help you avoid potential disputes in the future.
Make Your Money Work for You
As a general rule, you should avoid paying household expenses with a credit card — even if it's an emergency expense. The main reason is that you might get stuck in a cycle of not paying the card off in full, which builds up interest charges and costs you a lot more than the original expense. There's also the danger of going over your credit limit or paying the card late, which will result in steep fees.
Personal lines of credit can be a better option because some banks charge annual percentage rates as low as 6.99%. You have to be careful here, though. Depending on the bank and your own credit history, you might pay an APR of 22% or higher, as well as other fees.
Payday loans should be a last resort because of the high interest rates they charge. Similarly, creating an overdraft on your bank account to pay an emergency expense will stick you with high fees that can keep piling up if you continue to overdraft the account.
More From GOBankingRates
Make Your Money Work for You