When Joe Rogan Was 'Broke,' He Spent $10K on Fancy Wi-Fi — When Are Splurges Totally Worth It?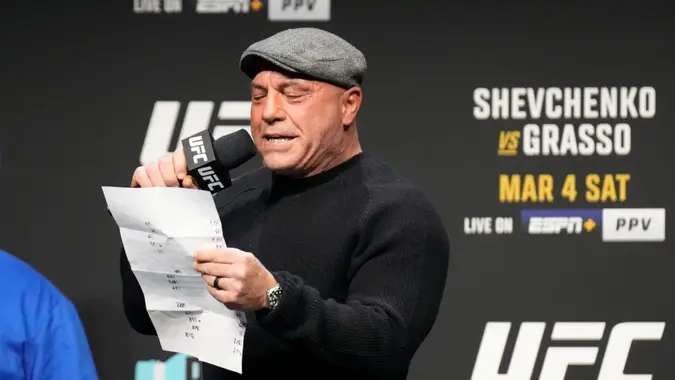 Louis Grasse/SPP/Shutterstock / Louis Grasse/SPP/Shutterstock
Before he was Spotify's $200 million man, Joe Rogan, the world's top podcaster and public face of the UFC, was just a struggling artist who spent a whole lot of time playing video games. Rogan is on record as saying that in the '90s, when he was still coming up as a stand-up comedian and actor, he was so hooked on video games that he spent up to 18 hours a day plugged in and playing.
His poison of choice was Quake.
Despite being "broke" — or at least not yet filthy rich — he spent $10,000 a month for a lightning-fast T1 internet connection that afforded him unimpeded gameplay.
That might sound like a whole lot of money to spend on something so seemingly trivial for a person whose financial future was not yet secure. But to Rogan, it clearly wasn't trivial — it was worth the splurge.
Make Your Money Work for You
You, too, might consider making room in your budget for a few of the finer things that add to your quality of life, even if you haven't yet signed a nine-figure broadcasting deal. Read on to learn more about when splurges are totally worth it.
Find Room in Your Budget To Travel at Nearly All Costs
According to Lee Health, traveling for pleasure — no, your work conference in Poughkeepsie doesn't count — offers powerful mental health benefits that are backed up by science.
Take Our Poll: Would You Move for a Job That Paid You a $10,000 Signing Bonus?
You don't have to fly first class and stay at five-star resorts, but you'll fall short of your full potential if you don't prioritize exploring new places, experiencing new cultures and meeting new people. 
Traveling helps with sleeplessness, mitigates job burnout, improves your mood, boosts creativity and reduces the risk of depression.
Think of Good Shoes as a Necessary Healthcare Expense
According to RunRepeat, the average shoe cost $124 in 2021 — already a hefty price for most households. Then, Business Insider reported that in 2022, shoe prices rose faster than at any time in 40 years.
Make Your Money Work for You
Even so, don't make the mistake of treating a good pair of kicks as a luxury item.
According to Community Health Partners, cheap shoes have a negative impact on more than just your feet. Good footwear helps prevent injury and keeps preexisting conditions from getting worse. Quality shoes provide support for your entire body and promote healthy alignment and posture. They make physical activity easier, prevent problems with circulation and, of course, prevent foot pain.
Shop for a Mattress Like Your Life Depends on Sleeping Well
According to the Sleep Foundation, mattress prices vary from $250-$3,000 or more depending on factors like production materials, construction and size. While you don't have to shop at the far end of the luxury spectrum, a good mattress is not where you want to cut corners.
First, as with most other things, you'll have to replace a cheap mattress sooner, which will cost you more in the long run. 
More importantly, Healthline confirms a direct correlation between a good mattress and a good night's sleep — and few things are more important to your health.
According to the University of Michigan, "Sleep is essential to every process in the body, affecting our physical and mental functioning the next day, our ability to fight disease and develop immunity, and our metabolism and chronic disease risk."
Make Your Money Work for You
Use Your Head and Avoid Cheap Shampoo
In 2015, research published in the National Library of Medicine revealed the importance of striking just the right balance with the detergents, preservatives, conditioners, pH adjusters, specialty additives, thickeners and sequestering agents that go into shampoo.
The most important tradeoff is between cleaning and conditioning. If the product removes too much of the natural oil sebum, your hair will be frizzy, dry and unmanageable. Remove too little, and your hair won't look or feel clean.
Good shampoos strike achieve this balance. Cheap shampoos do not.
Good Coffee or Tea Makes All the Difference
Lattes on the go are one of the primary personal finance villains. In fact, premade coffee almost always lands a spot on the list of splurges that the pros recommend nixing.
They may be right, but if coffee or tea is part of your daily routine, you owe it to yourself to spring for the good stuff. You don't have to spend a ton on gourmet brands, but do buy whole beans and invest in a decent grinder. According to K Brew, freshly ground coffee beans retain their moisture and aromatic oils, which make for an undeniably better brew than the pre-ground stuff.
Make Your Money Work for You
The same principle applies to tea. According to Artful Tea, whole-leaf loose tea produces consistently better flavor and aroma than tea bags while also delivering a higher concentration of health benefits. So splurge away.
More From GOBankingRates
Make Your Money Work for You