Ford, Honda or Another Car Brand? Who Had the Bestselling Vehicle of the Year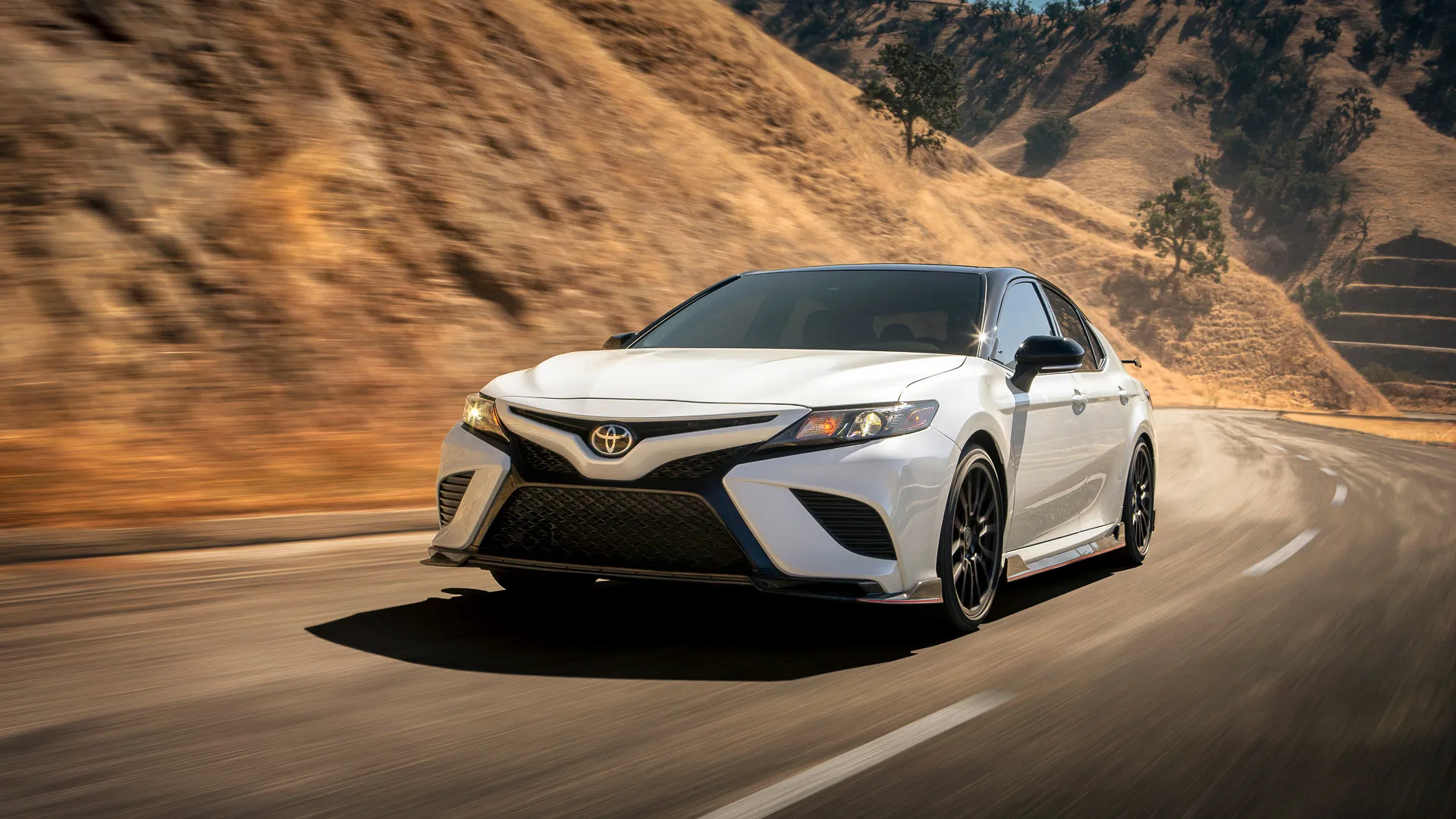 2020 was an unmitigated disaster for many sections of the economy, but the auto industry adapted, adjusted and succeeded. Despite an early slowdown in spring, automakers have enjoyed and continue to enjoy sales numbers that far exceeded expectations. America's car manufacturers and dealers responded to what might have been a dismal year by innovating new sales strategies around the coronavirus — and their results tell the tale.
Using a variety of data including manufacturer sales statistics, GOBankingRates identified all the cars, trucks and SUVs that sold more than 90,000 units between January and September 2020 — the first three quarters of the year. Those vehicles were then ranked in ascending order — with No. 27 selling the least and No. 1 selling the most—without regard to a category, price or other variables.   
These are the vehicles that put up the best sales numbers during America's worst year in modern history. See what drove those sales, what made each model stand out and what the future might hold.
Last updated: Dec. 31, 2020
27. Honda Pilot
Part of the third generation introduced in 2016, the 2020 Pilot offered a popular alternative for those considering a minivan. It's roomy, versatile and good on gas for its class, but it's hindered by a tight third row.
26. Ford Fusion
The 2020 Fusion represents the last of a dying breed. Ford already discontinued the Taurus, Focus and Fiesta as part of its public plan to stop manufacturing cars and instead focus solely on SUVs and trucks. Part of the second generation launched in 2013, the Fusion is the last remaining sedan in the Ford family of vehicles.
Make Your Money Work for You
25. Hyundai Tucson
The 2020 Tucson was popular for its sleek design and impressive list of base-model driver-assist and tech features. Only a little bigger than the Kona, the subcompact Tucson is one of the smallest SUVs on Hyundai's menu.
24. Ford Transit
Although there are cheaper options in the segment, it's hard to imagine any full-size work van offers a better value or more complete package than the Ford Transit. Contractors and businesses also rely on it for its versatility — the Transit is available as a crew van, cargo van and passenger van.
23. Nissan Altima
The 2020 Altima is a good midsize sedan that neither underperformed nor stood out. A spacious and reliable option for commuters, the Altima is in the unenviable position of competing with the Honda Accord and Toyota Camry.
22. Jeep Cherokee
The biggest of the Jeep crossover line, the 2020 Cherokee didn't add much to the major update it received the year before in 2019. It's a top contender for legit off-roaders or heavy towers but it's in a crowded segment that offers better choices for those who drive mostly on payment.
Make Your Money Work for You
21. Mazda CX-5
Critics fawned over the 2020 CX-5 not only for its beautiful exterior design but for its luxe interior, which has been compared to the Audi Q5. Its upper models truly deliver a high-end SUV experience and turbocharge an already excellent four-cylinder engine.
20. Subaru Outback
Subaru's flagship Outback has been at or near the top of the wagon heap for generations. Safe, roomy and capable — particularly for those who can afford to upgrade to a turbo engine — the Outback comes with standard all-wheel drive because, well, it's a Subaru. It was completely redesigned for 2020.
19. Ford Escape
The Escape was already Ford's bestselling SUV before it was completely redesigned and upgraded for 2020. The makeover wowed critics and despite stiff competition from the likes of VW and Subaru, the lighter, stronger, feature-rich Escape was hailed as arguably the top compact SUV of the year.
18. Subaru Forester
Like all Subarus, the Forester is known for dependability, performance, safety and standard all-wheel drive. Although it's roughly the same size as the Outback wagon, it's a bit more rugged with higher ground clearance and storage space.
Make Your Money Work for You
17. Toyota Highlander
The fourth-generation Highlander improved on the previous generation's tight cargo and passenger space, but only a little. It is not the roomiest three-row SUV on the market, but those with smaller space requirements won't be disappointed by its awesome menu of standard tech and safety features, which are among the best in the segment.
16. Honda Accord
The 2020 Accord earned a perfect 10 out of 10 from Car and Driver, which consistently ranks it among the best — and often the very best — family sedans on the market year after year. The publication is hardly alone. From handling and power to looks and features, the Accord remains a darling among sedans for a reason — many reasons, actually.
15. Jeep Wrangler
For off-road enthusiasts, the Jeep Wrangler needs no introduction — and the 2020 model did what Jeep has always done best. It boasts the same excellent capabilities on the trail as always but improved its on-road handling. The windshield and doors are easy to remove and it retains its classic Jeep stylings. It is, however, expensive to buy and pricey to own, thanks to so-so fuel economy.
14. Jeep Grand Cherokee
The 2020 Grand Cherokee lives up to its lineage as a comfortable highway vehicle that can swerve off the pavement to make a statement off-road. The five-seat midsize SUV is powerful, too — its standard 3.6-liter V-6 can be upgraded to a 6.4-liter option or even a high-performance Hellcat V-8.
Make Your Money Work for You
13. Ford Explorer
The Explorer received a total makeover in its sixth generation, which started in 2020. Unless you're satisfied with the three-row SUV at its base level, however, be prepared for steep price increases with every rung you climb on the trim-package ladder. The vehicle that essentially gave birth to the four-door SUV segment does continue to deliver plenty of cargo room, powerful engine options and a rear-wheel-drive platform that offers primo handling and towing capacity.
12. Toyota Tacoma
The first midsize truck on the list, the 2020 Tacoma offers a good package of standard driver-assist features and classic Toyota reliability. It also, however, crowds its passengers a little, underwhelms with its transmission and doesn't offer the luxury features of some of its rivals.
11. Toyota Corolla
The vaunted Corolla is now in its 12th generation, which Toyota introduced in 2019. The 2020 model, however, was completely redesigned in a way that eliminated many of the quirks and flaws that Corolla loyalists had complained about. Now it's a car that the Mazda 3 and Honda Civic should worry about, particularly since the lineup was expanded to include hybrid and hatchback options.
10. Nissan Rogue
The Rogue remains one of the country's most popular compact crossovers despite its tepid performance, tech features and infotainment offerings. It's a good-looking vehicle, though, and one that offers plenty of cargo space and a comfy interior.
Make Your Money Work for You
9. GMC Sierra
Critics loved the 2020 Sierra, which received several minor upgrades over the previous year — and one major upgrade. The standout improvement was the expanded availability of its 10-speed automatic transmission, which was finally paired with a 5.3-liter V-8 engine. The truck is highly customizable, with prices ranging from under $30,000 to nearly double that.
8. Chevrolet Equinox
The 2020 Equinox is a compact SUV that consistently ranks near the top of its class. Competitors offer more cargo room and better interiors, but this Chevy delivers superb fuel economy, good handling and, perhaps most impressively, a perfect reliability rating.
7. Honda Civic
It's hard to remember a time when the Civic wasn't a top 10 bestseller — and in 2020, it outdid even its already stellar reputation as a top-notch car. Efficient and affordable, the Civic is available as a hatchback, coupe and sedan, all of which are spacious and fun to drive.
6. Toyota Camry
Even after all these years, the 2020 Camry remains at or near the top of the family sedan segment. Although the Camry in 2020 is at its peak in terms of performance and style, it's hardly a lock against tough competitors like the Mazda 6 and, of course, the Honda Accord.
Make Your Money Work for You
5. Honda CR-V
Starting off the top five is one of Honda's bestselling vehicles — the CR-V. The compact SUV has boundless cargo room for its class, good fuel economy and an impressive interior. It's not meant for people who do lots of heavy towing, but it's clearly one of the best family vehicles on the road.
4. Toyota RAV4
The RAV4 is one of the bestselling SUVs on the market year after year — and it also happens to be the last vehicle in the top five that isn't a pickup. The base model is too bare-bones for many, but the RAV4 is famous for offering a trim package for everyone. The higher-end options look and drive more like a Lexus NX.
3. Ram Pickup
The Ram 1500 could easily be called better than the popular Chevy Silverado, Ford F-15 or any other half-ton pickup on the road. Its interior is truly luxurious — more so than its rivals even at their poshest trims — it rides smoother and is packed with more features. In 2020, the No. 3 bestselling truck was actually the pickup to beat.
2. Chevrolet Silverado
A perennial contender in the half-ton pickup segment, the Silverado is known for a long list of powertrain options, brawny towing capacity and a more-than-capable engine. It can also be equipped with an impressive menu of options, but it is in direct competition with the Ram 1500 and, of course, the bestselling vehicle of any sort in modern American history.
Make Your Money Work for You
1. Ford F-Series
On America's highways, there is the Ford F-Series and everything else. The bestselling truck in America for more than 40 years straight and the bestselling vehicle across all categories for nearly as long, the series includes the vaunted Ford F-150. It's the perfect combination of luxury road vehicle and job-site workhorse — and it's got the half-million-plus annual sales numbers to prove it.
More From GOBankingRates
Photo Disclaimer: Please note photos are for representational purposes only.
Methodology: To find the bestselling cars of the year, GOBankingRates analyzed U.S. sales results for the third quarter of 2020 (ending September) from Hyundai Motor America, Mazda North American Operations, American Honda Motor Company, Subaru of America, Nissan Group, Ford Motor Company, FCA US (which sells vehicles under the Chrysler, Dodge, Jeep, RAM and Alfa Romeo brands) and GM (which sells vehicles under the Chevrolet, Buick, GMC, Cadillac, Holden, Baojun and Wuling brands). Q3 sales figures from Car and Driver were used for Toyota Motor North America. GOBankingRates compiled a list of all vehicle models that sold over 90,000 units from January to September 2020 and then ranked them with No. 1 being the overall bestselling car. All data was collected on and up to date as of Dec. 7, 2020.