5 Electric Car Prices That Tesla Can't Beat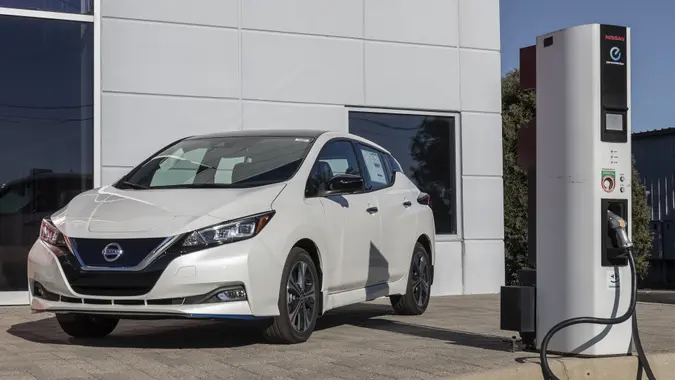 jetcityimage / iStock.com
Tesla, a name that has become synonymous with electric vehicles (EVs), has long been the standard-bearer for the electric revolution in the auto industry. With a combination of sleek designs, impressive performance, and cutting-edge technology, Elon Musk's brainchild has secured its place at the top of the EV hierarchy.
However, as the electric market expands, numerous contenders are entering the arena with competitive price points that even Tesla finds hard to match. Let's dive into some of these electric cars that boast prices Tesla can't beat.
Nissan Leaf
A veteran in the electric car world, the Nissan Leaf has been around since 2010. Over the years, Nissan has improved its range, technology, and design. Starting at a price significantly lower than Tesla's Model 3, the Leaf offers affordability for those looking to make the switch to electric without breaking the bank.
Price Average: $28,000
Chevrolet Bolt EV
Chevrolet's flagship electric offering, the Bolt, brings to the table a range that competes with some of Tesla's offerings. With federal tax credits still available for GM vehicles, the Bolt's price can dip even lower, making it a compelling choice for budget-conscious buyers.
Price Average: $27,000
Hyundai Kona Electric
Hyundai's compact SUV offers a blend of utility and performance. With a competitive range and a host of standard features, the Kona Electric is priced attractively, challenging Tesla's dominance in the EV market.
Average Price: $33,000
Kia Niro EV
A sibling to the Hyundai Kona, the Kia Niro EV is another compact SUV that's making waves. With a spacious interior and a robust suite of tech and safety features, the Niro EV boasts a price tag that's hard for Tesla to undercut.
Make Your Money Work for You
Average Price: $39,000
Volkswagen ID.4
The German automaker's foray into the EV sector is represented by the ID.4, a vehicle that promises VW's legendary engineering with the benefits of electric propulsion. With a starting price that undercuts Tesla's offerings, the ID.4 is poised to make a significant impact in the electric market.
Average Price: $43,000
Ford Mustang Mach-E
While the name "Mustang" conjures images of roaring V8s, Ford's Mach-E is an all-electric SUV that captures the spirit of the Mustang with zero emissions. Competitively priced and boasting a variety of options and trims, the Mach-E is Ford's statement that they can produce an EV that's both exciting and affordable.
Average Price: $60,000
While Tesla continues to be a powerhouse in the electric vehicle industry, it's evident that competition is heating up. With a variety of manufacturers offering EVs at competitive prices, consumers stand to benefit the most.
As technology advances and prices continue to drop, the dream of many to own an electric car is becoming increasingly attainable. And with so many options now available, there's never been a better time to go electric.
Editor's note: This article was produced via automated technology and then fine-tuned and verified for accuracy by a member of GOBankingRates' editorial team.
Make Your Money Work for You
More From GOBankingRates