9 Worst New Car Deals that Just Hit the Market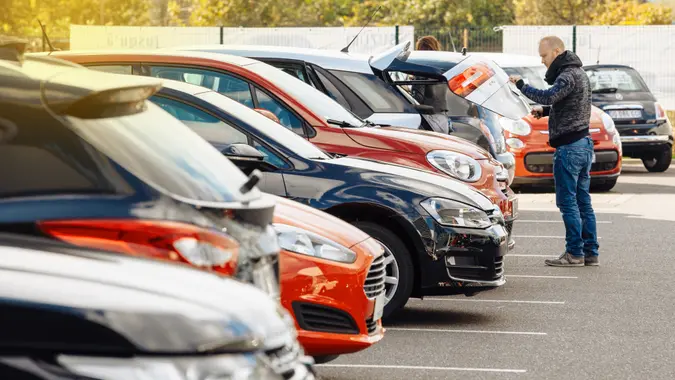 AdrianHancu / Getty Images
Navigating the automotive market has become an increasingly challenging endeavor in recent times. A perfect storm of inflation and supply chain disruptions has created an unprecedented surge in prices, even for some traditionally affordable models.
More Bang for Your Buck: These 20 Cars Will Last You Twice as Long as the Average VehicleLearn: How To Get Cash Back on Your Everyday Purchases
The industry is feeling the heat, and so are consumers. Here's a look at the nine models currently taking the biggest hit, where consumers are paying far more than the manufacturers' suggested retail price (MSRP).
Nissan Versa: Skyrocketing Above the Asking Price
The 2023 Nissan Versa S Manual, typically affordable with an MSRP of $15,980, has become a luxury with consumers having to spend an average of $2,661 over the MSRP. The average transaction price lands around $18,641, a sizeable increase for a traditionally budget-friendly option.
Kia Seltos: High Demand Leads to Higher Prices
The 2023 Kia Seltos LX IVT AWD, with an MSRP of $23,340, has been hit with the inflation bug. The average expenditure over MSRP is $3,783, making the average transaction price an astonishing $27,123.
Kia Rio: Compact Car, Not-so-compact Price
The 2023 Kia Rio S IVT, despite its compact size, is commanding a larger-than-life price. With an MSRP of $17,690, the average amount spent over MSRP is $2,846, leading to an average transaction price of $20,536.
Genesis GV70: A Luxury Price for a Midsize SUV
As a rising star in the luxury SUV market, the Genesis GV70 is commanding a hefty price. With an average MSRP of $44,299, buyers are paying around $56,476 on average to take this sophisticated machine home. That's a shocking 27.5% increase over the recommended retail price.
Make Your Money Work for You
Jeep Wrangler: Classic but Pricey
The Jeep Wrangler, a perennial favorite among off-road enthusiasts, has not been spared by the price hikes. Despite an average MSRP of $35,827, buyers are spending an average of $44,396, a mark-up of 23.9%. This rugged SUV seems to be worth the extra cost for those seeking adventurous rides.
Mercedes-Benz GLB: Luxury with a Luxury Price-tag
Mercedes-Benz GLB's luxury and refinement come with a steep price tag in the current market. It has an average MSRP of $41,061, but it's going for an average sale price of $50,452. That means buyers are paying 22.9% above the MSRP for this premium compact SUV.
Toyota Prius Prime: The Cost of Going Green
Going green with the 2023 Toyota Prius Prime XSE comes at a cost. While the MSRP stands at $35,600, buyers are spending an average of $5,165 more, with the average transaction price hitting a hefty $40,765.
Jeep Renegade: High Prices for Off-Road Adventures
The 2023 Jeep Renegade Altitude AWD, an off-roader's dream, has a substantial price tag. An MSRP of $27,850 has been overshadowed by an average overspend of $4,005, bringing the average transaction price to $31,855.
Ford F-150: Paying Premium for America's Favorite Pickup
The 2023 Ford F-150 Hybrid XL 2WD SuperCab 8′ Box, America's best-selling vehicle, has an MSRP of $40,590. However, high demand has led to an average overpayment of $5,609, leading to an average transaction price of $46,199.
It is clear that the current market volatility is affecting a broad range of vehicles, from budget-friendly compact cars to midsize SUVs and America's most popular pickup truck.
Find Out: 8 Electric Cars You May Regret Buying
Make Your Money Work for You
Consumers must approach the current auto market with caution, understanding that they may need to fork out a premium for their new car. It might be the time to consider alternative options or hold off on that new car purchase until the market shows signs of stabilization. Stay informed and keep your eyes on the road, and the market, to avoid falling into these worst new car deals.
Editor's note: This article was produced via automated technology and then fine-tuned and verified for accuracy by a member of GOBankingRates' editorial team.
More From GOBankingRates