How Much the Model T and 11 Other Best Fords From Every Decade Are Worth Today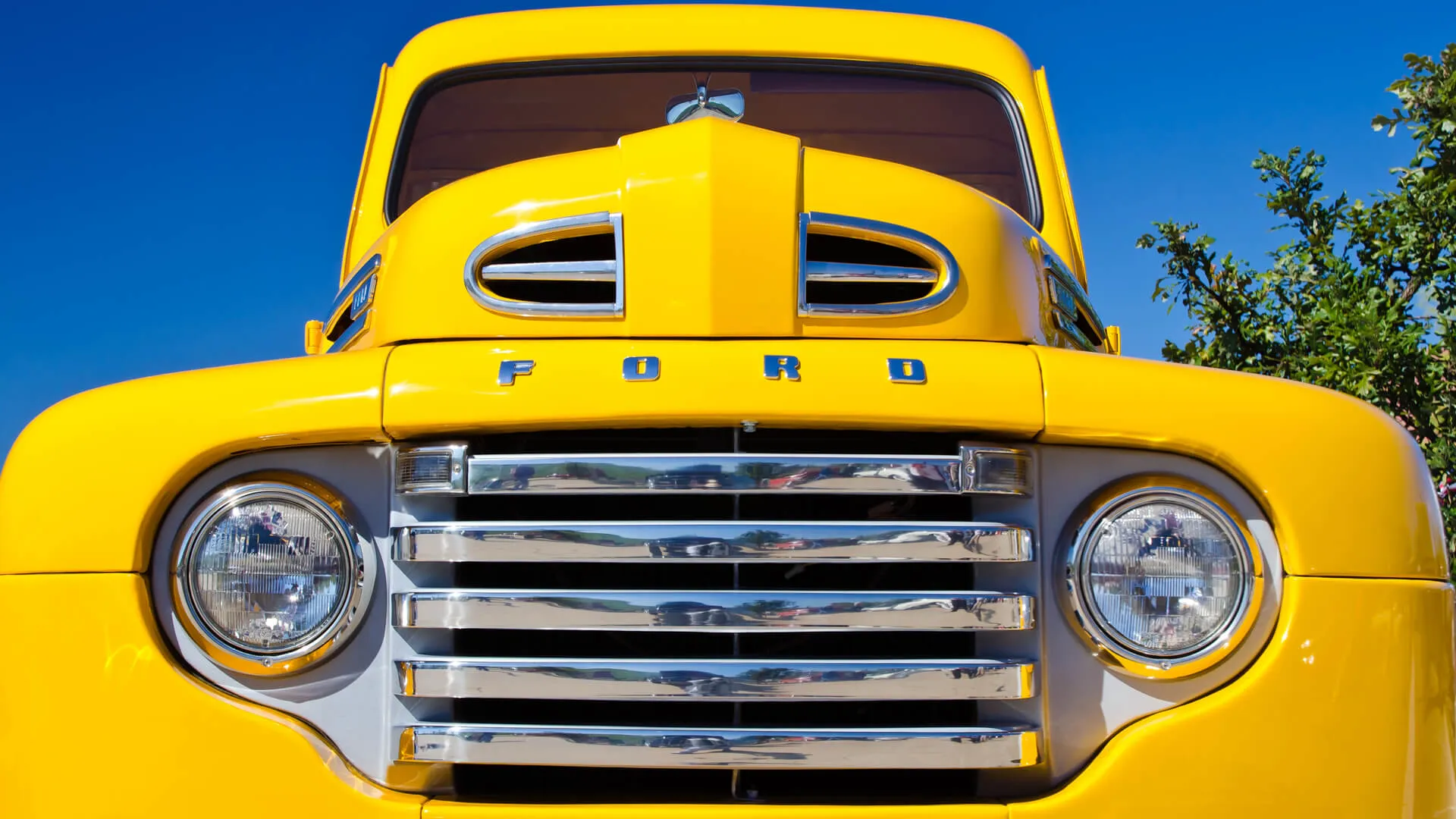 Deciding which Ford model is best is like deciding which star in a galaxy is best. There are just too many to count. We're talking about every Ford car, truck, SUV and crossover — and the various models, limited editions, special trims and body configurations — built since the company's inception in 1903. We can give you two numbers: 50 million and 350 million. The 50 millionth vehicle Ford built was a 1959 Galaxie; the 350 millionth vehicle Ford built was a Focus. Which vehicles are the best from each decade in Ford's 116-year history? We gave it a go and found out what those vehicles are worth today.
Last updated: Feb. 3, 2021
1900s: Model T
Ford Motor Company sold its first Model A on July 23, 1903. By the beginning of October, the company had already turned a profit of $37,000. But it was 1908, the year the Model T launched, when the Blue Oval's legacy as an automaker was really cemented in history. The car was basic, affordable and maintenance was simple for this rugged and durable machine. About 15 million Model T vehicles were built before production ended in May 1927.
The Model T was a significant vehicle for Ford for many reasons beyond being the first true hit for the automaker. In 1913, Ford innovated the assembly line process for the T, cutting chassis assembly down from 12 1/2 hours to 1 1/2 hours, which changed the face of automotive manufacturing. By building the T quicker through the integrated moving assembly line, the price tag dropped from $850 to less than $300.
Make Your Money Work for You
How Much Is a Model T Worth Today?
Up until mid-1909, Model T vehicles were manufactured with a two-pedal, two-lever system. Because of their rare and unique construction, these earlier models can go for as much as $121,000. Model T vehicles produced later had the more common three-pedal, three-lever control system which, depending on the quality of its restoration, can range in price from $11,550 to $66,000.
1910s: Model TT
Ford made its first truck available to consumers on July 27, 1917, to meet consumer demand for a utility vehicle that could haul a large number of goods. Called the Model TT, it was (unsurprisingly) based on the Model T, which included borrowing its cab and engine. This 1-ton pickup had a reinforced chassis and rear axle that made it sturdier than the cars.
The Ford Model TT truck cost $600 and 209 were sold in the first year. Around 1.3 million were sold by 1928.
How Much Is a Model TT Worth Today?
Like all classic cars, the cost of a Ford Model TT can vary depending on the quality of its restoration. This is especially the case with these trucks, which can have a plethora of bed setups such as towing equipment, historical recreations, fuel tanks and, of course, the classic dump truck configuration. On the lower end of the spectrum, these models can sell for $13,750, whereas more unique restorations can sell for as much as $60,500.
1920s: Model A
By the 1920s, Ford and the Model T had competitors, so the final production of a T took place on May 26, 1927. Ford closed plants worldwide and devoted the next six months to improving its factories and designs. In 1928, a new car was introduced: the Model A, a nod to the Blue Oval's first car, the 1903 Model A. It was the first Ford with the Blue Oval logo.
The Model A was available as a coupe, roadster, sedan, truck and more. Ford sold more than 5 million Model A cars by 1931 — no small feat considering these were the early years of the Great Depression.
Make Your Money Work for You
How Much Is a Model A Worth Today?
All styles of the Model A, if in extraordinary condition, can have a price tag in the ballpark of $20,000. Particularly rare Model A vehicles, such as a Chicago police paddy wagon restoration or a school bus, have a higher value of $35,000-$45,000.
Upgrade
1930s: 1932 Ford
Henry Ford decided to give America what it wanted — more power — and put his team to work figuring out how. When the secret project was finally revealed, it turned out to be the creation of the flathead V-8 engine, then called the Model 18. The engine appeared in the 1932 Ford, aka the Deuce. This was a major event in automotive history because Ford had figured out how to manufacture the first affordable eight-cylinder engine for the masses, rather than something only for the rich and their luxury cars.
The Deuce's flathead engine stayed in production for more than 22 years. Powerful enough for racing, the engine utilized a groundbreaking kind of steel that was stronger and lighter than what was previously used. It debuted with 65 horsepower and is still a beloved engine within the hot rod and custom community.
How Much Is a 1932 Ford Worth Today?
These hot rods are a historical staple for drag racing, and it is not unusual for these cars to come in a variety of custom configurations. Many versions of the Deuce are "Hi-Boys," meaning that their fenders have been taken off, which exposes the full wheel without mud-cap protection. A 1932 Ford "Hi-Boy" Roadster was auctioned last month and sold for $65,450. Another popular configuration of the Deuce is a five-window Coupe. These beautiful vehicles range in price, however a 1932 Ford Coupe with a gorgeous green exterior sold for $37,400 in 2018.
1940s: F-Series
Ford unveiled a new generation of trucks in 1948 with its F-Series — originally called the "Bonus Built" line. Ford had sold more than 4 million trucks by 1941, so there was plenty of demand. Production of consumer vehicles was temporarily halted during World War II but picked back up again when the war ended. The F-Series borrowed design cues from existing Fords.
A number of configurations were available within the F-Series, from the half-ton F-1 all the way up to a 3-ton F-8. In 1953, Ford introduced the second-generation F-Series, including the F-100, which replaced the F-1. The F-Series was part of Henry Ford's plan to offer a heavy-duty frame that could fit a bed. That idea worked then and now; as of November 2018, the F-Series had been the bestselling pickup in the U.S. for 36 years, Business Insider reported.
Make Your Money Work for You
How Much Is an F-Series Worth Today?
With its robust and sturdy frame, an automatic three-speed 1948 Ford F-1 Pickup Truck is worth $15,400 today. Its manual counterpoint is now worth $24,200. The interior of these trucks can range from luxurious brown leather to a more common upholstery of cloth, and the exterior can be found in a variety of colors from hunter green to hot-rod maroon.
1950s: Thunderbird
In 1954, Ford began crash testing its cars, but there was an even bigger milestone that year when the sleek Thunderbird debuted. Its genesis could be traced to World War II when American servicemen got a look at European sports cars and came home with a lust for them. Ford rival General Motors was first to the market with its 1953 Chevy Corvette. The response to the Corvette? The T-bird, a year later.
The new Ford Thunderbird was cushy and comfy and boasted a powerful V-8 engine and manual transmission — plus those instantly legendary porthole windows. Four years later, a four-seater hit the market. The T-bird was discontinued in 1997 due to lousy sales, but Ford tried again in 2002, going old school with its looks (and those windows) for the ultimate throwback nostalgia feel. The car went out of production in 2005, but the 1950s lasted a long time for this iconic car.
How Much Is a Thunderbird Worth Today?
Fun fact: The first Thunderbird that was ever produced was found by car buff George Watts in 1965. Its status was verified by Ford that same year, and after a meticulous restoration to get the vehicle back to its "original" state, the car appeared in 1968 and garnered public attention from its appearance in special events such as the 1984 Olympics. This same car sold for $660,000 at a 2009 auction in Scottsdale.
With its iconic cherry red finish, the average Thunderbird generally sells for around $38,500.
1960s: Mustang
April 17, 1964, is a legendary date for muscle car lovers because that's when the Ford Mustang famously debuted at the World's Fair in New York. It was a success right out of the box thanks to its look, performance and price tag (starting at $2,300). Ford wanted the Mustang to be the "working man's Thunderbird," and it didn't disappoint, landing on the cover of both Time and Newsweek magazines. The 1 millionth Mustang rolled off the assembly line less than two years after it debuted. Just how cool was this pony car? It made an appearance in the convertible form in the James Bond movie "Goldfinger." And we probably don't even need to mention its starring role in Steve McQueen's "Bullitt" in 1968.
Make Your Money Work for You
How Much Is a Mustang Worth Today?
An overall fan favorite, Mustangs can be found in a variety of colors, making them a dream come true for both muscle car enthusiasts and those who cherish the finer things in life. For instance, a 1964 Mustang in great condition with a yellow exterior sold in 2018 for $24,500. That same year, a poppy red Mustang sold for $30,800.
1970s: Pinto
You could argue that a car that might explode when rear-ended is not the best vehicle in Ford's history. But before reports of the Ford Pinto's potential dangers hit the newsstands, most of the attention focused on it being a cheap (and quick) car. The two-door compact weighed 2,000 pounds and carried a $2,000 price tag, helping it compete against small, imported models that were popular during the gas crunch of the '70s.
The Pinto's problems centered on its rear-mounted fuel tank and solid rear axle, which could come into contact in a rear-end collision and set the car aflame. Popular Mechanics reported that anywhere from 27 to 180 deaths were blamed on rear-impact-related fuel tank fires in the Pinto, though that rate wasn't much different from rival cars based on the number of Pintos sold. In any case, the fix came with a 1978 recall and upgrade of all 1971-76 Pintos. But the damage (including some PR miscues on Ford's part) had already been done. Nothing at that point, including another redesign, could shake the bad rep, so Pinto left the building in 1980.
How Much Is a Pinto Worth Today?
Despite a seemingly bad rep, car enthusiasts still go wild over this car's speed and size. In 2017, an original one-owner Pinto with a gorgeous black exterior and a luxurious deep-green interior sold at an auction price of $8,250.
1980s: Bronco
The first generation of the Ford Bronco SUV came out in 1966, so why not rate that one as best? Because with the third-generation Bronco in 1980, consumers gained a smaller and lighter model that featured a six-cylinder engine option and was built off the F-150 platform rather than the F-100. Ford also rolled out more than one Bronco: The even smaller Bronco II, based off the Ranger pickup, debuted in 1984. The 1980s were busy for the Bronco. The fourth-generation also debuted during the decade and featured a more aerodynamic design.
Later generations of the Bronco included the Custom, XL, XLT, Lariat, Ranger and Eddie Bauer, the latter of which featured a two-tone paint scheme on some models and an outdoors theme inside. The Eddie Bauer model was available beginning in 1986 and started the trend of Ford offering the same trim in other vehicles. Production of the Bronco was halted in 1996 — two years after the infamous O.J. Simpson chase in the White Ford Bronco — but a new one is slated for 2020.
Make Your Money Work for You
How Much Is a Bronco Worth Today?
Featuring four-wheel drive capability, Broncos are still a staple for off-road drivers. In 2018, a 1989 Ford Bronco II XLT with aftermarket aluminum wheels sold for $10,725. The previous year, a 1987 Eddie Bauer edition of the Ford Bronco II had a selling price of $8,250.
1990s: Explorer
The Explorer SUV owned the 1990s for Ford. It arrived at the start of the decade and was built off the Ford Ranger pickup platform, just like the Bronco II. By offering both two-door (Explorer Sport) and four-door versions, Ford graduated many families from minivans to SUVs and created — with the Jeep Cherokee — a booming new market.
Fun fact: This was not the first time Ford used the Explorer name. It also was used for a trim package for the F-Series. On the topic of trim, the Explorer also came in a two-tone Eddie Bauer model that survived into later generations.
How Much Is an Explorer Worth Today?
With four-wheel drive capability, a used 1991 Ford Explorer XL can be found for $2,450. With a cloth interior and sleek bronze exterior, this vehicle is a crowd-pleaser for manual enthusiasts.
2000s: GT
Ford turned 1-century-old in 2003 but showed no signs of senioritis. Taking inspiration from the GT40, a four-time winner of the 24 Hours of Le Mans during the late '60s, Ford added modern touches to build a high-performance GT sports car that was introduced in 2004. The mid-engine two-seater had a supercharged 5.4-liter V-8 that delivered 550 horsepower and a could go from zero to 60 mph in 3.5 seconds. Hard to believe the same company responsible for the Pinto brought us something worthy of standing alongside Ferrari and Lamborghini.
Make Your Money Work for You
How Much Is a GT Worth Today?
For those who want to feel like Dale Earnhardt Jr. or Mario as he races down the Rainbow Road, a used 2005 Ford GT can be found at car auctions for a pretty steep price. In September 2019, this dazzling vehicle was auctioned off for $302,500.
2010s: Focus Electric
You might think of the Ford Focus as just a small economy car in the Blue Oval lineup. Not so. In addition to creating performance versions of the Focus, Ford also began pushing its electric-vehicle agenda with the Focus Electric. The electric version was available for the 2012 model year and had a 76-mile range. Later versions had ranges of more than 100 miles.
Electric car consumers looking for convenience found it in the Focus Electric. Instead of having to charge the car at a charging station, you could charge it at home using a standard 120-volt outlet. You had to give yourself plenty of time, though: Ford said it could take around 20 hours to top off the battery using a wall current.
How Much Is a Focus Electric Worth Today?
With a shift into the new electric millennium, this car ranges in price from a low $4,995 to a high $10,995. Featuring a plethora of technological innovations, such as parallel parking assistance and a rear-view camera, this vehicle stands out amongst competitors for having advanced features at a lower price.
More From GOBankingRates
Bernadette Steele contributed to the reporting for this article.