Biden's Plan To Increase EV Ownership Shot Down by Car Makers Who Say It Would 'Substantially' Increase Vehicle Cost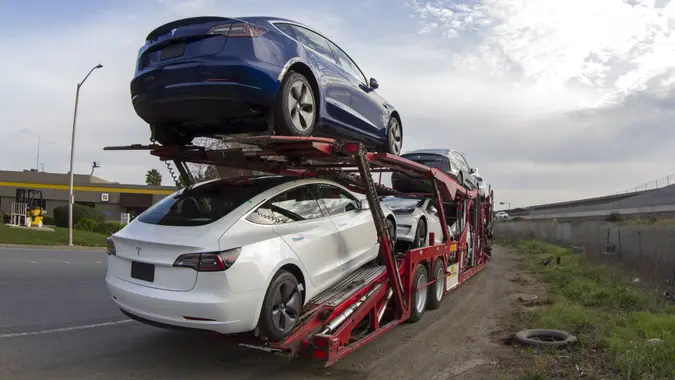 hapabapa / Getty Images
President Biden is pushing hard for the widespread adoption of electrical vehicles. Last April, the Environmental Protection Agency (EPA) proposed a rule that, by 2032, two thirds of new passenger cars and 25% of new heavy trucks sold in the U.S. will be 100% electric. This would be a dramatic increase, to say the least; for perspective, just 5.8% of new cars and less than 2% of trucks sold in 2022 were all-electric, The New York Times reported.

Revealed: 25 Sneaky Car Dealership Tricks To Avoid at All Costs
The Biden administration's ambitious plans for an all-electric vehicle future have been heartily welcomed by environmentalists, but the auto industry at large has been far more reluctant and even outwardly critical. In addition to its concern that manufacturing so many all-electric vehicles in such a relatively short time frame is too aggressive a goal, there's backlash over just how much these new automobiles could cost consumers. 
Find: 9 Best Hybrid Cars Under $30K If You're Unable To Go Fully Electric
On Wednesday, the Alliance for Automotive Innovation, a lobbying organization that represents 42 car companies that account for roughly 97% of the new vehicles sold in the U.S., wrote to the EPA that it does not believe Biden's goals "can be met without substantially increasing the cost of vehicles, reducing consumer choice, and disadvantaging major portions of the United States population and territory."
This is a complicated issue. On one hand, an EV can easily cost $10,000 more than a gas-only vehicle, per Car & Driver; but on the other hand, EVs can often save consumers tons of money on gas over the long haul. And everyone has seen how high gas prices can go. According to the Bureau of Transportation Statistics, from January to June 2022, the price of regular motor gasoline spiked 49% and the price of diesel fuel rose slightly more at 55%.  
Make Your Money Work for You
At the same time, automobile prices have increased significantly. Per Kelley Blue Book, the average price of a new car was $2,250 higher in November 2022 than it was a year prior. Tacking on an additional $10,000 or more for an EV could be flatly unfeasible for many automobile owners. 
More From GOBankingRates