Can Electric Motorcycles Save Harley Davidson? Investors Will Want To Know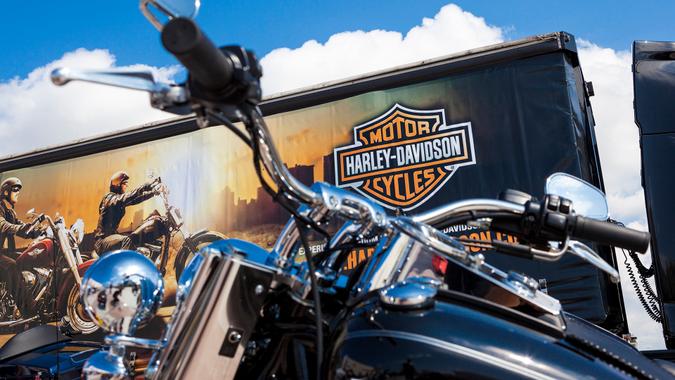 gokhanilgaz / Getty Images
The relentless decline of the Harley-Davidson brand has been a tough pill to swallow for die-hard enthusiasts of the most famous name in motorcycles. For investors who bet on the aptly named ticker symbol HOG, it's been no picnic, either. Founded in 1903, the world's most iconic motorcycle company got big after World War II and baby boomers rode the brand to greatness in the second half of the 20th century. 
Read: Popular Brands That Could Disappear in 2021
In 2006, Harley reached its peak when profits topped $1 billion after the company sold 260,000 bikes in the U.S. Then, the recession hit, sales took a nosedive, the brand's core customer base got old and Harley stumbled through the 2010s as a former American juggernaut that was caught in a death spiral.
Harley Has Struggled To Stay Relevant in a Changing World
By 2009, Harley-Davidson's stock had fallen by 60 points from its 2006 peak. The 86% decline was miserable even by Great Recession standards, but the writing was on the wall even before the economy tanked. Despite persistent efforts in the early-to-mid 2000s, Harley largely failed to attract new demographics like younger riders, minorities and women. 
Make Your Money Work for You
When it became clear that those emerging markets weren't going to emerge, Harley did what it had always done — made big, loud, expensive motorcycles. And it worked — for a while. 
See: Biggest Product Flops From 20 Major Companies
Profits and share prices rebounded in 2014, but the median rider had aged from 27 years old in 1985 to over 40 in 2001 and on their way to 50 by 2018. The average Harley costs $20,000 and the brand's image just never clicked with millennials and their younger siblings.
The 2010s Were Bad for Harley — Really Bad
Harley declined even as the post-recession economy roared. By 2018, sales had fallen to $531.5 million, a little more than half of the brand's $1 billion 2006 heyday. In 2019, that dropped even further to $423.6 million. By the end of 2020, sales were at their lowest point in 16 years and had declined for 12 quarters straight.
Harley stock had fallen by 44% over five years despite the S&P 500 gaining 63% in the same time period. In 2020, revenue was down by 24% compared to the year before as the once-great American company laid off at least 500 employees.
Make Your Money Work for You
Find Out: These Classic Brands You Love Are In Trouble
Harley Developed a Plan — and an Electric Motorcycle
Harley shook up management, brought in a new CEO and threw a Hail Mary pass in the form of "The Hardwire." That's the name of the brand's five-year rebuilding plan to recapture its former glory. Slated for rollout between 2021-25, the strategic plan involves things like focusing on its most profitable segments while selectively expanding into new markets. The real change, however, involves the very essence of what makes a Harley a Harley: its engine — or lack thereof. 
In 2019, Harley-Davidson unveiled the LiveWire, the world's first fully electric Hog. With no roaring, intimidating V-twin engine, it was the most radical departure in the company's century-plus history. Harley spun off a new division dedicated solely to electric bikes. As part of its internal cost-cutting plan — known as The Rewire — Harley vowed to invest between $190 million and $250 million a year in both gas and electric bikes. The former would buy the company time until it could shift to a brand dominated by the latter. 
Make Your Money Work for You
More: 50 Most Environmentally Friendly and Affordable Vehicles
Will Electric Bikes Be Enough To Save Harley?
The LiveWire is beautiful and innovative, and by most accounts, it's a world-class electric motorcycle that's incredibly fun to ride — but will electric bikes be enough to save Harley?
Not so far. 
LiveWire's sales were bleak from the outset, and it's easy to understand why. Its battery range is acceptable in the city but drops below 100 miles on the highway — not exactly bragging rights for a brand that made its bones on cross-country touring.
Read: 5 Auto Industry Trends We've Noticed So Far This Year
Then, of course, there's the $30,000 price tag, which is out of reach for most riders who aren't already in Harley's core base of boomers and older Gen Xers — and that's exactly the problem. Clean, green, quiet and hip aren't exactly selling points to the core customer base who love Harleys for their bravado as much as for their cubic centimeters. In summing up LiveWire's lackluster sales, Reuters also pegged the problem with the company's new scattershot approach to branding: "The bike costs nearly as much as a Tesla Model 3, and aims for a market that does not really exist: young, 'green' and affluent first-time motorcyclists."
Harley, it seems, is straying from more than a century of tradition in pursuit of a new kind of rider who is so far not adding up to big sales.
More From GOBankingRates
Note: GOBankingRates tried several times to contact Harley-Davidson for input but never received a response.