Car Insurance Is Expected To Go Up 7% in 2023 — Here's 5 Ways To Save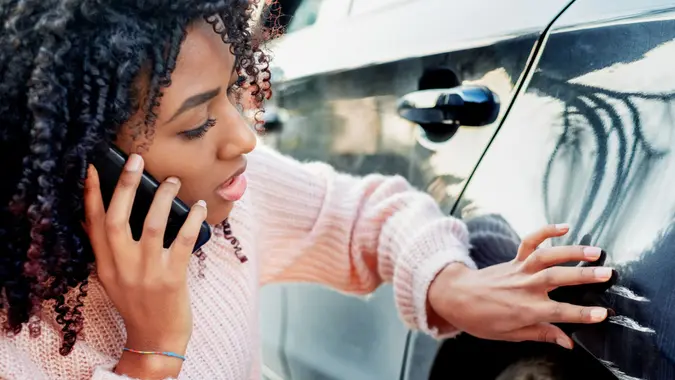 tommaso79 / Getty Images/iStockphoto
As the American workforce increasingly transitions back to the office full-time, there are many more people on the roads. Unfortunately, more cars on the road means more accidents — and more accidents inevitably leads to higher insurance premiums. This, combined with the lofty price of cars, their maintenance and their fuel, has already forced drivers to look for ways to cut down on their vehicle-related spending.
See: 25 Sneaky Car Dealership Tricks To Avoid at All Costs
Read: How To Get Free Gift Cards From Your Everyday Purchases
Find: 10 Things To Stop Buying in 2023
This trend is certain to continue throughout 2023 as car insurance is expected to increase due to the factors mentioned above. Although gas prices have eased over the past six months, the average driver should expect to pay $1,895 per vehicle in car insurance this year, per a study by Insurify.
According to Insurify's "2022 in Review and What's Ahead for 2023" report, increases in car prices and vehicle crashes will cause insurance rates to rise 7% from 2022 (or 29.5% from 2020). This will be the first time that monthly insurance premiums exceed $150, per Axios.
Make Your Money Work for You
The two-part report analyzed more than 69 million insurance quotes and surveyed more than 1,800 total participants to track state-by-state insurance price trends, forecast costs for 2023 and find out how drivers will save money as their rates increase.
"The general consensus is that it will be eight to 12 months (from fall 2022) before rate increases begin to slow down, and some think it could be several years before prices fully stabilize," Insurify's Betsy Stella stated in the report.
The projected rate increases will have Americans looking for ways to save money on insurance. Some insurance companies offer bundling insurance discounts and others provide usage-based car insurance. If you can qualify for either of these options, they should be seriously considered.
However, according to Insurify, drivers were trying the following five vehicle cost-saving techniques when asked in July and November.
1. Driving Less (65% in July vs. 50% in November)
Those concerned with climate change have been decreasing their direct emissions for years by driving less. Now, those fighting insurance and gas price hikes are making the same change. Saving money on fuel is the primary bonus, but those with usage-based insurance plans can also save in this manner.
2. Switching to a Different Insurance Provider (30% in July vs. 35% in November)
Those looking to buy car insurance (or switch to another provider) should be treating it like shopping for a car. Car insurance is a necessity, but many drivers stick by their insurer even if they are overpaying. As Forbes reported, the Insurance Information Institute (III) recommended getting quotes from at least three insurers when you are deciding on a new provider. Using a site like EverQuote will provide you with a vast array of insurance options — and can potentially save you hundreds of dollars a year. It might be wise to look into pay-as-you-go insurance, too.
Make Your Money Work for You
3. Buying an Electric or Hybrid Vehicle (30% in July vs. 16% in November)
As gas prices started to dip during the second half of 2022, so did drivers' interest in buying a hybrid or electric vehicle, the study found. But 30% and 16% of July and November survey participants, respectively, were still considering switching over to an EV or hybrid car model as a cost-cutting measure.
4. Moving to a Cheaper Location (16% in July vs. 10% in November)
A somewhat significant 16% of those surveyed by Insurify in July claimed they would consider moving to a different location with better public transportation and walking routes in an effort to save money on car insurance. The average American saw their insurance rate increase by 9% in 2022, with the biggest increases found in Oregon, Maryland, Virginia and Idaho, where drivers experienced rate jumps of over 25% between 2021 and 2022. Michigan drivers saw their rates increase only 1% in 2022, but it is still the most expensive state to purchase car insurance in the country.
Take Our Poll: How Do You Think the Economy Will Perform in 2023?
More: 7 Types of Car Insurance and What They Cover
5. Dropping Their Insurance Coverage Altogether (10% in July vs. 12% in November)
One of the bonuses about working from home was not having to endure the daily commute. As more workers return to the workplace, many are rethinking their car usage.
Make Your Money Work for You
If ditching driving altogether isn't an option, car owners can look into tweaking their coverage. If you rarely drive, have an old, high-mileage car, a vehicle that is worth less than your insurance policy provides — or would prefer to pay for any accidental car repairs yourself — it might be a smart idea to drop your "full" coverage insurance policy, per Car and Driver.
More From GOBankingRates
Make Your Money Work for You