7 Cars Under $50,000 That Are Rising in Value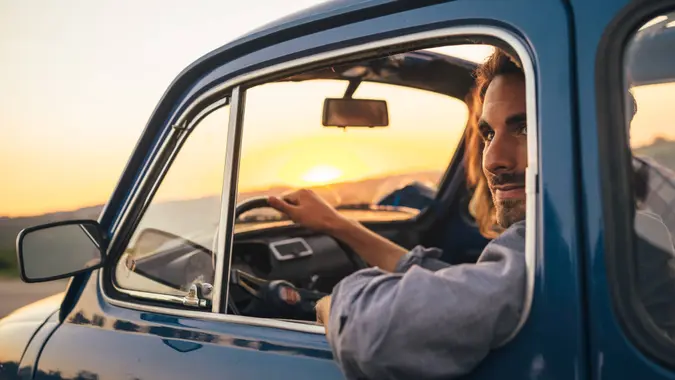 FilippoBacci / iStock.com
Although cars are not considered great investments because they tend to depreciate, there are some exceptions. It's possible to find a vehicle that has affordability, style, and appreciation potential. If you're scouting the market for vehicles under $50,000 showing promise for going up in value, here are seven options to consider.
1. 2021 Ford Bronco
The return of the Ford Bronco in 2021 set the automotive world abuzz. Priced competitively, this off-roader combines nostalgic design elements with modern technology, making it a hit among a broad audience. As production struggles to meet the high demand, early models are already witnessing a surge in value in the secondary market.
2. Chevrolet Camaro Z/28 (2014-2015)
Known for its robust performance and handling prowess, the fifth-generation Camaro Z/28 is a modern classic in the making. Equipped with a 7.0L V8 engine and race-inspired technology, this limited-production model has garnered a dedicated following, with values on the rise as enthusiasts scramble to own a piece of Chevrolet history.
3. Porsche 718 Cayman
The Porsche 718 Cayman offers an entry point into the luxury sports car market. With its impeccable handling, balanced mid-engine layout, and the revered Porsche logo, it's a desirable asset. Recent market trends indicate a healthy appreciation for well-maintained vehicles, making it a wise investment.  
Make Your Money Work for You
4. Honda S2000 (AP2)
The Honda S2000, particularly the AP2 version (2004-2009), has experienced a noticeable uptick in value. Known for its high-revving engine and precise handling, it embodies the golden era of Japanese sports cars. Limited availability and increasing demand from collectors and enthusiasts are driving prices upward.
5. BMW M2
The BMW M2 combines compact dimensions with a punchy performance, earning acclaim as one of the best driver's cars in its segment. Its blend of power, agility, and the prestigious M-badge contributes to its rising value. As enthusiasts seek the engaging driving experience it offers, well-maintained vehicles are becoming hot commodities.
6. The 2008 Subaru WRX STI
The 2008 Subaru WRX STI, known for its all-wheel-drive system, turbocharged power, and exceptional handling, has experienced notable value appreciation. Its popularity stems from its distinguished rally car heritage, and increased interest from collectors continues to drive its market value upward.
7. Ford Mustang GT (2015)
The 2015 Ford Mustang GT, distinguished by its 5.0-liter V8 engine and 435 horsepower, has seen a significant increase in value. Known as an iconic American muscle car, its combination of sleek design, powerful performance, and affordability has heightened its appeal, subsequently boosting its resale value.
While the future of car values can be unpredictable, certain factors such as rarity, brand heritage, performance, and desirability play a pivotal role in determining appreciation potential. The automotive market is brimming with potential gems that combine affordability with value appreciation. Each of these cars offers a distinct allure and rising market value. If you're seeking a blend of driving thrill and investment potential, these five cars under $50,000 are worth a closer look.
Make Your Money Work for You
Editor's note: This article was produced via automated technology and then fine-tuned and verified for accuracy by a member of GOBankingRates' editorial team.
More From GOBankingRates