9 Cheap Luxury Cars You Can Buy on a Budget in 2023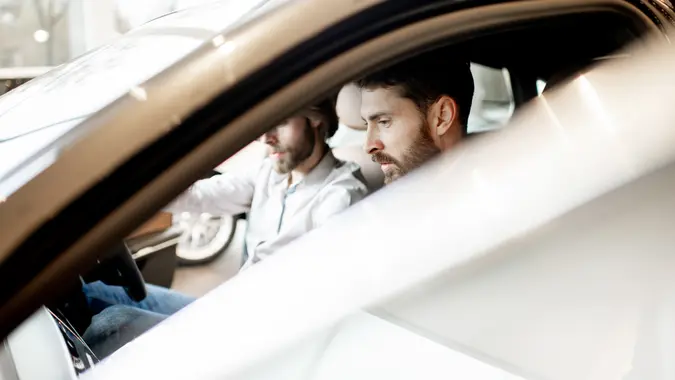 RossHelen / Getty Images/iStockphoto
To the average American, plunking down over $78,000 on a Lexus LS or 80,000 for a Genesis G80 Electric sedan would be madness. Still, both models are the cheapest luxury car in their classes. Paying over $90,000 for a 2023 Tesla Model S might seem exorbitant, but it is the cheapest full-size EV luxury car.
Affordable luxury is relative, but you can get a new high-end compact, subcompact, midsize or full-size sedan with all the trimmings for under $40,000. With competitive incentives, make sure you shop around for the best price and dealer bonuses.
Here are nine luxury brand vehicles without corresponding price tags, from cheapest to most expensive.
1. 2023 Acura Integra
This compact luxury hatchback has a roomy 24.3 cubic foot trunk and a 200-horsepower turbocharged 1.5-liter 4-cylinder engine under the hood. At just over $32,000, the Integra is a cheap choice for buyers looking for luxury, plus the reliability and dependability synonymous with the Acura.
2. 2023 Cadillac CT4 Luxury Sedan
A compact sedan with lots of power, the CT4 is the cheapest luxury car with rear-wheel drive. It offers luxury with a state of the art performance and good handling or, as Car and Driver states, "Handsome baby-Caddy styling, sporty moves, bigger-displacement engine brings the party."
3. 2023 Volvo XC40
Make Your Money Work for You
The three-time Drive Car of the Year, Best Small Luxury SUV, the 2023 Volvo XC40 is a luxury crossover that matches chic design with luxury substance. According to Forbes, the comfort-oriented XC40 has less pluck than its competitors but does provide a smooth ride and confident steering. With a spacious interior with lots of headroom and legroom, it is also the cheapest Volvo you can buy.
4. 2023 Lexus UX
Although Edmunds contends it runs a little slow, the Lexus UX SUVs makes up for it with impressive fuel efficiency for a subcompact SUV. All Lexus UX SUVs have a base 181-horsepower hybrid powertrain with a 2.0-liter 4-cylinder engine and a continuously variable automatic transmission. Buyers can choose between front-wheel drive and all-wheel drive.
5. 2023 Audi A3 Premium
This subcompact sedan might be the classy car for those wanting to dip their toe in the luxury car waters. The 2023 Audi A3 is a powerful, athletic vehicle that's thrilling to drive. Inside its lush cabin, there's adult-friendly seating in both rows and a user-friendly infotainment system.
6. 2023 Mercedes GLA
Like all Mercedes vehicles, the GLA is widely applauded and a pleasure to drive. The subcompact luxury SUV with seating for five and a 221-hp, 2.0-liter turbo four-cylinder engine. The starting price of $37,500 for the GLA 250 with FWD (adding AWD is another $2,000 and other options are pricey), makes it an upscale alternative to rivals like the BMW X1, Volvo XC40, Audi Q3 and Lexus UX.
Make Your Money Work for You
7. 2023 BMW 2 Series Gran Coupe
Looking for a midsize luxury sedan with the premium interior you would expect from an elite brand? Both 2-series Gran Coupe models come with a turbocharged 2.0-liter four-cylinder. The 228i has 228 horsepower and the M235i 301 horses. All-wheel drive is standard on the M235i and optional on the 228i but an eight-speed automatic transmission is standard across the line.
8. 2023 Lincoln Corsair
With "the perfect balance of elegance and agility," the Corsair is Lincoln's smallest crossover. Emphasizing leading-edge tech, the company has equipped the Corsair with Lincoln BlueCruise 1.2, a hands-free self-driving system that functions on hundreds of thousands of miles of highways in the U.S. Lincoln also enhanced the infotainment system, interior and exterior while adding new advanced driver assistance systems (ADAS).
9. 2023 Cadillac CT5 Luxury Sedan
Although Car and Driver state that its competitors, "such as the BMW 3-series, Mercedes-Benz C-class, and Genesis G70, are sportier and more fun to drive than the standard non-V CT5s," the Caddy CT5 is one of the few remaining four-door domestic sedans and, a cheaper option than those models, it offers a lot of bang for your buck. Test out the Premium Luxury model with a more powerful V6 engine and the intuitive Super Cruise hands-free driver assist system for a bit more bang.
More From GOBankingRates
Make Your Money Work for You