Costco's Gas Prices Are So Low That It Just Expanded Hours To Keep Up With Demand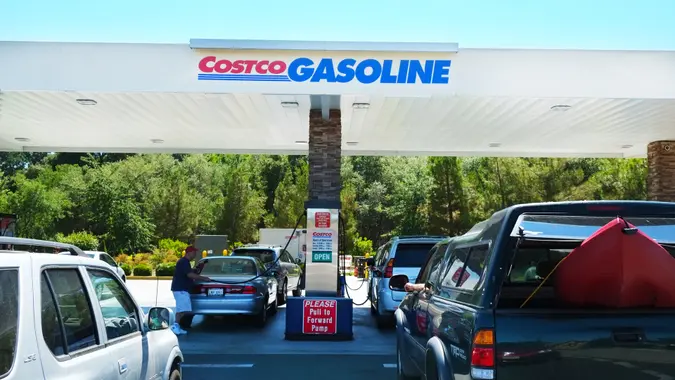 slobo / Getty Images
Costco members can still get a good deal at the pump despite rising oil prices. To keep up with demand, the company has changed location hours, opened new locations and continues to install a lighting system to show when pumps are available.
A store location in Colchester, Vermont, recently expanded the hours of operation for its gas station. This change means the gas station will no longer close in the middle of the day, a policy dating back to its opening in 2020 under a condition of its environmental permit, per WCAX.
Another Costco gas station is adding more pumps in Henderson, Nevada, reported Fox 5 Vegas, and other locations across the country have added lighting indicating when a pump is empty. Back in 2019, Inc. reported that West Coast Costcos began adding a red light/green light that shows drivers when one of the gas pumps is open. On an April 1 Reddit post about the lights, user Find_A_Reason commented: "This has been rolling out for a while now. Eventually they will be everywhere according to Costco."
Make Your Money Work for You
Costco's gas stations boast some of the lowest gas prices across the U.S., even when you consider the price of a Costco membership. "If you're filling up at a wholesale club more than half the time, you can definitely come out saving money," Patrick De Haan, head of petroleum analysis at GasBuddy, said to Acorns. "That membership cost is absorbed by filling up at Costco more than 50% of the time."
Take Our Poll: Would You Move for a Job That Paid You a $10,000 Signing Bonus?
Tom Kloza, global head of energy analysis at Oil Price Information Service, explained to Acorns that Costco can sell gas at a lower price because the company buys gas directly from a gas "terminal." Acorns noted that this means the company doesn't pay for gas to be delivered to locations by a third party. These savings are then passed along to consumers.
More From GOBankingRates
Make Your Money Work for You
Make Your Money Work for You