Don't Go to the Auto Mechanic on These Days of the Week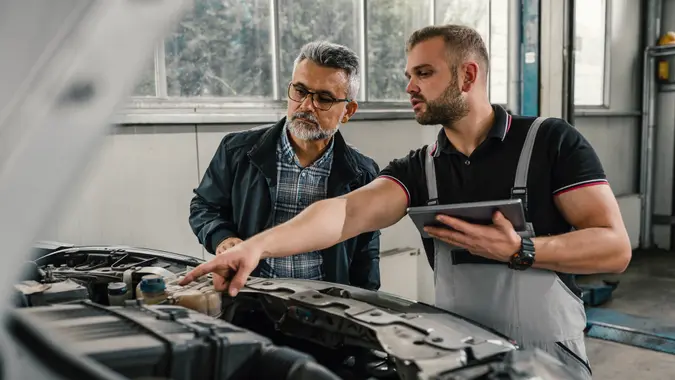 bluecinema / Getty Images
Going to the auto mechanic is a necessary part of owning a vehicle. Even if your car, truck, van or SUV is brand new, it could still have the occasional issue. Maybe it's a flat tire from running over a construction nail on the road. Or maybe it's simply time to get those tires rotated and check the fluid levels.
Whatever the case, there are certain things you should consider before scheduling your appointment with an auto mechanic to ensure the best possible experience — and the greatest saving potential. With that in mind, here are some of the best times to go to the mechanic, as well as some tips and strategies to implement the next time you go.
Avoid Weekends or Holidays
"The best days for visiting an auto mechanic are usually those when they are least busy," said Joyce Ann Gutierrez, automotive expert at 4WheelOnline. "This means going on weekdays…or in the middle of a slow period. Avoid weekends, holidays, and rush hours [as these are] often their busiest times."
Many people go to the mechanic during their days off which, more often than not, is on a Saturday or Sunday. The same goes for holidays. Because of this, these tend to be the busiest — and potentially worst — days to schedule your vehicle for maintenance or service.
But every auto mechanic has its own busy or slow periods, so you might want to check with them before scheduling anything. Even if you don't have an appointment, they can give you an estimate of how long it would take to receive service.
Make Your Money Work for You
You can also do a quick Google search to see a specific business' peak times. Oftentimes, the search engine will show you how busy a business is at any given moment. You may also be able to select different days to see how busy they tend to get around those times.
And finally, it's a good idea to schedule your visit in advance as this will give you time to prepare and avoid potentially busy times. "You should book your appointment beforehand to know when to arrive at the shop," added Gutierrez.
Some auto mechanics operate more on a first-come-first-serve basis. If they happen to be particularly busy, you could end up having to wait until they finish with their other customers. However, having an appointment could speed up the process. Plus, scheduling the appointment early can make it easier for you to take time off from work or plan your visit around other activities in your life.
Avoid Lunchtime
Along with specific days to avoid, certain times are worse than others to hit up the auto mechanic. In particular, avoid going around lunch time — that is, between 11 a.m. and 2 p.m. on weekdays.
Many people use their lunch break for errands, so you're more likely to get caught up in the rush if you go at the same time. And, with more customers to deal with, it could take longer to get the service you need.
Alternatively, consider going right before or after work. This is also usually around the same time these businesses open or close for the day. As long as you don't get stuck in rush hour traffic, you might be able to get in and get out much faster than if you'd gone at a different time.
Make Your Money Work for You
Another time to avoid going to the mechanic is when the weather's bad. Not only are driving conditions less safe during these times, but some mechanics will close up shop early.
How To Optimize Your Experience at the Auto Shop
Like any other business, auto mechanics tend to compete with each other when it comes to getting customers. If you're looking for ways to improve your experience the next time you go — or if you want to maximize your savings — here are some things you can do.
Know What Service You Need
"With regular maintenance and tune-ups, the life of your car can be prolonged. But visiting an auto mechanic can be both time-consuming and costly," said Gutierrez.
To avoid spending too much time or money, figure out what you need to get done before going to the mechanic. "Knowing what your car needs before bringing it to an auto mechanic is essential for both the car owner and the mechanic," added Gutierrez. "It ensures the mechanic can quickly identify and fix any issues, saving time and money. It also allows the car owner to prepare for any unexpected repairs that may be needed."
Look for Deals or Discounts
According to Kelley Blue Book, the average cost of vehicle repairs is $548.32. Certain types of repairs or service can be even more expensive. For example, replacing a fuel injector can cost around $1,100. Certain types of vehicles might cost more than others, too.
Make Your Money Work for You
Some auto mechanic shops offer deals or specials on select products or services. For example, you might be able to get a free oil change. Or you might get a discount for pairing several services together. Don't be afraid to ask the mechanic what they offer as this could potentially save you hundreds of dollars.
Get a Quote
It's also a good idea to get an estimate before agreeing to anything. That way, you'll know roughly how much you're going to spend and can budget accordingly. "Understanding the cost of repairs or maintenance can help you avoid scams from dishonest mechanics and ensure you don't pay for unnecessary services," added Gutierrez.
Get quotes from several mechanics in your area and compare their prices. "By asking for a quote, you can compare prices between different mechanics and find one that suits your budget," said Gutierrez. "Additionally, you will know what services are being performed on your car and what parts are needed beforehand to ensure you are getting the best repair at the right price."
Negotiate
Last but not least, be prepared to negotiate. By preparing in advance, getting price comparisons from other mechanics, and knowing what you need done, you'll have a better chance of negotiating on the price of service with your chosen mechanic.
"Negotiating with your mechanic saves you money and helps ensure that you get quality work done on your car," added Gutierrez. "With proper research and communication, you can confidently negotiate a good deal for yourself and your vehicle at any auto repair shop."
Make Your Money Work for You
More From GOBankingRates