Cheap Electric Cars Are Available Overseas: Why US Buyers Are Still Paying So Much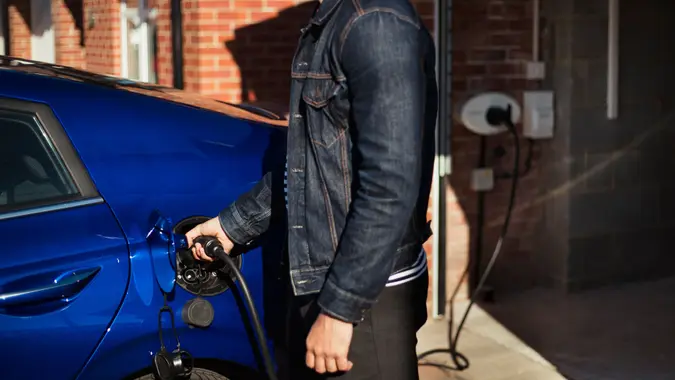 SolStock / Getty Images/iStockphoto
There are plenty of reasons you might be considering an electric vehicle (EV) for your next car. Maybe you want to reduce your carbon footprint, maybe you want a more fuel-efficient car or maybe you like the idea of putting less maintenance into your vehicle.
Regardless of the reason, EVs have grown in popularity: From 2011 to 2021, EV sales as a percentage of total car sales in the U.S. jumped from 0.2% to 4.6%. 
Unfortunately, American EVs aren't cheap. According to Kelley Blue Book's parent company, Cox Automotive, the average price of an EV in June 2023 was $53,438. Even the most affordable option in the U.S. — the Chevy Bolt — retails for $26,500.
EVs aren't that expensive everywhere, though. In China, you can get a car comparable to the Chevy Bolt for less than half the price.
There are a few reasons EVs are so expensive in the U.S. First, and perhaps most important, EV batteries are very expensive. There's a large supply issue when it comes to both the raw materials to make the batteries and the facilities to refine the materials. China has a huge advantage — and much more control over the market — when it comes to both.
Second, there's already a high demand for luxury EVs in the U.S. Automakers, then, don't have an incentive to sell lower-priced cars if they can easily sell more expensive EVs to U.S. consumers. 
Make Your Money Work for You
Electric Vehicles in China
It's a different story in China, where EVs are much more affordable. But just how much cheaper are Chinese EVs compared to those in the U.S.? To give you an idea, Chinese company BYD sells a model called the Seagull, which is comparable to the Chevy Bolt. The price tag? About $11,000. Even with the possible $7,500 tax credit available to American consumers, the Seagull is still nearly $8,000 less than a Chevy Bolt.
Currently, China makes more than half the world's EVs. The reason for such a difference in prices and supply between the two countries is mostly due to a discrepancy in the availability of raw materials needed to make EV car batteries — and the facilities necessary to process them. 
EV batteries require six times the amount of rare minerals compared to regular car batteries. Among those crucial minerals are lithium and cobalt — and China controls 28% and 41% of the world's supply of these resources, respectively. That's not to mention the fact that China refines most of the world's lithium, cobalt, manganese, graphite and nickel, due to the country's ability to do so cheaply and without adhering to strict environmental regulations. For these reasons and more, China is a battery-producing machine, making nearly two-thirds of the world's battery cells. 
With years of research and investment in EV technology, China is much better positioned to make and sell cheap electric cars. Chinese consumers are on board, too. In 2021, more than 50% of Chinese consumers said they were very likely to buy an EV as their next car. There are also incentives, like tax rebates, discounts on vehicle registration, widespread charging access and more that make buying an EV in China even more attractive. 
Make Your Money Work for You
Could Chinese EVs Show Up in the US?
It's unlikely that Americans will have access to Chinese EVs — or EVs at comparable prices — anytime soon. Not only does China control the majority of battery-grade materials, but a 27.5% tariff and tensions between the two countries make it difficult to import Chinese vehicles to the U.S.  
While there are untapped resources to make EV batteries in the U.S., opening a new mine isn't a quick or easy solution. And again, with highly productive Chinese refineries putting those elsewhere out of business, the U.S. still would be hard-pressed to make significant progress in battery development any time soon. 
If the U.S. or any other country wants to make significant progress in the EV market, collaborating with — or at the very least, learning from — China may be a prerequisite. 
More From GOBankingRates