Electric Vehicles 2023: Prices Are Plummeting — Is It Finally Time To Buy?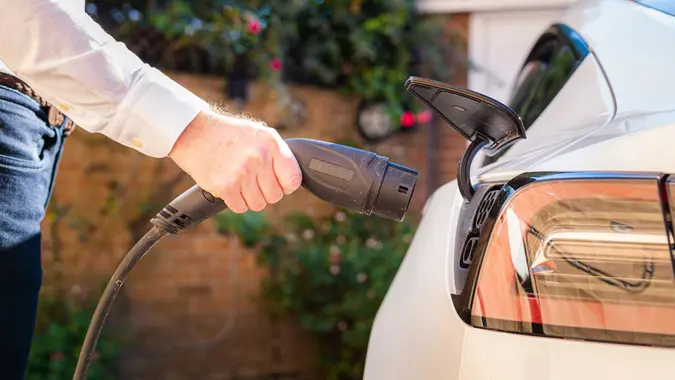 coldsnowstorm / iStock.com
Electric vehicle sales in the U.S. rose 48.4% year-over-year in the second quarter of 2023, according to Cox Automotive. Even with 300,000 EVs leaving lots in Q2, manufacturers are looking at a surplus of vehicles.
Jonathan Gregory, Cox senior manager of economic and industry insight, called it a "Field of Dreams" moment via The New York Times. His statement referred to the 1989 Kevin Costner baseball movie that coined the famous line, "If you build it, they will come."
"[Manufacturers] have built EV inventory, but now they wait for buyers to come," Gregory told The New York Times.
Cox reported that more than 90,000 full-battery EVs sit waiting for owners to take them home. Typically, the industry leaves roughly 50 days' worth of inventory on lots, but manufacturers have enough EVs to last 103 days at the current sales rate.
Manufacturers Offer Incentives
With excess inventory, manufacturers are starting to cut prices. Tesla, always a trendsetter in the field, started by reducing the price on its Model 3. The rear-wheel drive, four-door sedan now costs just under $40,000, making it less than the price of the average new car, which still hovers around $48,000, according to Kelley Blue Book data.
Tesla also offered free charging incentives to customers. Following suit, Ford dropped the price of its Mustang Mach-E all-electric SUV and its F-150 Lightning electric trucks, which range from $49,995 up to the top-of-the-line Platinum model, listed at $91,995.
Make Your Money Work for You
The price cuts put most Ford models under the $80,000 limit to qualify buyers for the $7,500 EV tax credit.
'Trough of Disillusionment' for EVs?
The price cuts and incentives, coupled with excess inventory that's making dealers eager to sell cars, could make buyers equally eager to make purchases. But that's not necessarily been the case so far.
Another Cox Automotive survey recently revealed that 50% of shoppers were interested in purchasing an EV. But that isn't translating into EV transactions, much to the chagrin of dealers.
Cox speculated the market is heading into a "Trough of Disillusionment," a phrase coined by consulting firm Gartner to describe a new technology lifecycle. What follows, fortunately, is the "Slope of Enlightenment," where more people begin to understand the technology. Finally, the "Plateau of Productivity" emerges, wherein new tech hits the mainstream and becomes widely accepted.
A combination of lower prices, incentives, consumer education — along with improvements in the range of EVs — could help push EVs to the next level.
Should You Buy an EV Now?
With about 3 million EVs on the road in the U.S. right now, according to statistics from 8BillionTrees.com, new EV buyers may not quite be considered early adopters. But they still represent a very small fraction of drivers in the U.S. today.
While the U.S. government may force drivers' hands in the future to replace aging gas vehicles with EVs, consumers still have a choice — for now.
With tax credits available for many EVs and prices at a historic low, now may be the time to buy. As more EV chargers are installed in locations across the U.S., range anxiety — or the concern that your battery will die on a long trip — becomes less of a concern. Plus, Tesla has said it will make some of its superchargers and slower "destination chargers" available to other EV owners, which increases the number of available chargers in the U.S. by at least 7,500. If Tesla opens its entire network, EV owners would have an additional 17,000 chargers to choose from on the road.
Make Your Money Work for You
If you're looking to trade in an older vehicle, you can still get a good price today. JP Morgan estimated that used car prices could drop by 10% to 20% this year, GOBankingRates recently reported. With EV prices falling now, and fuel prices inching up, it could be the optimal time to trade in that gas-guzzling vehicle for that EV you've been wishing you could afford.
More From GOBankingRates