Ford Will Lose $4.5 Billion on Electric Vehicles — Will Prices Drop Further as a Result?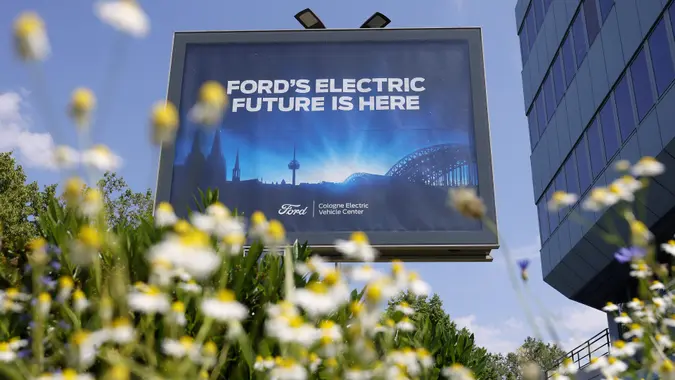 RONALD WITTEK / EPA-EFE / Shutterstock.com
Despite significantly beating second-quarter expectations and raising its 2023 guidance, Ford Motor estimates its electric vehicle (EV) division, Ford Model e, will lose $4.5 billion this year. That's $1.5 billion more than the projected $3 billion, and over twice as much as the section lost in 2022 ($2.1 billion), per Fox Business.
Ford released its second-quarter financial results on July 27, and regardless of what seems like discouraging news regarding its EV branch, revenue from Ford Model e's first-generation electric vehicles increased 39% in the second quarter, and the company remains decisively optimistic about the future adoption of EVs.  
"The near-term pace of EV adoption will be a little slower than expected, which is going to benefit early movers like Ford," Ford CEO and president Jim Farley said. 
According to the news release, Ford has increased its full-year adjusted earnings forecast to between $11-$12 billion after global demand for Ford trucks, SUVs and commercial vans drove second-quarter revenue up 12% to $45 billion and generated $1.9 billion in net income.
As Reuters reported, Ford lost more than $32,000 on average per EV issued by Model e during Q2 as it struggled to keep costs down. Meanwhile, the average transaction price for electric vehicles was a lofty $53,438 in June 2023, per Cox Automotive.
However, due to higher operating costs and slower-than-expected adoption, Ford expects to push back EV production objectives, getting to this year's original target rate of 600,000 sometime during 2024, per Fox Business.
Make Your Money Work for You
Addressing the challenge ahead, Ford Chief Financial Officer John Lawler said, "We're not shying away from our EV plans. This is not going to be a straight line. There's going to be some bumpiness as we move along."
After overestimating growth in demand, Ford currently has an oversupply of EVs, and while prices are still out of the average car buyer's reach, the company may decide to cut prices further to stay ahead of the competition.
Last month, Ford slashed prices across its F-150 Lightning electric truck line, citing "increased plant capacity, continued work on scaling production and cost, and improving battery raw material costs," according to Kelley Blue Book. 
Despite the loss numbers, Ford is banking on the gradual widespread adoption of its electric vehicles. "EV customers are brand loyal and we're winning lots of them with our high-volume, first-generation products; we're making smart investments in capabilities and capacity around the world; and, while others are trying to catch up, we have clean-sheet, next-generation products in advanced development that will blow people away," said Farley.
We'll have to wait and see whether the second-largest U.S.-based automaker will blow people away immediately or if adoption process of its Model e vehicles will continue to lag. Third-quarter 2023 financial results are expected to be announced on October 26.
More From GOBankingRates