Gas Prices Are Looking Modest Compared to Charging EVs in Some States — How Much More Could You Spend?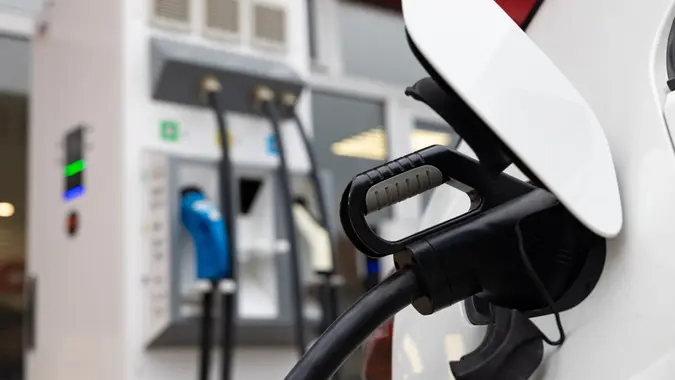 Constantinis / iStock.com
Electricity might be clean, green and comparatively inexpensive to fossil fuels, but it's not free or even cheap. New Englanders are finding that out amid a recent spike in electricity prices — so much so that for some drivers of electric vehicles and hybrid cars, it's now cheaper to fill their tanks with gas than to power them up with electricity.
See: Electric Bills Are Most Expensive in These States — How Americans Are Saving
Explore: If Your Credit Score Is Under 600, Make These 3 Moves ASAP
Power rates throughout New England have surged an average of 30% since the summer of 2022, CBS News reported. At the same time, gasoline prices in the region have fallen well below their mid-2022 peaks. Most states in New England now have cheaper gasoline prices than the rest of the nation.
Massachusetts-based web engineer Matt Cain told CBS Moneywatch that he recently ran a price comparison after his electricity bill shot up in January. What he found was that his overall costs for utilities had climbed by 50%.
Make Your Money Work for You
"We have a Prius Prime that we normally drive around town, and we drive most of it on electricity. It's now 50% more expensive than fueling it with gas," Cain said.
Electricity prices in New England started soaring in November, when the region's average consumer electricity price rose 20% from a year earlier, Bloomberg reported, citing data from the U.S. Energy Information Administration. Prices are forecast to hit a winter peak of more than $200 per megawatt hour — well above the estimated national average of $60 to $80.
Meanwhile, gasoline prices in four of the six New England states are below the national average, according to AAA. As of Feb. 14, 2023, the national average was $3.414 a gallon. That compares to an average of $3.318 in Connecticut, $3.388 in Massachusetts, $3.339 in New Hampshire and $3.358 in Rhode Island. The only two New England states with gasoline prices above the national average are Maine ($3.474 a gallon) and Vermont ($3.498).
Take Our Poll: How Much of a Tax Refund Do You Expect in 2023?
As CBS News noted, a number of New England EV drivers have shared their experiences on Reddit. One EV owner in Massachusetts said their power company, National Grid, raised local electricity prices to 44 cents per kilowatt-hour, or about three times the national average. Another EV owner in New Hampshire posted that their electric bill went from an average of $220 a month to nearly $400 a month — and that is with off-peak charging.
Make Your Money Work for You
For most EV drivers in the United States, however, it's still cheaper to fuel an electric car than a gas-powered one, at least during normal circumstances.
Last year, the National Resources Defense Council cited a 2018 study by the University of Michigan's Transportation Research Institute which found that the average cost to fuel an electric car was $485 a year vs. $1,117 for a gas-powered vehicle. A 2020 Consumer Reports study showed that EV drivers tend to spend about 60% less each year on fuel costs compared to drivers of gas-powered cars.
But as the NRDC noted, the savings calculations aren't the same for everyone, and can vary depending on factors such as vehicle range, home charging — and power bills.
Find: The Best Day of the Week To Go Grocery Shopping
Learn: 4 Household Bills That Will Get More Expensive in February
New Englanders have experienced high EV charging costs because of the region's high electricity prices. Ironically, much of this has to do with New England's heavy reliance on fossil fuels. Roughly 45% of its electricity comes from methane gas vs. 38% nationwide, and that fuel has tripled in price since Russia invaded Ukraine. This, in turn, has prompted the region's utilities to raise their electricity rates.
Make Your Money Work for You
"In a large portion of the country, EVs are a lot cheaper to drive," Beia Spiller, director of the transportation program at Resources for the Future, told CBS News. "It really, really depends on the location."
More From GOBankingRates
Make Your Money Work for You