Gas Prices: Ranking the Top Grocery Fuel Rewards Programs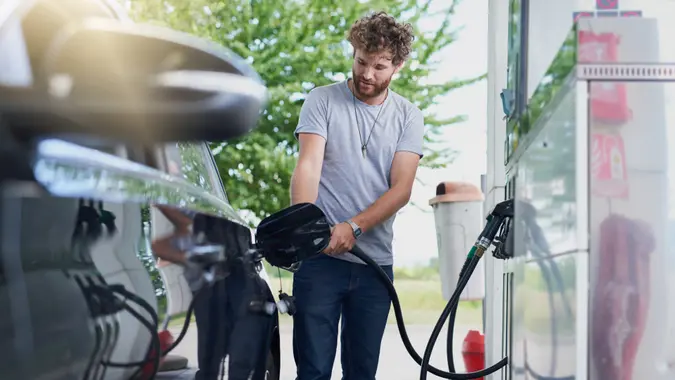 Adene Sanchez / iStock.com
If you've ever thought the price of gas was too expensive, you may want to consider signing up for a fuel rewards program. Once you do, you can start earning points whenever you make a qualifying purchase through a participating restaurant or merchant.
You can use these points to get a discount when you fill up your tank. Depending on how often you shop — and the program you use –, you could save anywhere from a few cents to nearly $1 on the gallon.
Fuel rewards programs come in many forms, including rewards credit cards and loyalty programs through gas stations and grocery stores. Some programs come with more benefits or savings than others. Before you choose one, here are the top programs to check out this year.
Shell Fuel Rewards
Shell Fuel Rewards is a great option if you live near Shell gas stations and want to take advantage of their free loyalty program. This fuel rewards program has two tiers: Gold and Silver.
Make Your Money Work for You
"When you first sign up, you receive instant Gold Status for six months. This status affords you 5 cents off per gallon," said Andrew Meyer, CEO at Arbor. "To retain Gold Status, you must fill up your tank at least six times within the second half of the first six months. This allows you to retain your Gold Status for an additional three months. If you don't, you drop down to Silver Status, which still afford you 3 cents off per gallon."
What's great about Shell's loyalty program is that you can earn points in several different ways. Rewards also stack, meaning you could end up saving a lot at the pump.
Meyer added, "So, you could earn 10 cents per gallon at a restaurant, 20 centers per gallon shopping online, and 40 cents per gallon purchasing concert tickets. Then, you could combine those with your Gold Status and save 75 cents per gallon the next time you go and fill up your tank!"
Make Your Money Work for You
In order to start earning points, you'll need to link your Rewards account to either a Mastercard, Visa, or Amex card. Keep in mind that points also typically expire on the last day of the month.
Take Our Poll: Would You Put All of Your Savings in an Apple Savings Account?
Pilot Flying J
Pilot Flying J's rewards program is another option to consider, especially if you're a professional driver who tends to fill up on diesel. "At Pilot Flying J, you can save 10 cents on every gallon of gas to kick off spring and summer travel," said Caleb Hoover, spokesperson for Pilot Flying J.
As a myRewards member, you'll also receive special deals and opportunities to earn additional rewards through the app. "At no additional cost or fee, drivers can save by signing up to Pilot's myRewards Plus app (ranked #1 America's Best Loyalty Program) for free," added Hoover. "The app offers daily deals on drinks, snacks and merchandise as well as making life easier with parking and shower reservations."
According to the Pilot Flying J website, professional drivers typically earn about $450 worth of points each year. You can redeem these points at Pilot or Flying J Travel Centers, as well as at One9 Fuel Network locations.
Make Your Money Work for You
Costco Gasoline Cash Back Rewards
If you're a Gold or Executive member at Costco, you can save money on gas using the warehouse club's cash-back rewards program. Not only do Costco gas stations have the lowest in-state prices for gas, but your savings could more than pay for your membership cost.
And if you're looking to earn even more rewards, consider signing up for the Costco Anywhere Visa Card. With this members-only card, you can earn up to 4% off eligible EV charging or gas purchases on the first $7,000 spent (annually).
You can also earn 3% back on certain travel and restaurant purchases. The rewards don't stop there. You could also get 2% cash back on other Costco purchases.
Citi Rewards Card and Citi Premier Mastercard
The Citi Rewards Card has a sign-up bonus where you can earn 25,000 extra points if you spend $1,500 in the first three months. You can also earn two points per dollar you spend at participating grocery stores and gas stations (up to $6,000 in the first year). After that, you'll earn one point per dollar.
Make Your Money Work for You
With the Citi Premier Mastercard, you could earn three points per dollar spent on gas. If you're an avid traveler, you can even redeem these points at certain airline loyalty programs.
Kroger Fuel Points Program
With almost 2,800 stores across the country, Kroger is the largest grocer in the United States. This makes the Kroger Fuel Points Program another great option if you live in one of the 35 states where they operate.
To use Kroger's rewards program, you'll need to be a member with a valid Shopper's Card. Fortunately, membership is free and easy to get.
Upon becoming a member, you can earn one fuel point per $1 you spend on gas. This equates to $0.10 off the gallon per $100 spent. You can also earn fuel points when you purchase gift cards, groceries, prescription medications, and more.
Your monthly earning potential is uncapped, but the fuel points do expire. You can also get up to $0.10 off the gallon at any participating Shell location.
Speedy Rewards
Last but not least, Speedy Rewards is one of the best rewards programs in the country. Through this program, you can earn 10 points for every gallon of gas you get. You can also get 20 points per dollar you spend on related merchandise. Depending on what you buy, you may even earn bonus points on specific items.
Make Your Money Work for You
You can redeem these points for free gift cards — like prepaid Visa or Amazon gift cards –, discounts on gas, or coupons. What's great about this program is that the points don't expire until your account has been inactive for at least nine months.
More From GOBankingRates
Make Your Money Work for You