Gas Station Savings: Should You Pay With Cash or Card To Save More?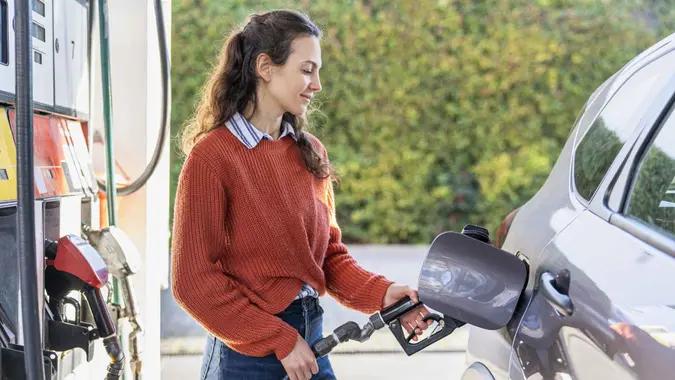 Mindful Media / Getty Images
Filling up your car with gas is rarely a pleasant experience for your wallet, even with prices on the decline recently. The U.S. Energy Information Administration and Bureau of Labor Statistics estimates the average American household puts about $2,000 worth of gas in their vehicles annually. That's a lot of money out of the bank and into your tank.
While gas might not ever be considered a cheap commodity, you don't have to feel so much pain in your pocketbook every time you fill up your vehicle. In fact, there are lots of ways to save at the gas station — including making the proper choice of whether to pay cash or use a credit card. Let's explore some tips and tricks on how you can save more when you buy gas just with your method of payment.
Factors To Consider
"Saving money on gas is a top concern for the average American," says Zach Larsen, a finance and investment expert and co-founder of Pineapple Money. "To tackle this challenge, adopting some smart strategies can make a real difference."
For Larsen, the classic debate of cash vs. credit at the pump comes with a lot of considerations, as well as extenuating factors that will have to be determined by each customer on a case by case basis. However, there are some overall tips he recommends.
"Credit cards, for instance, can be a hidden gem," offers Larsen. "Many offer cash back, points, or discounts on gas purchases. Some are designed specifically to reward your fuel expenses, giving you cashback or knocking off a chunk of your pump costs."
Make Your Money Work for You
Larsen thinks cashback credit cards specifically can be a game-changer.
"You earn a percentage of cash back on every purchase, which adds up over time," Larsen explains. "But there's another trick up the sleeve — loyalty programs. Some gas stations and grocery store chains run these gems. You accumulate points for every visit, and when you hit a certain milestone, voila, free gas or discounts await you."
Another financial expert, Diana Howard at CouponBirds, also touts the value of using plastic. "If you think it's difficult to get free gas by accumulating points and expect to see savings every time you fill up, using a credit card from a retail store can accumulate considerable savings on your gas fees, she said. "Especially the Sam's Club Mastercard, which has a very high 5% cash back at eligible gas stations nationwide (within $6,000, there is still 1% cash back on the amount above), meaning you can save $100 per year."
Howard added that the Costco Anywhere Visa Card offers up to 4% cash back (up to $7,000) at eligible gas stations across the country which can add up to an annual savings of $80 for cardholders. "Gasoline at Sam's Club is generally cheaper, but Costco offers top-tier gas that Sam's Club does not. If you do a lot of driving, such as commuting long distances or taking long driving trips, using a credit card from a retail store can save you even more."
But Is Cash Still King?
One downside to using credit cards at the pump is that, at many gas stations, there is a higher fee associated with the cost per gallon compared to paying with cash . Lots of major gasoline companies list dual prices for the same kind of gas, with credit card prices averaging to about 10 cents more per gallon. That isn't the only added cost you'll find when you fill up with a credit card, either.
Make Your Money Work for You
"If you pay in cash, it is best to go for gas on Monday or Tuesday, the beginning of the working week, when gas prices will be relatively cheaper," Howard recommended.
"Although cashback rewards or gas points may help you save on your next tank if you use a credit card, there are drawbacks to this saving method," added Jake Hill, CEO of DebtHammer. 
"Most notably, if you do not pay off your credit card in time to avoid accruing interest, the savings you enjoy will be nullified by the interest charged," Hill describes. "In these cases, you are better off using cash to fill your tank. Many gas stations have rewards programs that don't require the use of a credit card, so consider these options as an alternative to credit card rewards."
In the cash vs. credit debate, it ultimately comes down to personal style and financial goals. Credit cards can offer a convenient way to pay while earning rewards. However, paying cash allows you to stay on budget in real time, avoiding the potential interest traps of credit card balances, hidden fees, and interest rates. It is also cheaper up front at many gas stations across the country.
"To make the best call, explore the benefits and rewards various credit cards and loyalty programs offer and see which one aligns perfectly with your needs," Larsen concluded.
More From GOBankingRates
Make Your Money Work for You