How I Was Scammed When I Bought My First Car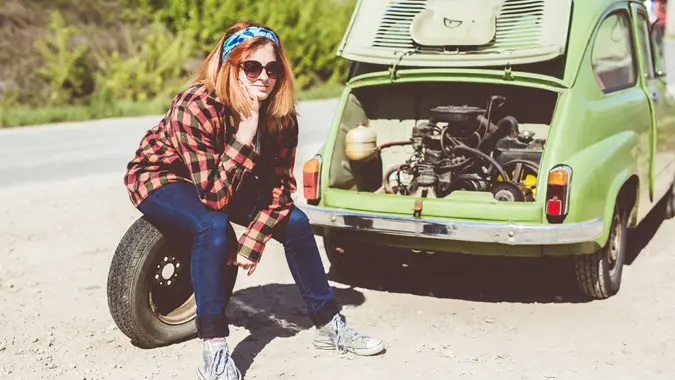 urbazon / Getty Images
Do you remember the excitement you had when buying your first car? When I got mine, I remember feeling like I was "#adulting" and finally getting to a place where I was becoming independent. 
Because I was 16 with no credit or legal ability to purchase a car, my mom agreed to sign for the car. I would make the monthly car and insurance payments. (Side note: I would caution people from pursuing this route. It's very financially risky.)
Read More: How My Daughter Saved Us Thousands on Car Insurance
Together, my mom and I shopped around, looked through newspaper and Craigslist ads and came across a super cute white Pontiac Sunfire convertible with graphics on the side. The dealership was two hours away from where we lived. 
When we got there, my mom test drove the car, inspected it to the best of her ability and reported back to me that it seemed like a pretty good deal. Based on the loan options, I would be responsible for $120 a month for the car payment and $120 per month for auto insurance. We went home to think it over.
After some time had passed, we decided to go for it and reached out to the car dealership. However, they reported that because the car didn't sell on their lot, it was going to auction. Bummer, right? But they then told us that if we met the car transporter in our city, we could take it home before it went to auction and we sent in our financing paperwork for processing at the dealership. 
Make Your Money Work for You
That's when mistakes were made.
It Happens to Everyone: The 3 Biggest Financial Mistakes I Made in My 20s
The car had an odd knocking noise. We were told the noise was "normal" and attributed it to the overhead cam. We trusted the dealership when they reminded us of their 20-point inspection and on-site mechanic who approved cars before they were sold.
One month later, however, my cute convertible was sitting in my driveway with a completely useless engine. The knocking sound we had heard turned out to be an engine rod and resulted in a car that wouldn't even start. Now, the engine needed to be replaced to the tune of $2,500.
This meant I had to make payments of $240 per month on a car that didn't even run, while I also tried to save up money for a new engine. It soon became obvious: I had been scammed.
More on Buying a Vehicle: 30 Biggest Do's and Don'ts When Buying a Car
Turns out, I'm not alone. After sharing my story, I began finding that getting scammed on a car is certainly not unheard of. I wanted to help others who might be considering buying a car and who could face the same situation I did. So, here are three tips to help you avoid making monthly payments on a car that doesn't even run.
Have a Reliable Third-Party Mechanic Inspect the Car
Had I taken the car to a mechanic for inspection, they would have immediately known the engine noises were a big red flag. The $200 I would have spent on a mechanic would have saved me $2,500 and the inconvenience of trying to get around without a car.
Make Your Money Work for You
A third-party mechanic is important. Yes, dealerships have their own mechanics on site, but you shouldn't always trust that. They're looking out for the dealership, not necessarily for you.
Look Closely at the CarFax or AutoCheck Reports
Each vehicle has a VIN (vehicle identification number). Think of the VIN like a car's social security number. Any accidents, theft or damage from floods, fires or hail will likely show up on the car's Carfax or AutoCheck reports, as long as it was reported to an insurance company. Sometimes, regular maintenance on the car will also show up on these reports. 
When I purchased my car, I wasn't aware of options like CarFax or AutoCheck. Each report you pull on a car costs between $25-$40 but can save you plenty of pain and suffering. Just make sure you are set on that car before pulling the report because $40 for every car you want to check adds up quickly.
Be Careful About Deals That Seem Too Good to Be True
You know that old saying "if it sounds too good to be true, it probably is"? I find this to be especially true when buying cars. Websites like Kelly Blue Book or Edmunds let you put the car's information into their calculator and learn what the market value range for the car is. If a car's selling price is thousands of dollars below the market value, it probably has something wrong with it.
This is not only helpful for research purposes, but it's also very helpful for negotiating. If a car is listed for $5,000 over the Blue Book value, you can use that as leverage to negotiate a better sales price.
Also, try to be aware of environmental factors that affect the number of cars on the market. After the Houston flooding, for instance, we experienced a huge influx of almost-new cars being resold as salvaged titles or posed as brand-new cars that were severely damaged by the flooding. These cars were steeply discounted, but if you don't do your homework, you can be stuck with a car that doesn't function properly.
Related: 15 Signs You're Being Scammed
These were the tips I wish I had known when I purchased my first car. If you are in the market for a new-to-you car, use these to help you get a great deal and not to get scammed as I did.
Read More: Don't Fall Victim to These Money Scams
More From Our Smart Money Squad: