Inflation 2022: When Will Gas, Tires and Other Car Ownership Costs Go Down?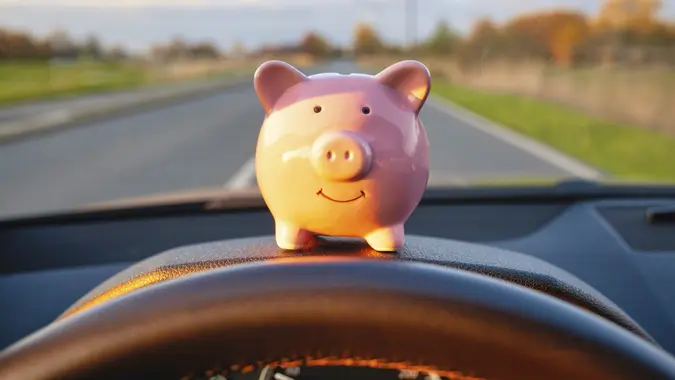 deepblue4you / iStock.com
Owning a car can be a major expense, but it's also a necessity in the many areas of the country that don't have a reliable public transportation system. That means that many car owners just have to grin and bear it when it comes to the costs that come with vehicles. And many of those costs have been rising over the past year.
Helpful: 25 Sneaky Car Dealership Tricks To Avoid at All Costs
See: If Your Credit Score Is Under 740, Make These 4 Moves Now
Here's a look at all of the costs associated with car ownership that have increased, plus, when experts predict these prices will swing down again.
Owning a Car Has Become More Expensive
The overall average cost to own and operate a new car in 2022 is $10,728, according to AAA. That's up from $9,666 just a year prior. Here's how that $1,000+ extra breaks down:
Fuel: The average cost per mile is 17.99 cents in 2022. That's up from 10.72 cents in 2021.
Insurance: The average cost for insurance is now $1,588 per year, up from $1,342 per year in 2021.
License, registration and taxes: These expenses total $675 per year on average, up from $669 per year last year.
Maintenance, repair and tires: The average car owner now spends 9.68 cents per mile on these expenses, compared to 9.55 cents per mile in 2021.
Make Your Money Work for You
Take Our Poll: How Long Do You Think It Will Take You To Pay Off Your Credit Card Debt?
What's Behind the Rising Prices?
"Prices are getting higher in 2022 for a variety of reasons," said Stefan Kleinekoort, mechanic and founder of The Driver Adviser. "Inflation is gradually increasing, and this has a direct impact on all types of expenses."
In addition to inflation, other factors may be at play for the various car ownership expenses. Here's a closer look at what's driving costs higher.
Why Fuel Is More Expensive
"There are several reasons why the average cost of gas has increased in 2022," Kleinekoort said. "One reason is that global demand for oil and other commodities continues to grow, which drives prices. In addition, there have been reports of tightened supplies in some parts of the world due to geopolitical tensions and encroachment on natural resources by other countries."
Why Car Insurance Is More Expensive
"Insurance rates have increased to reflect the higher risk insurance companies assume when covering a vehicle," said Melanie Musson, insurance expert with CarInsuranceComparison.com. "Since vehicle prices have skyrocketed, insurance companies have to pay more to repair or replace damaged vehicles. Those higher claims values get passed onto customers through higher premiums."
Make Your Money Work for You
Why License, Registration and Taxes Are More Expensive
"The prices of car registration and taxes often increase yearly as new models or types of cars enter the market," Kleinekoort said. "This is due to inflation. Additionally, more requirements must be met for vehicles to be registered and taxed correctly. These include things like emissions testing and safety standards."
Why Maintenance, Repairs and Tires Are More Expensive
"Auto prices are rising and maintenance costs are also increasing," Kleinekoort said. "One reason is that cars have become more complicated to maintain, thanks partly to new safety regulations. Additionally, the cost of [parts] and materials used in manufacturing vehicles continues to increase, which drives up repair bills. Tires continue to become more expensive as manufacturers continue to improve their technology."
Other factors affecting maintenance, repair and tire costs are supply chain constraints and the increasing cost of labor.
"Due to the current geopolitical climate, we have seen strains on the automotive industry which translated into higher prices; specifically, the COVID-19 pandemic and now the Russia-Ukraine war have put the manufacturing business into tumbles, with factories running out of parts and supply chains in disarray," said Damian Serwin, financial expert and co-founder of Why Budgeting. "This translates into higher prices for maintenance and repairs, as parts are harder [to produce] and thus costs are passed onto customers. Labor costs have also increased. With the current inflationary pressures around the world, an hour's worth of work is now more expensive than it used to be; thus, mechanics are likely to charge more for their services."
Make Your Money Work for You
When Will Car Ownership Costs Go Down?
Experts believe that some prices should drop in the near future, but some will only continue to increase.
"Insurance, registration and taxes may return back to normal once the situation in the world calms down — COVID, the war in Ukraine, etc.," said Petar Dzaja, car expert with CarDetailingPlanet.com. "When it comes to tires, maintenance and repairs, I don't think their prices will ever drop to the same values they used to be a year or two ago. As for gas, I think the price will drop, but it largely depends on the overall situation in the world, especially [relations] between Russia, Europe and the U.S. If the tensions continue to increase, I don't think it'll happen soon."
CarInsuranceComparison.com's Musson believes other prices will drop as the costs of vehicles themselves drop.
"Insurance premiums will come down as the vehicle market stabilizes," she said. "Used car prices have decreased from where they were earlier this year, and insurance rates should follow. License, registration and taxes are more expensive because they reflect vehicle value. If vehicle values decrease, those associated costs should also decrease."
Even after car prices stabilize, it will take over a year for insurance premiums to decrease, said Greg Martin, president of Think Safe Insurance.
"Most of the time, it takes about 18 months for any changes to filter through insurance rates," he said. "Once the cost of parts, labor and used cars come back down — if it does — then it has to be reflected in the cost of claims. Once that data comes in, then the companies can file for new rates with the state. That whole process is usually about 18 months from when the costs actually go down."
More From GOBankingRates
Make Your Money Work for You