Is Your Car Due for a Financial Checkup? 4 Ways To Lower Your Expenses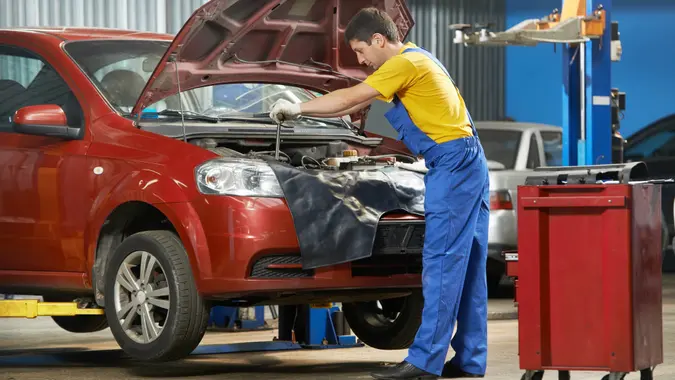 ©Shutterstock.com
With nearly a quarter of 2022 in the rearview mirror, new car prices are still at an all-time high. But even that's better than the used market, where it's not unheard of for vehicles that have been on the road for two years or longer to sell for more than new models. Oh, and if you plan on actually driving anywhere, the price of gas is at a record high, too.
It has never been more expensive to buy, own or drive a car, which makes right now the perfect time to put your vehicle under the money microscope.
Learn: How To Get the Most Money When Trading In Your Car
Hit the Brakes: Car Upgrades You Should Never Spend Your Money On
Want to make sure that the very expensive privilege of driving is costing you as little as possible? Ask yourself the following questions.
Are You Keeping Up With Preventative Maintenance?
Performing basic maintenance is the single most important thing you can do to reduce the cost of owning your car, truck or SUV. Although the heavier lifts should be left to the pros, you can do a lot yourself.
Make Your Money Work for You
Little things like inflating your tires to the correct PSI, for example, can improve fuel economy and prevent wear on your brakes. Bigger things like oil changes and fluid checks will boost performance in the short term and prevent major repairs and early auto death in the long run.
According to Bridgestone, things such as oil and filter changes, tire rotations and coolant and fluid checks are among the most important short-term tasks. Long-term priorities include inspecting shocks and struts, performing coolant fluid exchanges and replacing worn belts and spark plugs. Don't forget seasonal maintenance such as changing wiper blades and testing your battery.
Does Your Insurance Company Still Deserve Your Business?
According to Credit Karma, drivers should shop around for car insurance about once per year. Rates and premiums change all the time, new carriers enter the industry and old ones leave. Check your credit before you shop around — your score matters.
While you can solicit quotes a la carte from individual carriers, it's easier to use apps that give you quotes from all the major players in one fell swoop — you might be pleasantly surprised. Insurify advertises average savings of $585 per year. The Zebra quotes savings of $922 on combined home and auto.
Make Your Money Work for You
If you're an infrequent driver, consider by-the-mile insurance plans like those offered by Metromile, which says its customers save an average of 47%, or $947, per year.
Should You Consider Refinancing?
The question of whether to refinance is unique to your specific situation, but there are a few universal ground rules to keep in mind. First, you have to pay to refinance — origination fees, transaction fees, retitling fees — and you might have to pay early termination fees. Also, loans are front-loaded with interest, which means, if you've had the loan for a while, you'll be resetting the clock and starting over just as you're finally starting to take a bite out of your principal.
According to Forbes, however, it can make sense to refinance an auto loan in a handful of situations:
Your credit has improved a lot since you first signed for your loan
Interest rates have dropped enough to make it worth it — but remember, rates aren't everything
You're trapped in an extended loan term (beyond five years) and you want to pay it off faster
You want to extend the term because you can't afford the current monthly payments
Make Your Money Work for You
Should You Downsize to Something More Manageable?
If you need to refi because you can't afford your payments or because your loan is stretched out to a term of 72 or even 84 months, it's likely that you financed more car than you can afford. Don't worry; you're hardly the only one.
Warning: 17 Hidden Auto Costs Your Dealer Will Never Tell You About
In the fourth quarter of 2021, Experian published its State of the Automotive Finance Market report. It found that the average buyer now borrows $37,280 for a car and toils to stay ahead of a record-high $606 monthly payment, up from $34,682 and $565 in 2020.
People are clearly borrowing more than ever before — but they didn't get any wealthier. To compensate, borrowers are extending their loans to dangerously long terms, the average of which is now 69.47 months — just shy of six years.
Extended loan terms let people buy cars they can't afford by saddling them with years of extra finance charges after their cars are out of warranty. If you fell into this trap, now might be the time to downsize to something you can truly afford — provided you can sell it for enough to pay off what's left of your current loan, of course. 
Given the current state of the used car market, that shouldn't be too hard. But keep in mind, if you don't have backup transportation to tide you over until the market cools, you'll be forced to enter that market as a buyer.
More From GOBankingRates
Make Your Money Work for You