25 Luxury Perks for Your Car You Can Get for Bargain Prices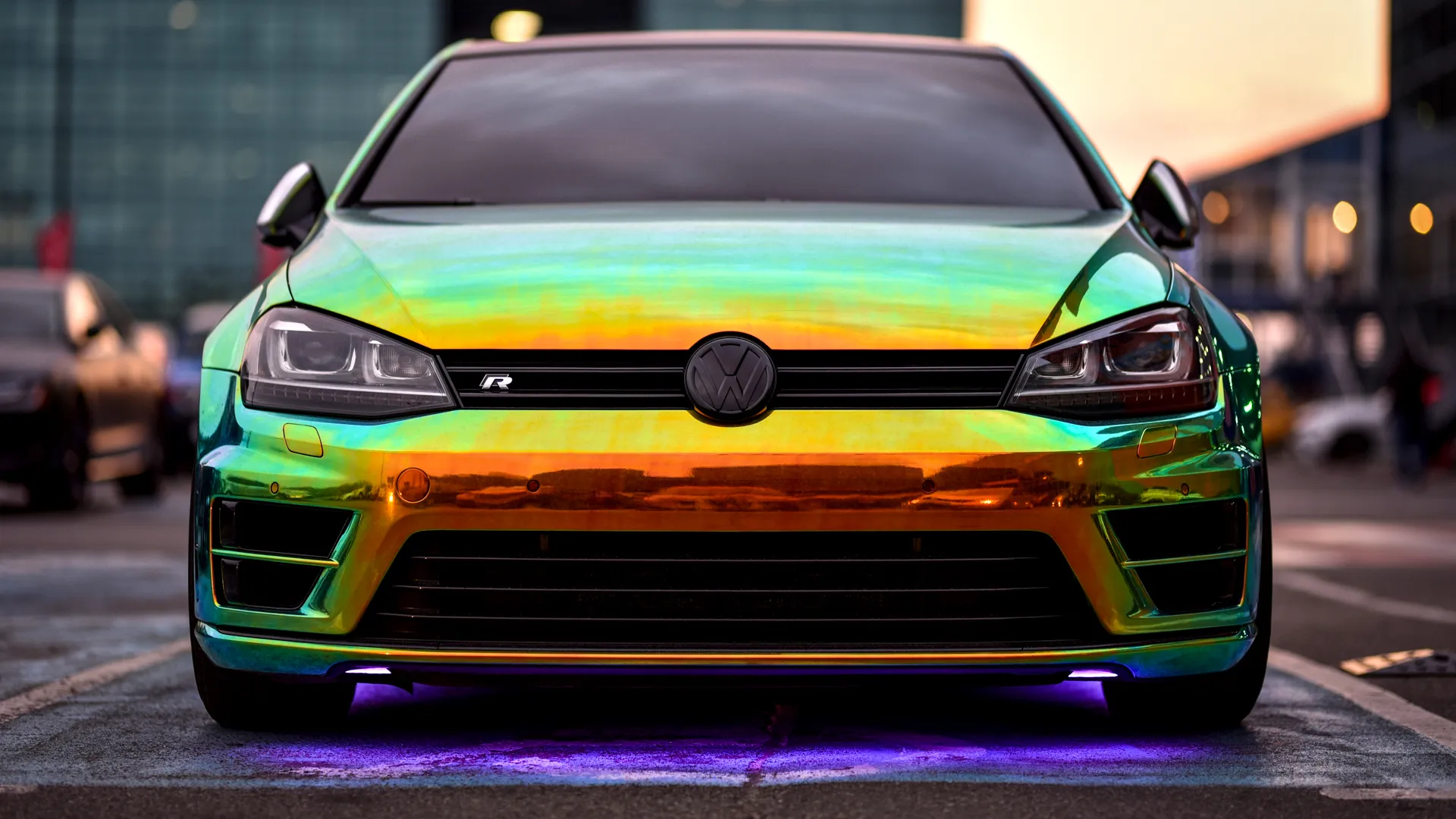 If the new car smell has long worn off your ride, but you're craving high-end automotive trim on a budget, worry not. You can transform your car in a big way for a relatively small investment. From discount services to DIY must-haves, click through to see the posh perks that can breathe life into even the most tired old ride.
Customized Window Tints
Window tints have long been one of the most common aftermarket upgrades for otherwise ordinary cars — they block UV rays, reduce heat and add mystique. Instead of splurging on professional installation, consider a custom DIY kit that's precut to your car's exact specifications.
You can get the one that earned the title of Amazon's Choice for around $35. And they come in tint levels ranging from a relatively transparent 50% to a Batmobile-ish 5%. Just be sure to check your state's laws before you go for a full blackout.
Headrest Monitors
For a little over $100, you can do what you see people in luxury cars doing every day on the road through their beautifully tinted windows — watch TV. Now the backseat passengers in your regular car can stream TV and movies or play video games through the front-seat Pyle headrests without upgrading to a trim package that offers that kind of amenity. Amazon has a universal set that lets you pop your old headrests out and insert the new ones in just a few minutes.
Make Your Money Work for You
Remote Music LED Star Ceiling Kit
If you have an LED star ceiling function with a remote and music mode that turns your car ceiling into a galaxy, you probably drive a luxury vehicle. The other option is that you installed your own with a kit. You can get an all-included DIY kit that earned a rating of 4.7 stars on Amazon for roughly $50 to $100 dollars, depending on how many lights you want.
Heated Seats
In some cases, you can see or hear luxury — in others, you can feel it. Companies like HeatYourSeat.com can give you the opulence of heated seats for $99 each. The universal system is parallel wired and comes with two temperature settings. A round rocker switch has off, low and high settings, and even offers remote start. You can install it yourself.
LED Cupholders
Creative lighting can go a long way to changing the entire ambiance of your otherwise average car — particularly in overlooked but eye-catching areas like cupholders. Aoonu Auto charges about $30 for a pair of two waterproof, rechargeable and easy-to-install LED cupholder lights. They have 17 different light-shifting modes and come emblazoned with logos from your choice of all major brands.
Mini Dash Cam
Luxury car cabins are bursting with tech. But just because high-end goodies didn't come standard on whatever you're driving doesn't mean you can't upgrade. A mini dashcam is discreet but offers peace of mind in case of a crash-related insurance claim or a questionable traffic ticket. You can score a highly rated Apeman model on Amazon — complete with high-def night recording, loop recording and 24-hour parking monitoring — for less than $50.
Make Your Money Work for You
Laser-Measured Floor Liners
Floor mats are an easy way to upgrade your car's floors from rough and ugly to satisfactory and functional. But you can take it a step further if you're looking for real luxury appeal. Companies like WeatherTech produce high-quality, laser-measured mats custom made specifically for your car.
Unlike the standard generic floor mats that you can get on the cheap at your local auto parts store, these are perfectly fitted and are built from superior materials. They can protect every inch of your floor and even up the sides of the footwell. It costs between about $60 to $300, depending on your make and model.
Mobile Detailing 
If you don't have the time to take your car to get detailed, you can have the car detailing come to you. CarDetailing.com maintains a stable of hundreds of service providers that work all across America.
Prices vary depending on the service package and location. All you have to do is type in your ZIP code, pick a service package and choose a time. Then, a pro detailing team will come to your house and breathe new life into every nook and cranny of your car. No waiting for hours at a shop or finding a ride while your car is getting detailed.
Infotainment Touchscreen
You can tell a lot about a car by looking at its multimedia interface — or lack thereof. If your car falls into the latter category, consider upgrading to a double din infotainment touchscreen. You can install it yourself, and it will give you the modern look and functionality of digital cockpit touchscreen-display GPS, phone, music, video and entertainment installed where your boring dials currently live.
Amazon has a highly rated model, the ATOTO A6, with options ranging from $169 to $299. Apple CarPlay costs about $250 at Best Buy.
Backseat Organizer
As a rule of thumb, your average Bugatti or Rolls-Royce isn't cluttered with wrappers, receipts, umbrellas, bottles, cans and electronics. Cars collect stuff, it's a fact of life. But if you wrangle that stuff with a sleek seat-back organizer, everything will have a place — even that merchandise mountain you have for your kids. Highly functional, good-looking and compartmentalized, you can pick up a highly rated set of two from KNGUVTH on Amazon for about $22.
Make Your Money Work for You
LED Underbody Lights
Give your average car a spaceship-feel with LED underbody lights, like the kind that Aoonu Auto sells for less than $40. You can set any color you like, set a light-effects mode, change colors to the rhythm or the music, or change them manually with the included wireless voice remote control. Installation is nondestructive, with no drilling or rewiring needed.
Essential Oil Diffuser
A dangling tree air freshener doesn't exactly scream out high-end luxury, but neither does a smelly car. There are a million vent-clip air fresheners, but their chemically enhanced scents don't have the aromatherapy properties or the cushy feel of in-car essential oils. For about $11, you can get a pair of two attractive, artsy RoyAroma diffusers that you fill with real essential oils to keep the smells and the stress out of your car for good.
Chrome Door Handle Covers
Chrome accents have been adding flash and panache to cars since cars first became a thing — and the novelty never wore off. When you cover up your standard door handles with chrome-plated covers, your exterior gets an instant upgrade. Putco sells a no-drill, easy-to-install variety that's built to look good and stand up to the elements for between roughly $17 and $177.
Steering Wheel Bluetooth Controls
People who drive Porsches and Benzes can't be bothered with taking their hands off the wheel to change their controls — and neither should you. For less than $40 on Amazon, you can get a sleek, rubberized controller by Artolife that clips onto the steering wheel. It lets you play, pause, rewind, fast-forward and more without taking your hands off the wheel.
Make Your Money Work for You
Remote Start
If you want to start your car to get the air conditioning or heat going while you're still finishing your coffee in the kitchen, you can buy a BMW or a Jaguar. Or you can spend less than $500 fully installed for a mobile app-connected line remote starter, like the Pro T-11 from Compustar. It features two-way LCD command confirmation and a range of three miles.
Chrome Taillight Covers
Chrome awesomeness is not exclusive to door handles — you can do wonders for your rear by adding some glimmering shine to your taillights, as well. For between $72 and $160, Putco sells matching chrome covers that dress up your taillights with sleek and stylish metallic trim in a variety of patterns and cutouts.
Premium Speakers
Everyone knows that a booming system is one of the hallmarks of a high-end car. And you can enjoy deep, rich sound without doing anything but swapping out your standard speakers, keeping the same head or amplifier you have now.
Amazon sells a 6 1/2-inch set from JBL with a 4.3-star rating and more than 1,000 reviews. The set of two costs around $90 and the components create clear high-fidelity sound from the system you already have.
New Rims
A shiny set of rims just might be the easiest, most dramatic and least expensive luxury upgrade you can make in terms of bang for your buck. Retire your old hubcaps and dress up your wheels for about $45.
That's the price you'll pay for a set of four Spyder-style wheel covers from Pilot Automotive. Even a novice can install them, a video tutorial shows you how. They've earned a four-star rating with nearly 2,000 Amazon reviews.
Make Your Money Work for You
Running Boards
If you have a truck or an SUV, few things add more instant luxury and functionality than a set of running boards, nerf bars or hoop steps. You can get them anywhere, and you should be able to install them yourself with no drilling required in most cases. Prices vary, but they're generally priced starting in the low $100s at online specialty stores like Running Board Warehouse, which offers price-match guarantees.
Soundproof Your Cockpit
A great stereo is standard in all high-end rides, but sometimes true luxury comes down to what you don't hear. Soundproof your car from outside sound, vibrating sheet metal and road noise while making your interior audio richer and your bass deeper.
You can achieve all this with easy-to-install padding like the kind sold by Dynamat. It's made from an aluminum alloy skin bonded to butyl rubber. It's thin, light and highly effective. Pricing depends on the package.
Upgrade Your Carpeting
Your car's carpeting might be worn out, torn, dirty or just barely average even if it's new. That can all change with brand new molded carpeting, which is easy to install and can make your interior look reborn in a single afternoon. Auto Custom Carpets, for example, offers more than 200 colors. Each pad is molded to the specifications of your exact car.
Blind-Spot Sensor
One of the hallmarks of luxury vehicles is the mind-boggling technology that comes standard — among the most impressive and consequential of all are collision-avoidance systems. You can install your own LED blind-spot sensor and get the prestige and peace of mind that comes with the latest driver-assist technology. CarToys.com sells a DIY kit from Accele for around $150.
Make Your Money Work for You
Debadge Your Car
Sometimes aesthetic upgrades aren't about what you put on but what you take off — like those tacky brand badges, to start with. Maybe you don't want to advertise your car's make or trim, maybe you want a nice clean look, or maybe you just want your car to stand out from the crowd.
It all comes down to softening the adhesive, removing the badge without hurting your car and then cleaning and waxing it to make it look like new. CarBibles.com offers an excellent tutorial.
Improve Your Suspension
You can feel luxury in the way a car rides. And it will ride a whole lot better if you're able to spring for an upgraded suspension, which requires professional service.
If you can afford it, one of the best modifications is the addition of coilovers, which is a fancy name for coil-wrapped shock absorbers. Another is to add strut tower braces, which make your ride more responsive. Compared to other work, suspension upgrades are surprisingly affordable, usually starting in the low $100s.
Lambo Doors
The greatest luxury upgrade of all will cost more than $1,000 in most cases, but not much more than that. If you're willing to dig that deep, you'll be able to swap your boring horizontally opening doors to vertical Lambo doors.
In some cases, it's a DIY task, although the companies that sell them also install them. Also called wing doors and switchblade doors, Lambo doors get their name from the legendary automaker that made them famous — Lamborghini.
More on Saving Money
Photo disclaimer: Photos are for illustrative purposes only. As a result, some of the images may not reflect the car features listed in this article.