New Car Prices Are About To Drop — Should You Buy While They're Low?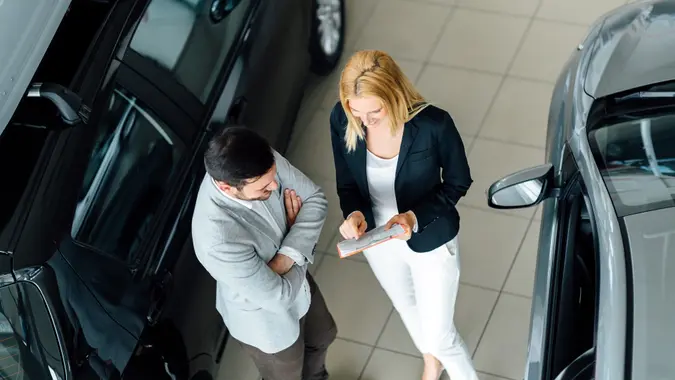 nd3000 / iStock.com
The average price of a new car has climbed steadily over the past couple of years. Due to supply chain issues during the pandemic, car prices went up — and never really stopped.
Though it's had some very mild drops, the average car price right now is $48,000. However, we are about to see a change.
Why Are New Car Prices Dropping?
This summer, consumers can expect to see a decline in new car prices. Adam Taggart, CEO and founder of Wealthion, said there are a couple reasons for this — one being that those supply chain issues aren't really a factor anymore.
"Inventory is no longer tight at many dealerships, and they have to work harder to move product now," Taggart said. 
Another reason prices are dropping? Inflation.
"Demand is weakening as consumers struggle with the spike in the cost of living," Taggart said. He added that the average car payment is around $750 a month, which is a substantial cost for most Americans, making it practically impossible to consider buying a new car.
"Consumers are looking for affordable cars," he said, "and there are precious few new cars for $25,000 or less, which is why they're turning to used cars aggressively right now."
Taggart also said increasing interest rates are making it so less consumers are eligible for auto loans.
Make Your Money Work for You
How Much Will Prices Drop?
So, what kind of discount should consumers expect to see in the car lots?
"Many experts expect average price declines of 10% over the coming 12 months, but higher on certain brands and models. If we enter a recession, that amount could go higher," Taggart said.
He added that you can tell dealerships are already trying to move more cars because they're offering incentives and free upgrades to entice customers. He expects these sales to last at least through the end of the year.
Even if car companies don't drop prices by a full 10%, you're still likely to see some kind of price cut, even from more luxury brands.
"High-end car manufactures like Tesla slashed their base prices by over 5%, or nearly $10,000," said Patrick McCann, editor-in-chief at WeTryTires.com. 
Should You Buy a New Car?
If you've been looking for a window where prices are going to drop, now is your chance. Well, not "now" exactly, Taggart said.
"Patience will work in your favor here. If you can wait before buying, late 2023 and early 2024 should reveal substantially better values versus today's prices."
However, that doesn't mean any new car is a great buy. Taggart said doing your homework is key and it's best to call around and get a feel for car prices before you even head to the dealership. Then, you'll have some knowledge of what's a fair price, and you can effectively bargain with the dealership.
Make Your Money Work for You
Once you do head out to dealerships, Taggart said, you need to know what to look for. "Look for dealerships with lots of cars in the lot. [That means] they need to move them. And don't assume that an empty lot means the dealer can be choosy. A lot of dealers store excess inventory off site to make demand look higher than it truly is."
He also said one of the key ways to get a deal right now is to know which brands are in demand and which are not.
"Several U.S. brands are much more willing to offer discounts than foreign brands right now," he said. "If you care about functionality more than brand, shop around and use that weakness to your favor."
Not sure what car you want to buy quite yet? Brandon Tapp, managing director and head of dealer services at Chase Auto, said there are a couple ways to make sure you love the car before you buy it.
"Take the car for a test drive to ensure that the car, its amenities and overall feel are adequate to what you're looking for," he said. "Once the test is done, ask to have the car inspected by a trusted mechanic and inquire about the warranty terms." 
More From GOBankingRates
Make Your Money Work for You