Should You Become a One-Car Family?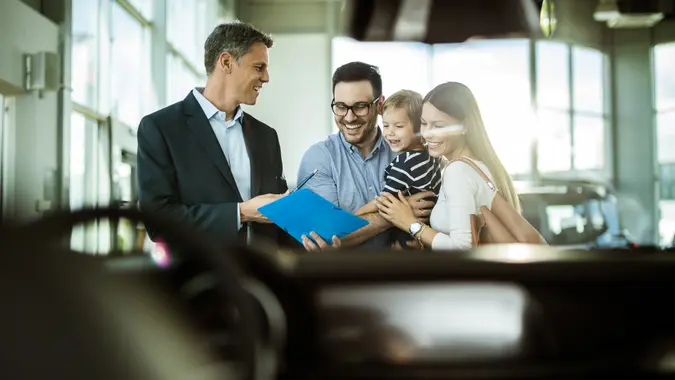 skynesher / Getty Images
When the world went remote, multicar families all over America suddenly owned more than one vehicle by choice, not by necessity. Although no one wants to part with the versatility and freedom that comes with a full garage, ditching all the associated expenses could be far more liberating than the extra set of wheels.
Good To Know: Delayed Car Repairs Are Costing You $1,193
Could You Live Without a Car? See How Much You Can Save
If you're able, it might be time to downsize to life as a one-car family — unnecessary vehicles, after all, cause unnecessary holes in budgets and savings accounts.
In a Market Like This, It's Getting Awfully Hard To Justify Not Selling
Before you spend a single minute worrying about the inconvenience of sharing a car with the people in your house, consider how those people's lives might change if that car turned into a giant pile of money.
In February, ABC reported that the average used car now costs a record-high $28,000, an increase of 40% over the year before. But that's only according to Carfax data. Edmunds says it's closer to $30,000.
Make Your Money Work for You
If you have an extra car that's in decent shape, you're the envy of single-car households across the country.
"Now is a good time to sell your car because the used car market is inflated, meaning you will earn more," said Kelan Kline, a personal finance expert and co-founder of The Savvy Couple. "However, it's only a good idea to sell a car if you don't need it, perhaps because you are working from home and no longer commute every day."
Many people aren't so fortunate, but if you are, your backup car is an uncashed lottery ticket. In a time when gently used models routinely sell for more than new, your weekend car can bring your family a bigger windfall now than at any time in the past.
Learn More: The 29 Biggest Car Mistakes That Will Cost You
If It's Not Electric, It's Expensive To Drive
On March 7, GasBuddy reported that the national average for a gallon of gas had hit $4.104 per gallon. That was enough to pass the existing record of $4.103, which was set in 2008 at the height of the Great Recession.
Make Your Money Work for You
In short, the price of gas is literally at an all-time high and diesel isn't far behind, and prices don't look like they're going down anytime soon. Furious price spikes — a near-record increase of 16 cents in a single day, in one case — have been driving gas prices up at a nearly unprecedented pace for months on end. Now, Russia's invasion of Ukraine has changed the situation even more as the U.S. is banning Russian oil imports.
If your weekend car isn't an EV, that means it runs on gas — and it's a tough time to own anything that runs on gas.
Your Spare Car Loses Value With Every Minute You Wait
Despite today's record-high gas prices, fuel still isn't your car's biggest wallet drain — and neither is maintenance. In 2021, the cost of vehicle ownership hit $9,666 per year, according to AAA. That's $805.50 per month, and 40% of that tab can be blamed on depreciation — the biggest category by far.
Make Your Money Work for You
Previously owned cars have never been worth more than they are right now, but your golden ticket into history's hottest used car market loses value with every day you hold onto it.
The average cost of maintenance is approaching $800 per year, according to PolicyGenius, but even if you don't drive your spare car much, you're constantly throwing money at it.
Insurance costs an average of $1,342 a year, according to AAA — plus another $669 for taxes and fees for licensing and registration.
Discover: 30 Cars With the Highest Resale Value
Don't Think of It as Public Transportation, Think of It as a 5-Figure Side Hustle
Fewer than 1 in 6 side hustles earns $500 per month or more, according to DollarSprout — not even close to enough to cover the $800-plus average cost of car ownership. But if you ditch your second car, you could add a five-figure upgrade to your lifestyle and your savings account, which is better than you'd be likely to do in the gig economy.
According to the American Public Transportation Association (APTA), the average American family saves $10,000 when it forsakes its spare car in favor of public transportation — which also happens to be 10 times safer per mile — and that's on top of what you'd reap from selling your car at today's inflated prices.
More From GOBankingRates
Make Your Money Work for You