So You Leased a Car You Can't Afford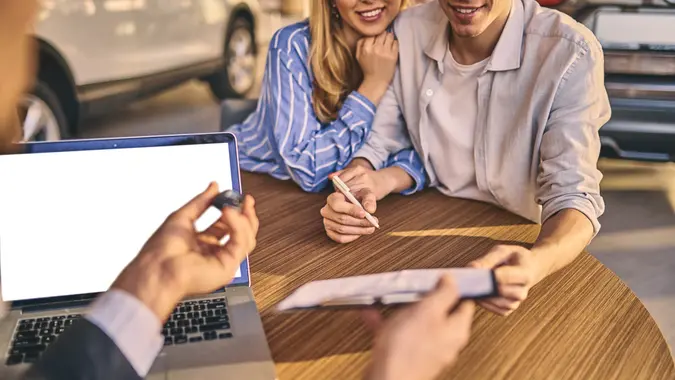 Iaroslav Chemerys / Getty Images/iStockphoto
Leasing a car has long been seen as a more affordable option to driving away in a new vehicle, with fewer responsibilities than are associated with purchasing a car.
Plus, when you lease a car, you often have the option to trade out for a new car when the lease is up. However, the pandemic disrupted the entire automobile industry in ways it hasn't quite recovered, including car inventory shortages, supply chain problems, and increased consumer demand, according to Cars.com.
In 2022, Tyson Jominy, vice president of data & analytics at J.D. Power called it a "staggeringly poor time to be leasing," with no sense of that changing in the near future. What this means is you might find yourself leasing a car at a rate you can't really afford. 
So, what do you do if you find yourself in that situation? Experts explain some options.
Terminating Is Expensive
What you don't want to do is immediately terminate your lease, according to Gillian Dewar, chief financial officer of the personal finance site Crediful.
"While you can pay to end a lease early, those termination fees are incredibly expensive, forcing you to pay out a relatively large lump sum that's typically the difference between how much you owe and the resale value of the vehicle at the end of your lease."
Consider a Lease Transfer
Your best option is a lease transfer if your dealer allows them, Dewar suggested. 
"You can use a simple platform like SwapaLease to find a user willing to take over your lease obligations.Remember that you might have to offer a discount or a lump sum payment to entice users to take over your lease and pay out a small fee, typically between $100 to $400, to the platform itself."
Make Your Money Work for You
Keep in mind that both terminating the lease and transferring the lease will cost you potentially thousands of dollars.
Renegotiate the Lease 
You can always try to negotiate with the leasing company directly, by explaining your financial situation, according to Young Pham, co-founder and financial advisor for Bizreport, a publication devoted to personal finance and business advice.
"In some cases, they may be willing to change the lease terms, such as lowering monthly payments or extending the lease term. Prepare to provide supporting documentation and to negotiate more favorable terms that are in line with your budget," Pham said.
Buy Out the Lease
Though you might not have intended to buy, if it turns out to be a better deal, Pham suggested you can look into buying out the lease, either in a lump sum or by financing the remaining balance. He added, "To see if this is a viable option, calculate the total cost of the buyout and compare it to your budget." 
Be Careful of Your Credit Score
Remember that failing to make lease payments can have a negative impact on your credit score. Consultation with a financial advisor or a car lease expert can provide you with tailored advice based on your unique circumstances.
Sell the Car
The next option is to look into selling the car if your contract allows that, Patrick McCann, Editor-in-Chiefat wetrytires.com said, "The likelihood is that you will owe more on the car than the car is worth, so selling it doesn't get you out of debt, but will stop the monthly payments."
Make Your Money Work for You
If you are able to sell it, he urged, "Make sure that the buyer received proof that you are using their funds to pay off the loan company and you will need to pay the rest off somehow, like a 0% credit card. This will reduce the amount you owe and reduce the monthly cost to the bank which may allow you to keep your head above water, albeit now without a car."
Take on Side Gigs
If none of these options work out for you, McCann suggested looking into extra ways you can use the car itself to supplement your income and help you afford the car. "You can sign up for DoorDash or Uber to earn extra cash with your car. You can also rent out your car on Turo to earn some extra cash."
Just be aware of the extra mileage that you'll be putting on your car as most car leases have mileage allowances. He advised, "Read the fine print to check if you are allowed to rent the car out in such a way."
More From GOBankingRates
Gabrielle Olya and Josephine Nesbit contributed to the reporting for this article.