Suze Orman's Top 6 Car-Buying Tips To Help You Save More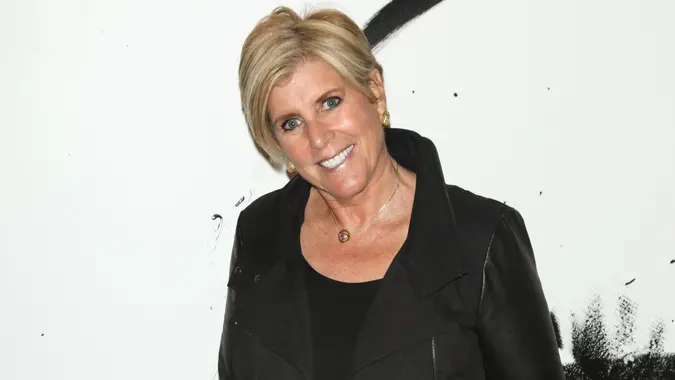 Mediapunch / Shutterstock.com
As hopeful consumers can attest, current economic conditions and dizzying prices have made it frustratingly difficult to buy a new or used vehicle. If you're going into the purchasing process already knowing you're going to overpay, you need to do your research and take advantage of useful expert tips.
Celebrity author, podcaster and financial advisor Suze Orman always stresses spending money wisely and making it work for you. To achieve financial freedom, you need to make a stringent effort to avoid overpaying for anything and put any extra savings toward investment and retirement. But when it comes to laying down your hard-earned money on a car, Orman couldn't be more straightforward.
"For starters, we need to get on the same page: A car is the worst investment, stated Orman on her website. "Why? Because from the moment you drive it off the lot it loses value. You will never recoup what you paid for the car when you eventually sell it. Got it? Good."
With that candid thought in mind, here are six car-buying savings tips for would-be owners from the Oprah-endorsed expert.
1. Boost Your Credit Score
Whether you're building your credit from scratch or rebuilding after your score has taken a hit, it's important that you have a solid credit base to get a car loan in the first place. Low rates are for those with great credit, so it will benefit you to get your score up to snuff (at least 700) before you go shopping. Orman advised starting with paying bills and credit card balances off in a timely manner.
Make Your Money Work for You
2. Buy on the Cheap
Unless you're banking on your car becoming a vintage, antique or collector "classic," go cheap. All cars, new or used, depreciate the moment you drive them off the lot. However, "your goal should be to buy the least expensive car. Period," said Orman. "Every dollar you don't spend on a down payment and the monthly loan payment is a dollar that is available for all sorts of other uses."
3. Target a Gently Used Vehicle
Because you want to spend the least amount of money possible, you should always be looking for a used car. "Since the most significant drop in a car's value occurs in the first two or three years, buying one that's just a few years old means you avoid paying for those early years of big depreciation," Orman once stated in Oprah's O magazine. Ideally, you want to target a gently used car that you can use for a number of years after you pay it off.
4. Get a Three-Year Loan
Speaking of paying it off, you should be shopping for a car loan with a term of no longer than three years and avoid the "colossal waste of money" that comes with leasing. Paying interest over a long period on a devalued asset is a losing game. Even with the increase in maintenance costs that comes with owning a used car, you'll still save money by avoiding throwing it away over a long payment term.
Make Your Money Work for You
5. Shop Around for the Best Loan
Like shopping for a car, you'll have plenty of options when securing a car loan. However, Orman advised not automatically trusting the deal you'll be offered from a dealer, and to not discount credit unions. "The average used car loan at credit unions is typically at least a percentage point less than the rate at a regular bank," said Orman. Additionally, traditional car loans are always preferred to using a home equity line of credit (HELOC) for a car loan. Orman has suggested in O magazine that if it comes to losing your house or losing your car, the latter is the better — but still unfortunate — outcome.
6. Get an EV Tax Break
Although requirements for federal tax credits for electric vehicles (EVs) and plug-in hybrids have been revised, there are still tax breaks to be had on both new and used EVs. However, it might cost you a lot more up front to buy an EV, so you will have to consider whether this is a sound purchase for your needs and how it will affect your finances.
Make Your Money Work for You
More From GOBankingRates