Tesla's Cybertruck: Should You Buy This EV?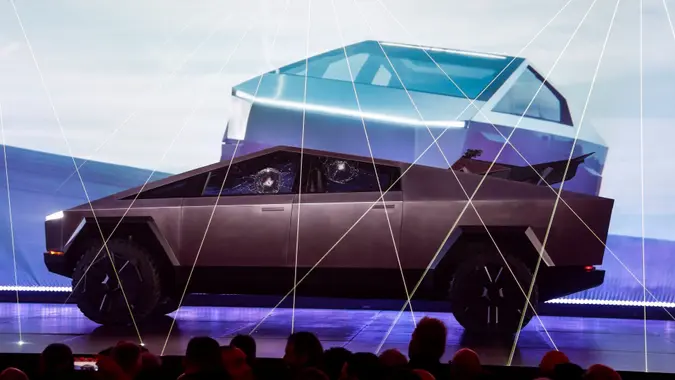 Ringo H W Chiu/AP/Shutterstock / Ringo H W Chiu/AP/Shutterstock
In 2021, Tesla announced that the Cybertruck would be joining the nascent EV truck market. Amid competitors like Rivian, Ford and Hummer, Tesla's Cybertruck held promise on brand name alone.
But complications arose. Design changes pushed the truck's release back two years. Now, in 2023, Tesla has made an official statement that they will be rolling out their newest vehicle this year. But is it worth buying? Here's a closer look at what we know about it.
The Cybertruck
Tesla's Cybertruck is certainly one of the more unique EV trucks on the market. With its ultra-futuristic design, including no door handles and an electric cover that protects the truck bed with the touch of a button, the Cybertruck has opted for a modern look that raises the bar for EVs. The car boasts other features like rear-wheel steering, allowing for nimble handling in order to maneuver both back country roads and busy urban streets.
Millions of people will buy a Tesla product because of the brand name alone — as of 2023, 1.9 million individuals have preordered the Cybertruck. Similar to Tesla's other vehicles early on in their release, it may be difficult to obtain a Cybertruck due to high demand. According to Elon Musk, Tesla will plan to have at least 250,000 Cybertrucks available for purchase.
Should You Buy It?
In 2019, Elon Musk announced that the base price for the Cybertruck would be $40,000. The official price of the EV has not been announced yet, but it can be assumed that due to inflation and the current car market, the base price of the Cybertruck will be higher than $40,000.
Make Your Money Work for You
For drivers who need a truck bed and are looking for a vehicle with a unique look that is at the forefront of futurism in car design, this might be just the car for you. Compared to the Ford Lightning, which looks similar to the traditional bestselling Ford F-150, Tesla's Cybertruck is flashy and sleek — but is also a practical vehicle that serves many purposes.
The Cybertruck boasts up to 14,000 pounds of towing capacity. This towing capacity is significantly greater than the F-150 Lightning, the Rivian R1T and the Hummer EV Pickup, the three most popular EV trucks on the market today. For work use, the Cybertruck proves to be a very capable vehicle.
When it comes to price, the Cybertruck may be the more affordable option compared to other vehicles in its class, assuming the cost is around the originally cited $40,000. For comparison, the F-150 Lightning has a starting price of $49,995, the Rivian R1T starts at $73,000 and the Hummer EV Pickup starts at $85,300.
Those who should buy the Cybertruck are those who enjoy its unique design and are in need of a vehicle with heavy towing capabilities. This EV truck is not for everyone, but with nearly 2 million preorders, we may be starting to see Cybertrucks on the road very soon.
More From GOBankingRates
Make Your Money Work for You