Top Auto Deals To Look Out for in 2022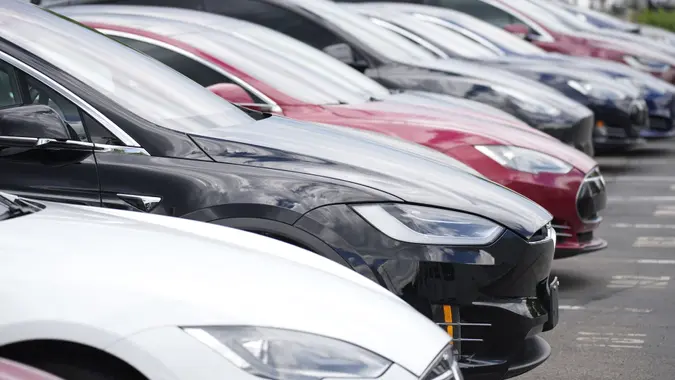 David Zalubowski / AP / Shutterstock.com
The 2021 chip shortage made for mostly underwhelming sales events during the 2021 car-buying season, although there were certainly plenty of deals to be had for buyers who were willing to dig a little and compromise. Some of those sales events ran through the first few days of the new year, but almost all have passed by now.
Find Out: 17 Hidden Auto Costs Your Dealer Will Never Tell You About
See: The 29 Biggest Car Mistakes That Will Cost You
But don't worry — plenty of new sales and discounts have taken their place, with most of the offers in the current batch of deals requiring delivery by Jan. 31. Here, too, however, the pickings are much slimmer than in years past. In the age of inflation and shortages, these are not the post-holiday bonanza sales of old.
Even so, many automakers are offering decent incentives considering the circumstances — and for the buyers with the very best credit, there are some real gems for the taking. Here's a look at the best car, truck and SUV deals of 2022 so far.
Important: The Best and the Worst Time of the Year to Buy a New Car
Make Your Money Work for You
Toyota
Toyota has deals scattered throughout its lineup, but you have to search to find them. The 2022 Avalon comes with $1,000 bonus cash across all trims, as does the Avalon Hybrid — but four-digit cash offers are currently rare. The 2022 Corolla Cross, the GR86, the Sienna and a few other models come with $500 bonus cash. A handful of vehicles have financing offers — including the C-HR and the Venza — but in most cases, 1.9% APR is the lowest Toyota is currently willing to go.
See: States With Electric Vehicle Incentives
Chevrolet
Chevy is doing the opposite of Toyota and mostly forgoing cash incentives in favor of juicy financing offers — but only for very well-qualified buyers. Virtually every model in the entire Chevy lineup comes with 0% APR through Jan. 31 for people with stellar credit.
The offer extends to seven SUVs, from the compact Trax to the enormous Suburban. The Colorado pickup and three different classes of Silverado make the list, as do the Bolt EV, the Camaro and the nameplate's dwindling lineup of cars, including the Spark and Malibu.
Make Your Money Work for You
Hyundai
Instead of concentrating on excelling at one or the other, Hyundai is offering the choice of decent financing deals with 1.9% APR or decent cash offers up to $500. The offer applies to many of its top models, including the Santa Cruz — a mini-truck like no other — the Elantra, Sonata, Tucson, Kona and Santa Fe.
You can do even better on a few select models, including the Ioniq and Ioniq Hybrid, each of which come with cash offers of $1,500 or 0% APR for 60 months. Most models with APR and cash offers also come with the option of lease deals.
Shop Around: 13 Cars That Are Bad News for Tesla
GMC
GMC is running comparatively excellent financing deals through Jan. 31, but only for the most well-qualified buyers. Right now, those with top-tier credit can get 0% APR on the Canyon, Sierra, Acadia, Terrain, Yukon and Savana vans. In some cases, GMC sweetens the pot for current owners of select model years 2008 or later with hundreds of dollars in loyalty cash. With a few models — those in the Sierra 1500 Crew Cab lineup, for example — current owners collect loyalty cash and as much as $250 in cash allowance when financed through GMC.
Make Your Money Work for You
Good To Know: 30 Cars With the Highest Resale Value
Honda
Honda's holiday deals expired on Jan. 3, but the automaker has since announced that most of its winter offerings are being extended for most of the same models — but the 0% APR offers that ran through the first three days of 2022 have dried up.
You can now get 0.9% special financing on the Pilot, Passport and HR-V and 1.9% financing on at least eight other top models. It's important to note, however, that those special APRs are good only for loans with terms of 24-48 months. Financing rates go all the way up to 3.9% for terms of 61-72 months.
Subaru
Now through Jan. 31, Subaru is running a few different special offers on several of its top models, including 0% APR financing on new 2021 Outbacks. If you want a 2022 Outback, the special financing APR goes up to 1.9%. The same formula holds for the Legacy sedan, as well as the Impreza — 0% APR for a 2021 model and 1.9% special financing for a 2022 model. For other models — like the Forester, Crosstrek and Ascent — the formula moves to 0.9% and 1.9% APR for 2021 and 2022, respectively.
More From GOBankingRates 
Make Your Money Work for You