Toyota Admits Purely Electric Vehicle Use Is Years Away — Are 'PHEVs' a Better Value for Your Money?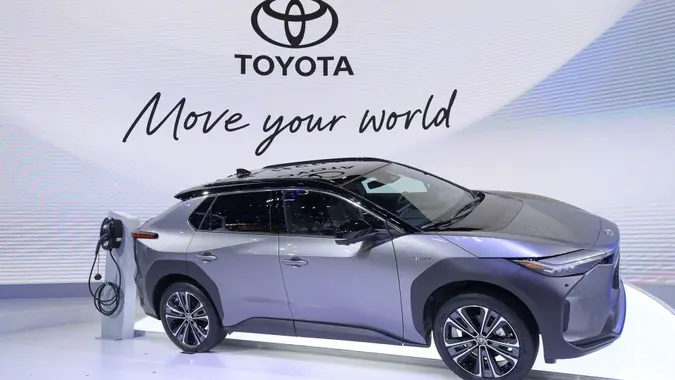 Vachira Vachira/NurPhoto/Shutterstock / Vachira Vachira/NurPhoto/Shutterstock
It's a pretty safe bet that Toyota won't be winning any awards for electric vehicle enthusiasm. The Japanese carmaker lags well behind other major auto companies in terms of producing EVs, and now the company has warned that the transition to electric cars will take longer than expected and that consumers should consider hybrids in the meantime.
At last week's Group of Seven summit in Japan, Toyota Chief Scientist Gill Pratt told the media that for now, hybrid gas-electric vehicles are a better fit than EVs for most consumers, Bloomberg reported.
Pratt cited a lack of available materials to produce enough batteries and build enough charging infrastructure to meet demand for EVs, even as government and industry officials push the transition to green transportation.
"Eventually, resource limitations will end, but for many years we will not have enough battery material and renewable recharging resources for a [battery-electric vehicle]-only solution," Pratt said. "Battery materials and renewable charging infrastructure will eventually be plentiful. But it will take decades for battery material mines, renewable-power generation facilities, transmission lines and seasonal energy-storage facilities to scale up."
Instead, new car buyers who can't afford EVs are advised to buy plug-in-hybrid-electric vehicles, or PHEVs. One fear raised by Pratt is that promoting EVs too heavily before there is enough infrastructure to support them could push more consumers to gas-powered cars, Jalopnik reported. That's one reason Toyota remains committed to hybrids, at least for now.
Make Your Money Work for You
Toyota's position comes as no surprise to industry watchers. The company has taken its time making a splash in the electric car market, which sets it apart from other traditional automakers such as Ford, General Motors, Hyundai, Volkswagen, Nissan, BMW and Mercedes Benz. Each of those firms made Edmunds' recent list of top 10 electric car companies (Tesla ranked first, while Rivian and Lucid rounded out the list).
Take Our Poll: Are You Planning To Buy or Sell a House This Year?

Nissan didn't make the top 10. In the "honorable mention" category, Edmunds noted that while Toyota is "one of the biggest automotive companies in the world," its first pure EV vehicle "arrived late to the party and didn't bring much new to the table."
More From GOBankingRates