What You Need To Know About Buying Your First Car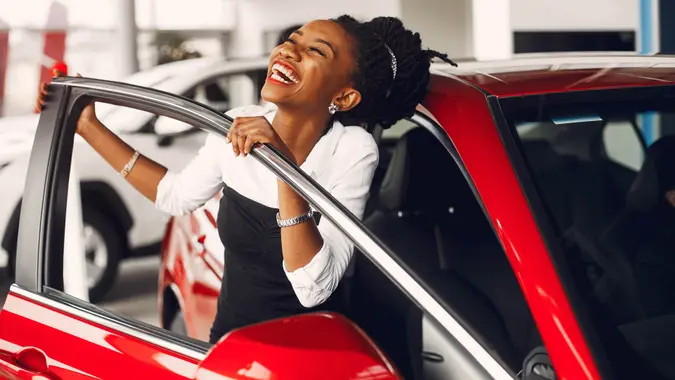 Oleggg / Shutterstock.com
So, you've checked your credit report, you're confident in your score, and you're ready to buy your first car. Congratulations — and if you've made it this far, you've probably already done the fun stuff like shopping online and comparing all those awesome features that you can't wait to try in person. 
Now for the not-so-fun stuff. 
To make sure you don't wind up with buyer's remorse for your first big-ticket purchase, GOBankingRates came up with a list of steps to take before you sign on the dotted line. Since the differences between buying new and used cars are too complex to address here, the following tips apply to both situations. 
Make Your Money Work for You
Budget For a Loan of 60 Months or Less
Just about anyone can make the monthly payments on just about any car if they string the loan out long enough, but being able to make the payments and being able to afford the car are two different things. 
When you extend the term, you lower the monthly payment, but you also increase the amount of interest you'll pay over the life of the loan. So how long is too long? According to Edmunds, if you can't afford the car without stretching the payments out beyond 60 months, then you can't afford the car. 
You can go up to a six- or even a seven-year loan to make the payments match your budget, but you shouldn't. The smart move is to go down a level in price and buy the car that matches your budget instead.
See: 15 Great Cars To Own for More Than 15 Years
Get Preapproved for Outside Financing First
The dealer always prefers that you borrow money through its in-house financing division, and it'll sometimes offer the best deal you'll find — but not always. If you go into the negotiation without backup, you'll be stuck with whatever the dealer offers. If you get preapproval from a third-party lender first, on the other hand, you'll get to compare what the dealer is offering to the loan you already have lined up. No matter your choice, you'll walk away knowing you got the best deal possible. 
Make Your Money Work for You
There's of course the option of a traditional bank, but you might do better with your local credit union, which is a member-owned nonprofit that can often deliver better rates than banks.
Put as Much Down as Possible Without Stretching Yourself Too Thin
Ideally, you'd buy a car with cash and pay no interest at all. Since that's just not possible for most people, a down payment of at least 20% — 10% for a used car — is ideal. In reality, even that is outside the realm of possibility for many. In fact, according to Edmunds, the average down payment is more like 11.7%.
That's not ideal. Less money down equals higher monthly payments, a higher interest rate in many cases, and more interest paid over the life of the loan. But it's certainly better than depleting your emergency fund or otherwise putting yourself in a situation where you might not be able to keep up with your car payments.
Make Your Money Work for You
Forget the MSRP — Learn the Car's Value
If you're buying new, your car will be advertised by its manufacturer's suggested retail price (MSRP) — literally, what the manufacturer suggests its dealers sell the car for. The manufacturer might offer rebates or other incentives to help the dealer sell, the dealer might slash the MSRP to get the car off the lot in a pinch, or you might wind up paying the full MSRP if you're after an in-demand model. 
Either way, it's your responsibility to find out what real people are actually paying for the same make and model in your local area. Kelley Blue Book, Edmunds and other top industry names all offer free tools on their sites that make it easy to arm yourself with that information before you start negotiating.
More From GOBankingRates
Make Your Money Work for You