Here's When Experts Say Gas Prices Will Finally Drop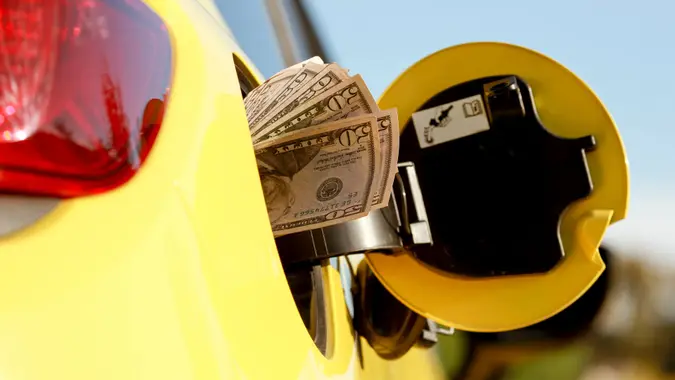 123ducu / Getty Images/iStockphoto
Gas prices have fallen slightly since reaching their peak of $4.33 per gallon on March 11, but drivers are still paying significantly more than they're used to. As of April 4, the average gas price was $4.192 per gallon, up from $2.87 a gallon on average a year ago, Fox Business reported.
See: The Best and Worst Things To Buy Generic
Important: In Less Than a Decade, You Won't Be Able To Afford a Home in These Cities
Unfortunately, most experts don't think we'll be getting major relief at the pump anytime soon. Here's when they predict gas prices will drop.
Gas Prices Will Remain High for at Least a Few 'More Months'
Lauren Fix, sector analyst and industry expert at The Car Coach and Car Smarts brands, said she expects gas prices to remain high for "more months."
"Overall inflation will likely get worse in April," she said. "The barrage of rising costs is taking a toll on consumers across the board. Inflation could start easing later in the year but is likely to remain high. Many experts have forecasted that the inflation rate will dip to 5.5% by September, [but] there are many variables in play that could change the rate."
Make Your Money Work for You
Oil prices are currently over $100 a barrel, Bloomberg reported, but even if the price drops, there will be a delay until this drop is reflected in the price of gas.
"If oil prices remain below $100 for a while, drivers may eventually see some relief at the pump, with prices falling below $4 a gallon," Fix said. "Sadly, gas prices fall twice as slowly as they rise after a major change in oil prices. This means if it took four weeks for gas prices per gallon to increase 25 cents, it would take them eight weeks to fall 25 cents once oil prices returned to their starting level."
Read More: Soaring Gas Prices and Car Shortage Lead to E-Scooter Surge — Will It Last?
Gas Prices Will Remain High 'for the Foreseeable Future'
Though Fix believes there's a chance prices will drop in a matter of months, other experts are less optimistic.
"Retail gasoline prices will remain high for the foreseeable future as global crude oil production has been on a very long-term trend of lower investment," said Campbell Faulkner, senior vice president and chief data analyst at OTC Global Holdings, an independent institutional broker of commodities. "Lack of investment in OPEC countries, along with the U.S. and Canada, have caused a slow-moving issue to finally coalesce into the public consciousness. The past decade has seen a large number of western governments turn against crude oil and natural gas production, greatly chilling private and public investment."
Make Your Money Work for You
He notes that a lack of return on investment in the U.S. for oil producers has kept the supply low.
"This has led to market conditions where zero spare OPEC capacity, the desire to shut in Russian sources, and private shale firms declining to invest will keep oil and distillate prices high until there is a global economic recession," Faulkner said. "The current energy pricing schema and global governments' mismanagement of COVID quantitative easing/direct disbursement (inflation) could tip a large number of economies into recession."
Faulkner said that it won't be until a recession hits that gas prices will finally drop.
"At that point, the consumer should begin to see an easing of energy prices as well as gasoline at the pump," he said.
It's Impossible To Predict When Gas Prices Will Drop
Dan North, senior economist at trade-credit insurer Allianz Trade North America, said that because gas prices are based on so many different factors, it's hard to predict when they will fall.
Make Your Money Work for You
"Trying to forecast commodity prices such as oil and the gasoline it's derived from is fraught with difficulties," he said. "In fact, some would say it's a fool's errand. For example, oil prices are driven over the long run by supply and demand. However, it can be highly influenced by other, shorter-term factors, such as trader sentiment, the value of the dollar, a supply line bursting somewhere, OPEC+ production agreements, somebody saying something offensive about a Middle Eastern country, etc."
North notes, however, that there are several factors that could lead to a drop in oil and gas prices.
"The first could be 'demand destruction,'" he said. "This is when prices rise so high that drivers start altering their habits, reducing the demand for gasoline and thus lowering its price. According to a recent AAA survey, 59% of those surveyed suggested that they would change their driving habits or lifestyle if gasoline reached $4. That has already happened, so, in theory, demand destruction should already be underway. This would be the most effective way to lower gasoline prices. However, the summer driving season is coming, and since people may be reluctant to change summer vacation plans, demand destruction may be counteracted. Furthermore, gasoline prices are 'sticky' — they don't come down as fast as they go up."
The end of the Russia-Ukraine war would also have an effect on gas prices.
"The end of the war could help temporarily lower oil and gasoline prices some. However, it is important to note that oil and gasoline prices had been rising rapidly well before the invasion began," North said. "Therefore, any decline would be back to still very high levels relative to when the economy bottomed out in April 2020. Of course, the war could end at any moment, so it is virtually impossible to say when it could happen."
Like Faulkner, North said that a recession would also lower gas prices.
"To reverse inflationary pressures, the Fed will have to raise rates very aggressively this year — perhaps so much that the economy could go into recession by 2023," he said. "That would lower gas prices."
Biden's decision to release 1 million barrels of oil per day from reserves can also help to cut gas prices, but likely not by much. As of April 4, they had dropped 14 cents from their March high, Fox Business reported.
"Releasing oil from the Strategic Petroleum Reserve may help temporarily, a little," North said. "Releasing 1 million barrels of oil per day would only cover about 5% of daily consumption, which is not much. In addition, it takes time to actually release the oil onto the market. After that, it takes more time to refine it into gasoline and transport it to gasoline stations."
More From GOBankingRates
Make Your Money Work for You