When Will Car Prices Drop?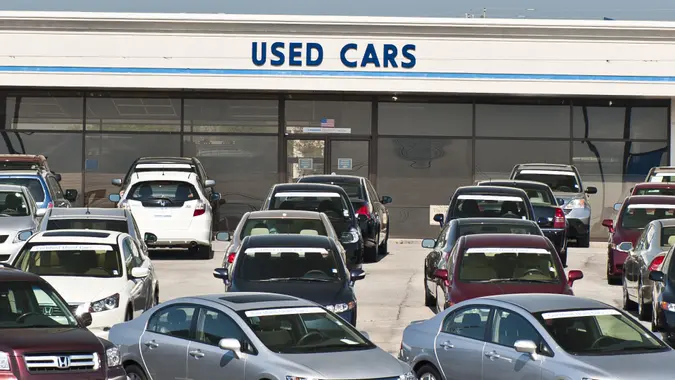 WendellandCarolyn / Getty Images
If you've been car shopping anytime within the past two years, you've surely noticed just how exorbitantly expensive cars have become. Additionally, there are just so few available. Last December a car dealer told the New York Times that all the cars on his lot were sold and that the market was "insane."
Alas, the car shortage — and car pricing — in America has only gotten more insane since then.
See: This Credit Score Mistake Could Be Costing Millions Of Americans
"Right now, auto dealer inventories remain at less than one month's supply," said Mike Darrow, president and CEO of TrueCar. "In June 2022, there were approximately 1.14 million new vehicle listings across the industry, compared to 2.6 million new vehicle listings back in June 2020 and more than double that two years ago with 3.9 million in June 2019, so you can see how tight things have become."
Make Your Money Work for You
The shortage is the primary reason why cars are so expensive right now — but it's a multilayered problem, and the burning question remains: When will car prices drop? The answer is also multilayered, but in short, car prices probably won't drop until 2023.
Why Are Cars So Expensive Right Now?
"The rise in car prices can be attributed to a number of factors, but mostly come down to two things: high demand and limited supply," said Ian Lang, senior car advice editor at Bumper. "The semiconductor shortage that coincided with the start of the pandemic continues to plague the auto industry. The shortage limits production and as a result increases vehicle prices."
Is There a Car Shortage?
There is a car shortage largely because of the semiconductor shortage. This shortage is hiking up car prices because there are so few cars that can be produced, and thus far fewer hitting the market than there were in pre-pandemic times.
"Currently, there are only a fraction of the cars for sale in the U.S. that were available before the pandemic," said Lang. "Since fewer new cars are being produced, manufacturers and dealers aren't offering the typical 'savings' or 'discounts' that were advertised previously. Dealers have found that buyers are willing to pay higher prices when the only other option includes not buying or having a car at all."
Make Your Money Work for You
How Much Does a Car Cost Right Now?
"In July, the average new vehicle sold for record prices of more than $48,000, according to data from Cox Automotive," said David Welch, Bloomberg's Detroit Bureau chief and author of "Charging Ahead: GM, Mary Barra, and the Reinvention of an American Icon."
For some perspective, note that in July 2021, the average new vehicle cost $43,355, according to Cox Automotive. In July 2020, the average new vehicle cost $38,378, according to Kelley Blue Book.
Though much lower than the price now, July 2020's average vehicle cost of $38,378 is still high. The price hike started in May 2020, when the semiconductor shortage started to be felt throughout the automotive industry. By the following fall, circumstances worsened. 
"Prices started climbing in May of 2020 when the semiconductor shortage started to bite," Welch said. "They really took off in September 2020 as the chip shortage got worse. Many dealers had just a handful of cars on the lot, so they weren't offering rebates or bargaining. In fact, dealers have been gouging car buyers by adding sometimes thousands of dollars in so-called 'market adjustments' to make bigger profit."
Make Your Money Work for You
Why Did the Pandemic Affect Cars?
"When Covid travel restrictions were at an all time high, the demand for new cars was at an all time low," said Edward Cole, automotive content publisher at Vehicle Unleashed. "Auto production went down [as did] microchip production."
Why Do Microchips Matter?
"Vehicles operate with numerous electronic microchips and when automakers needed to start producing vehicles again, the microchip suppliers weren't able to pump them out fast enough," Cole said.
What Will Make Car Prices Get Back to Normal?
"In order to lower prices, supply and demand need to be in balance," Lang said. "As the semiconductor shortage subsides, other production and supply chain bottlenecks will be resolved, and more new cars will be available. The used car market should also stabilize. This, again, will eventually and hopefully help to reduce inflation."
The lowering cost of gasoline should also help car prices drop.
"The recent gas price surge also compounded the situation, with new, high-MPG vehicles only lasting around 10 days on dealership lots," said Darrow. "As gas prices begin decreasing, that should help ease demand for those high-MPG vehicles."
When Will New Car Prices Drop?
Unfortunately, car prices are likely not significantly dropping this year and the auto industry has a while to go before it fully recovers.
"Industry watchers predict the chip crisis will not be resolved until at least 2023," said Lang. "In any case, it may be a while before dealer inventories recover to normal once carmakers resume full production capacity."
When Will Used Car Prices Drop?
It's not just new cars that are seeing untenably high prices, but used cars, too. This is because of the exact same issues: too much demand and not enough supply. With new cars flying off lots faster than dealerships can manage to replenish their stock, consumers are flocking to purchase used cars — and hopefully save some cash.
But finding a used car at a reasonable price isn't possible right now, and it probably won't be until the general problems — the microchip shortage, the lack of inventory and the supply chain bottlenecking — are resolved. Used cars will likely drop in price in 2023. 
Is Now a Good Time To Buy a Car?
With prices still crazy, now is not a good time to buy a car. Your best bet is to wait until the new year, or at least the end of 2022 if you can hold off.
When Will Be a Good Time To Buy a Car?
You will find better prices on cars in 2023, most likely, but some experts say that you might find a good deal as early as late fall/early winter of 2022.
How Can I Save Money on a Car?
There's no concrete way to save money on a car right now. The only possible way to cut costs is to trade in your older vehicle.
"If you have a car to trade in, regardless of if you are in the market for a new or used vehicle, you are in a better position [to buy a car]," said George Chamoun, CEO of ACV Auctions.  "Dealers will typically pay more than the average consumer for your car, so visiting a local dealership is always my recommendation."
Now Is the Time To Sell Your Car
"Although it's not ideal for buying a car, the high prices are providing a unique opportunity for people to sell their cars," Darrow said. "Our 'Sell Your Car' feature revealed that 54% of users intended to sell their car in Q2 2022, the highest consumer interest since Q4 2019."
Final Take
When car prices will drop is a complicated question, because so much depends on circumstances that are completely beyond the consumer's control — and also because even experts can only make a guess at the answer, rather than know for certain. That said, it seems safe to say that car prices will likely begin to drop toward the end of the year — but really begin falling in 2023.
Though car prices are not yet dropping, and we're seeing record high car prices, if you really need to buy a car and can't wait, then of course buy one — just do it smartly.
"Do your research first to find the best deal," said Moshe D. Pourad, CEO and co-founder of 26 Motors. "Make your car selection based on your needs rather than something you want."
Advice

A few more things to consider when shopping for a used or new car during this costly time:

Browse in other neighborhoods. Your local dealership may be the most convenient, but it may not be the best priced — especially if you live in a relatively high-end area. Consider driving — or even flying — out to other regions where the deals may be better. You never know.
Search on Craigslist and Facebook Marketplace. Buying directly from individuals on online sites like Craigslist and/or Facebook Marketplace can lead to savings on used cars. Often sellers are willing to negotiate — especially if they're hard up for cash or on a deadline to get rid of their vehicle.
Skip the add-ons. Would you like your windows tinted? How about a built-in GPS system or a sleek dash cam? These are all cool and convenient features, but they'll make your car purchase even more expensive. If these add-ons are important to you, consider that you can always get them at a later time, when things cool down.

And remember, if you have a used car to sell, go for it. Now is the time to get a great — if not downright insane — price.
Our in-house research team and on-site financial experts work together to create content that's accurate, impartial, and up to date. We fact-check every single statistic, quote and fact using trusted primary resources to make sure the information we provide is correct. You can learn more about GOBankingRates' processes and standards in our editorial policy.
Make Your Money Work for You