Quiz: Can You Tell Which Car Is More Expensive?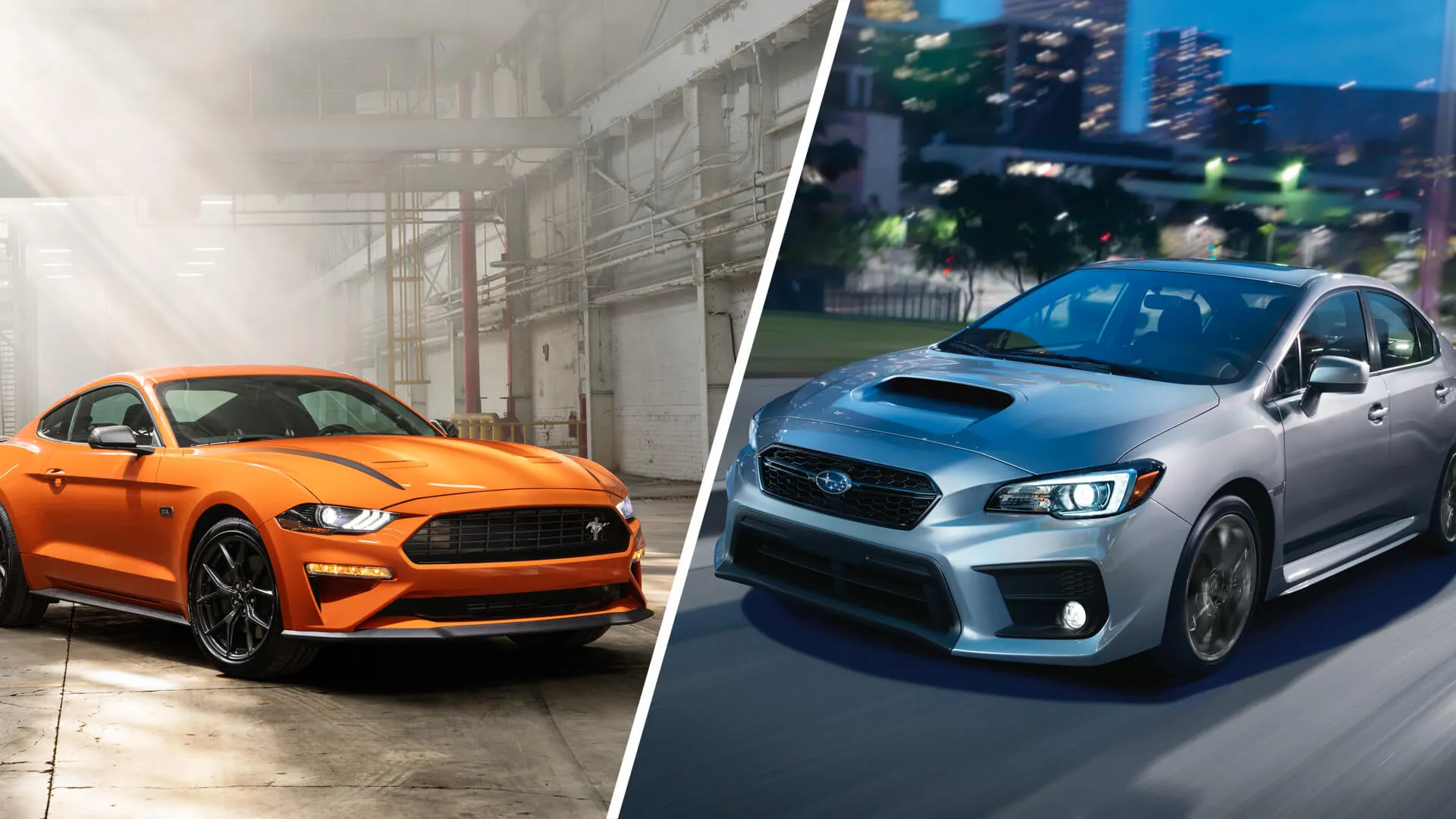 From horsepower and torque to top speeds and fuel economy, car lovers can recite specs like they're about to be tested. But even the most committed auto enthusiasts might get stumped if they had to guess which among two similar vehicles costs more than the other.
Think you know your stuff? Using the entry-level starting MSRP, GOBankingRates came up with this quiz to test your knowledge on a head-to-head price matchup for some of the hottest cars on the market today.
2020 Land Rover Range Rover vs. 2020 Mercedes-Benz GLS SUV
The Land Rover Range Rover has long been hailed for its nearly perfect blend of luxury and off-road capability — and the 2020 model is no different. What is different is the new hybrid plug-in powertrain and supercharged in-line six engine. The Mercedes-Benz GLS is another large luxury SUV —  but it's backed by the Mercedes name, which has been synonymous with quality and performance for generations. The GLS offers plenty of acceleration even on the base model and it has a true third-row seat that's spacious enough for several adults.
The Range Rover Is More Expensive
2020 Land Rover Range Rover: $90,900

2020 Mercedes-Benz GLS SUV: $70,150
Unlike most luxury SUVs, the Range Rover is a genuine off-road vehicle. Every model boasts adaptive air suspension and standard four-wheel drive. It's also more powerful and more fuel-efficient than previous incarnations. Not only does it have a hefty wading depth of 35.4 inches, it also has a built-in sensor that tells you when you're getting too deep for comfort.
Make Your Money Work for You
2020 BMW 2-Series Coupe vs. 2020 Toyota Avalon
The BMW 230i, which is the entry-level model of the 2-Series, brings more to the table than just the name "BMW." Its TwinPower Turbo inline four-cylinder 16-valve engine musters up 248 horsepower. Like the BMW, the Toyota Avalon has a variety of high-end tech features and an impressively trimmed interior, but it offers even more juice with a 3.5-liter V6 engine that cranks out 301 horsepower.
The Toyota Avalon Is More Expensive 
2020 Toyota Avalon: $35,800

2020 BMW 2-Series Coupe: $35,300
Although the Toyota brand doesn't conjure up images of dollar signs quite the way BMW does, you'll actually pay $500 more for the Avalon. The full-size sedan got a major upgrade in 2020 with TRD — that's Toyota Racing Development — a trim usually reserved for performance vehicles. The modern interior is fully stocked and specialized shock absorbers offer improved handling.
Tesla Model S (Performance) vs. Jaguar XJ
The all-electric Tesla Model S comes in two packages: Long Range and Performance. The Performance option puts up impressive numbers, including a stunning 2.4-second 0-60 acceleration and a top speed of 163 mph. The Jaguar XJ has a 3.0-liter 340 supercharged V6 engine. Known for luxury and performance, Jaguar spared no expense with the XJ's luxe interior.
The Tesla Model S Is More Expensive 
Tesla Model S (Performance): $92,615

Jaguar XJ: $76,000
Although the Jaguar brand has been synonymous with luxury since the 1920s, Tesla represents the peak of cutting-edge technology in the modern age. The Model S Performance package includes high-tech options like advanced safety autopilot and full self-driving capabilities. Two independent motors digitally control torque to the front and rear wheels, which offers much better traction control and handling.
Make Your Money Work for You
2019 Mercedes-Benz A220 Sedan vs. 2020 Nissan Maxima
The 2019 Mercedes A220 gets 34 mpg, seats five and is powered by a 2.0-liter inline 4 turbo engine that produces 188 horsepower at 5,500 to 6,100 rpm. The 2020 Nissan Maxima is also a sedan but is billed as a "four-door sports car." Its 300 horsepower goes a long way to backing up that claim, as does the V6 VQ engine that generates it.
The 2020 Nissan Maxima Is More Expensive 
2020 Nissan Maxima: $34,250

2019 Mercedes-Benz A220 Sedan: $32,500
Despite Mercedes' reputation for quality and engineering that doesn't come cheap, you'll actually pay more for the Nissan in this case. The Maxima lets drivers swap between normal and sport drive modes, while dynamic step shifting is made possible with its continuously variable transmission. Active ride control, intelligent cruise control and automatic emergency braking are all part of the package. 
2020 Nissan GT-R vs. 2020 Porsche 911 Carrera
The 2020 Nissan GT-R is a 50th-anniversary homage to the legendary race car that was the 1971 GT-R. With 565 horsepower, 467 lb-ft of torque and standard all-wheel drive, it epitomizes lightweight mid-engine supercar performance. Then there's the Porsche 911 Carrera. The 911 goes back even farther than the GT-R to the early 1960s when it began its run of famous racing victories. Thanks to a 379 horsepower engine, the 2020 Carrera model tops out at 182 mph on the track and can do 0-60 in 4.0 seconds.
The Nissan GT-R Is More Expensive
2020 Nissan GT-R: $113,540

2020 Porsche 911 Carrera: $97,400
Even the vaunted 911 Carrera won't set you back as much as the 50th anniversary GT-R. A true midship supercar, the GT-R is powered by a 3.8-liter twin-turbo V6 engine with an IHI turbocharger mounted on each bank. It's contoured for drag-reducing aerodynamics and the interior is luxurious down to the smallest details.
Make Your Money Work for You
2020 Ford Mustang vs. 2020 Subaru WRX
The world met the Ford Mustang in 1964 and the wildly popular pony car quickly won America's heart. The 2020 model builds on that tradition. Like all Mustangs, it makes plenty of noise thanks to a 2.3-liter high-performance 310 horsepower engine. Turbocharging and direct injection add to the power. Like all Subarus, the 2020 WRX comes standard with symmetrical all-wheel drive. It handles well thanks to a track-tuned suspension and maxes out at 268 horsepower.
The Subaru WRX Is More Expensive
2020 Subaru WRX: $27,495

2020 Ford Mustang: $26,670
Even though it can't keep up with the Mustang's horsepower, the Subaru costs more. Its direct-injection turbocharged Subaru Boxer engine, however, is no slouch — nor are the Brembo performance brakes. Subaru Starlink multimedia is the brains of the cockpit's technology suite, while classic Subaru traction and handling make it a reliable all-weather, four-season ride. 
2020 Ford Fusion Hybrid Titanium vs. 2019 Lexus UX Hybrid
The 2020 Ford Fusion Hybrid Titanium gets an impressive 43/41 city/highway mpg. A 2.0-liter i-VCT Atkinson-cycle hybrid engine and electric motor make it move, while regenerative antilock braking makes it stop. Then there's the luxury 2019 Lexus UX Hybrid, which features an in-line 4 engine that produces 169 horsepower. It gets a combined 33 mpg.
The Ford Fusion Hybrid Titanium Is More Expensive
2020 Ford Fusion Hybrid Titanium: $34,595

2019 Lexus UX Hybrid: $34,150
Although the Lexus brand is known for big price tags, the Ford actually costs more, albeit only by a few hundred bucks. The Fusion Hybrid Titanium gets much better fuel economy than the Lexus — which is kind of the point of a hybrid — and it boasts a variety of tech goodies and driver-assist features, including pre-collision assist, auto emergency braking and a lane-keeping system.
Make Your Money Work for You
2020 Cadillac Escalade vs. 2020 Toyota Land Cruiser
When the Cadillac Escalade debuted at the turn of the 21st century, it instantly defined the luxury SUV segment, and that tradition continues two decades later. The 2020 model is big, luxurious, sleek and powerful — 420 horsepower powerful, to be exact. The Toyota Land Cruiser has built a reputation for finding the sweet spot between capable and comfortable, and the 2020 stands on the shoulders of not 20 years of history and innovation, but more than 60.
The Toyota Land Cruiser Is More Expensive
2020 Toyota Land Cruiser: $85,315

2020 Cadillac Escalade: $75,195
The 2020 Toyota Land Cruiser will run you about $10,000 more than you'd pay for the Escalade, but you'll get a huge 5.7-liter V8 engine and an eight-speed transmission. It's not just a luxury SUV — it's also a capable off-road vehicle that offers both multi-terrain select and crawl control. The inside is posh but functional, with optional features like a cooler box.
2020 Chevy Corvette Stingray vs. Alfa Romeo 4C Spider
Few brands define luxury and performance more thoroughly than Alfa Romeo, and the 4C Spider is everything you'd expect from an Italian automaker with one foot on the road on the other on the track. The 4C has a 1750 turbocharged four-cylinder engine that churns out 237 horsepower. The Corvette Stingray is an instantly recognizable icon and the 2020 model is a mid-engine masterpiece with a racing-inspired 6.2-liter LT V8 engine. It's also incredibly sleek; even the door handles are hidden to streamline the body.
The Alfa Romeo 4C Spider Is More Expensive
Alpha Romeo 4C Spider: $67,150

2020 Chevy Corvette Stingray: $59,995
The new Stingray is surprisingly affordable for the performance, luxury and power it delivers. The 4C Spider costs a bit more but offers 237 horsepower, a top speed of 160 and the ability to launch from 0-60 in just 4.1 seconds. Backup cameras and parking sensors are just some of the tech and driver-assist features, and the DNA Pro Drive Mode Selector tailors the driving experience to whoever is lucky enough to be behind the wheel.
Make Your Money Work for You
Porsche 718 Boxster vs. Chevy Camaro ZL1
The 300-horsepower 718 Boxster is 100 percent Porsche — it jumps from 0-60 in fewer than five seconds and hits 170 mph on the track. The ZL1 delivers all the power you'd expect from a Camaro but also offers impressive braking and handling technology. Magnetic Ride Control takes only milliseconds to adjust to changes during cornering. The ZL1 is also equipped with a sophisticated Brembo braking system.
The Camaro ZL1 Is More Expensive
Camaro ZL1: $62,000

Porsche 718 Boxster $59,000
The Camaro costs $3,000 more than the Porsche, but think about the power that $3,000 buys. Sure, the 718 Boxster generates an impressive 300 horsepower. But the Camaro more than doubles that, cranking out a massive 650 horses thanks to a supercharged 6.2-liter LT4 V8 engine.
2020 Jeep Gladiator vs. 2019 Ford Super Duty F-250 XL
Jeep in the front, mid-size pick-up in the back — that's the 2020 Gladiator, the vehicle that Jeep lovers have been waiting for. It boasts a best-in-class 7,650-pound towing capacity, a 1,600-pound payload and all the off-road ruggedness and reliability you'd expect from a Jeep. The Ford Super Duty F-250 XL was tested for more than 12 million miles, its frame is built from fully boxed high-strength steel and the truck is extra durable thanks to a solid steel front axle.
The Jeep Gladiator Is More Expensive
2020 Jeep Gladiator: $33,545

2019 Ford Super Duty F-250 XL: $33,150 
You'll spend a few hundred bucks more for the Gladiator but your ride won't be mistaken for any other vehicle on — or off — the road. Its soft, comfortable, tech-heavy interior is contrasted with classic Jeep off-road capabilities. The Gladiator boasts a 3.6-liter V6 engine that offers 285 horsepower and its five-foot, all-steel cargo bed comes standard with a three-position tailgate.
Make Your Money Work for You
2019 Audi A3 Sedan vs. 2020 Volvo S60 Sedan
Audi means luxury, but the A3 sedan is also a 2019 top safety pick. Sleek and sporty, the A3 is driven by a 2.0-liter four-cylinder engine that can produce 184 horsepower. Volvo, too, is known for safety, but like the Audi A3, the 2020 S60 sedan provides an even blend of safety and luxury. It also has a powerful engine, advanced chassis and responsive steering.
The Volvo S60 Sedan Is More Expensive
2020 Volvo S60 Sedan: $36,050

2019 Audi A3 Sedan: $33,330
The Volvo Safety Cage is one reason the brand is synonymous with safety, and it's not missing on the S60. The car also has an engine that can crank out an impressive 400 horsepower — and it's not just any engine. The plug-in hybrid model comes with an S60 T8 twin engine with zero-emission capability.

2019 Cadillac XT4 vs. 2019 Mazda CX-5
The 2019 Cadillac XT4 is a crossover that offers all the luxury and performance you'd expect from a Cadillac, including an all-new 237-horsepower turbocharged engine and a nice menu of safety features and tech goodies. The Mazda CX-5 has an even higher 250 horsepower as well as predictive all-wheel drive.
The Mazda CX-5 Is More Expensive
2019 Mazda CX-5: $36,890

2019 Cadillac XT4: $34,795
The CX-5 costs a little more, but you get not just the 250 horses but also 310 lb-ft of torque — all at a mild 2,000 rpm. There's no turbo lag when you hit the gas thanks to a smart dynamic pressure turbocharger, while the interior is packed with premium materials and craftsmanship.
More From GOBankingRates
Photos are for illustrative purposes only. As a result, some of the images may not reflect the specific year or trim listed in this article.