With Gas Prices Rising, Is Now the Time To Buy an Electric or Hybrid Vehicle?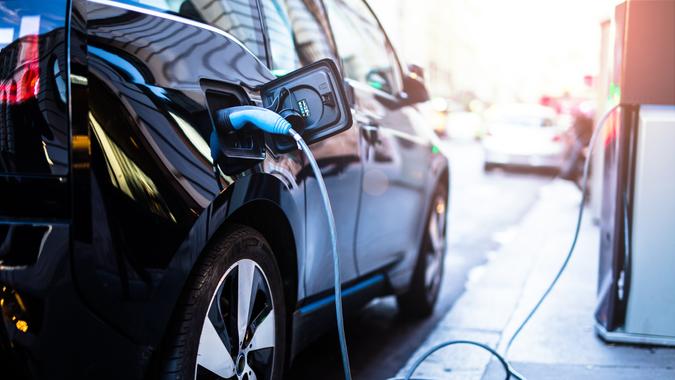 ©Shutterstock.com
Watching the numbers at the gas pump quickly turn in 2022 has been anxiety-inducing, for sure. The digital numbers flip from a total of $10 to $20 to $30 to $40 — and higher — in the blink of an eye. It adds up quickly when regular unleaded gas averages $4.24 a gallon nationwide, or $5.87 in California, as it stood on March 22, according to AAA.
While those gas prices dropped a bit from earlier in March, when the national average hit a record high of $4.33, they're still 50% higher than the $2.88 average a year ago.
Which Costs More: Charging an EV or Filling Up Your Tank With Gas?
Find: The 6 Most Affordable Electric Vehicles
Maybe now you're thinking it's time to ditch your gasoline-powered car in favor of an electric vehicle or a hybrid. But does that make financial sense for you? There's a lot to consider. Learn more about the factors that go into deciding whether gas, hybrid or electric is right for you.
Make Your Money Work for You
Cost To Buy
Buying a new car has become a challenge because of problems impacting the global supply chain. According to Consumer Reports, manufacturers built 1.7 million fewer vehicles in 2021 than they did in 2019, largely due to a global shortage of semiconductors. Because of the lack of parts, some automakers even are shutting down factories and halting production to let the supply chain catch up.
So, even if you can find a hybrid or fully electric car to buy, don't expect much wiggle room at the negotiating table. And expect to pay much more — maybe $10,000 or more — than you would for a similar gasoline-powered vehicle.
The average purchase price for a new electric vehicle hit $60,054 in February, according to Edmunds. The average transaction price for all new vehicles — including electric models — was $45,596 in the same month.
Advice: 16 Unexpected Car Costs and How To Prepare for Them Now
The price of some new hybrid or all-electric vehicles can be offset by federal tax credits available on limited models. A list of cars that can make their owners eligible for tax credits is available on the Department of Energy's website.
Make Your Money Work for You
A tax credit is valuable as it reduces the total amount of tax you'll pay. If you owe $10,000 in taxes, and the car you buy is eligible for a $7,500 tax credit, your tax bill instead will be $2,500.
Ability To Charge
Whether you own a hybrid or an all-electric vehicle, you'll need a way to charge the car — and that's a huge consideration in deciding whether to make the switch. If you live in a single-family home with a garage, charging will be easier. If you live in an apartment building with a large parking lot, your ability to charge will be much lower.
Even with your own garage, you'll need to have enough charging capacity, and you might need to invest in at least a basic Level 2 charger, which CarGurus estimates costs about $425 — though they can run much higher.
"High gas prices make electric vehicles particularly appealing, but shoppers should be aware of the costs related to charging an EV," said Matt Smith, deputy editor of CarGurus. "For sure, plugging in at home will save folks money — it's cheaper to charge most EVs on a Level 2 home charger than it would be to fill up a typical SUV with gasoline. But EV owners should be prepared to do the majority of their charging at home if they want to reap those savings, and that means investing in a 240-volt charging setup."
Make Your Money Work for You
Cost of Charging Your Car
Just as gas prices vary by location, the cost of charging your car does, too. The cost of the electricity you use at home depends on the price you pay per kilowatt hour.
According to the U.S. Energy Information Administration, the cost in December 2021 averaged 13.75 cents per kWh. It ranged from 11.34 cents per kWh in one four-state region of the South to 22.04 cents in the Northeast. In Hawaii, it was 35.57 cents.
So what does that mean for your bottom line? Kelley Blue Book estimates your electric car can travel 3 to 4 miles per kWh. If you drive your car 900 miles a month, divide that by three to determine that you use 300 kWh. At the national average of 13.75 cents, you'll spend $41.25 to charge your battery each month.
Discover: 30 Cars With the Highest Resale Value
If you need to mix in public pay charging stations, your costs will exceed what they are at home.
Your gas-powered car? If you average 30 miles per gallon, you'll need 30 gallons to travel 900 miles. With gas at an average of $4.24 per gallon, you'll spend $127.20 on gas per month.  
Now or Later
Because electric cars reduce the impact on the environment and the need for oil, the Biden administration has set 2030 as the target for 50% of all vehicles sold to be electric. The administration also is pushing to build a network of charging stations in support. In January 2021, California Gov. Gavin Newsom signed an executive order that will eliminate sales of internal combustion passenger vehicles by 2035 in the state.
So it seems inevitable that, at some point, you'll be buying an electric vehicle. But is now the right time for your family, lifestyle and budget?
"There are very few scenarios in today's market in which the impulse purchase of a new vehicle — EV or not — just to save on fuel costs will result in savings," Ivan Drury, Edmunds' senior manager of insights, said in a news release. "Once you factor in the monthly payment and insurance costs, you're likely going to be spending more than you will save in gas.
"But, if you're already in the market for a replacement vehicle, you could view this surge in fuel prices as a reminder that, although many other aspects of vehicle ownership have set monthly costs, fueling can vary significantly. Since purchasing the most fuel-efficient vehicle possible is the only way to minimize this variable, now might be the time to consider a partially or fully electrified powertrain."
More From GOBankingRates
Make Your Money Work for You