5 Smart & 3 Stupid Ways to Establish Emergency Funds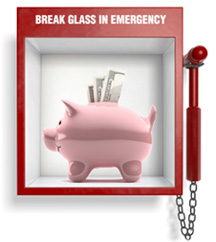 What's an "emergency"?
An emergency fund exists to cover unexpected costs that would otherwise destroy our budgets or put us in debt. From car accidents to illnesses that can keep you out of work to losing your job or having to take care of a sick parent to needing to replace the transmission in your car or needing to fix a broken pipe in your home, emergencies are any costly, unforeseen event.
Calculate your Costs
Financial advisers typically suggest your emergency fund should contain anywhere from 3 to 9 months worth of living expenses. The calculated amount does not have to equal that many months worth of your salary, but only what you need to cover the essentials: pay the rent or mortgage, pay your other bills, make minimum payments on any credit cards, repay debt, buy food and make the car payment. The point is that you don't want to lose what you already have.
Make Your Money Work for You
Sponsors of
In the event of a "real" emergency, such as an illness or accident that keeps you from working, the approximate costs of health insurance (remember to note your annual deductible and be sure to have enough to cover that) and medical bills should also be factored in.
In the process, you will be forced to closely examine your budget. While you're at it, you may as well evaluate the state of your current cash flow and see if there's anything to improve!
3 Stupid Steps to Establish an Emergency Fund: We do NOT recommend these…
1. Take the credit card approach. You already have credit cards, so why not put them to use? When emergency strikes, build up your balance by putting everything on cards. This isn't the best approach for two reasons: one being that your fund is only as high as your credit limit and the number of cards you own, the other is that you will then have to pay interest and set yourself back even further.
Make Your Money Work for You
Sponsors of
2. Tap into your existing assets. If you have a considerable 401k or a beautiful home, you can always borrow on these – rob your future to pay for your present. This also has two big problems, one is the fact that by nature these are not liquid assets (and your emergency fund truly should be liquid), the other is that it's a huge risk. Along with extra fees and potential penalties, you could potentially harm your assets – which is what you're trying to protect from the get-go.
3. Build up your fund, then raid it for fun! Take a trip, a wild shopping spree or buy a home with your new-found savings. Because an emergency fund should be liquid and easily accessible, if you lack discipline you can easily be tempted to tap into these funds for impulse purchases, like a weekend in Las Vegas or a new flat screen TV.
Make Your Money Work for You
Sponsors of
5 Smart Steps to Establish an Emergency Fund:
1. Isolate your emergency fund from all other savings and investments you may have. If you keep your emergency fund compartmentalized, you will not think of it as another source for spending. A great place to house this fund is in a high interest savings account. Remember, this fund should be easily accessible.
2. Put all your extra savings in this account until you hit your desired number. If you need to speed up the process (say you're short and your company is talking layoffs), you can halt your 401k, IRA, or child's college education contributions. You can turn these back on later, and protecting yourself now is a priority.
3. Once you have built up to the minimum fund level (about 3 months) you can also consider putting a portion of it into another investment vehicle – like a certificate of deposit, or CD, to earn a higher interest rate. Make sure to shop around for the best CD rates possible. Usually longer term CDs will get you the best CD rates. Again, a CD is less accessible and defeats the first purpose of an emergency fund. Remember to only put a portion into a CD, and do not lock it up for too long.
4. Once you have hit your target number for a full nine months, start investing and build up your portfolio.
5. Whenever you take money out of your emergency fund, prioritize replacing the lost funds as soon as you can. Once it has returned to your desired amount, you can resume investing.
When it comes to improving personal finances, most people immediately think to put their money to work for them by investing and thereby increasing their capital. But before you invest, you should first protect your finances and establish an emergency fund ready to cover any unexpected and immediate needs for liquid cash.
The real financial horror stories are never about those who neglect their investments, but rather about those who fail to protect their assets. At minimum, make sure you have the best CD rates and savings/checking account interest rates possible.

There are many ways to protect your assets and establish emergency funds. Do you have an emergency fund? How do you protect yourself from unexpected costs?