Are Tuition Payment Plans Offered by Colleges a Better Option Than Student Loans?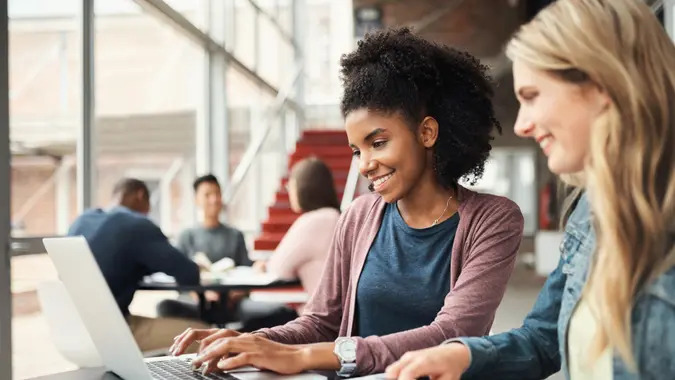 shapecharge / Getty Images
Students and their families have traditionally relied on student loans to cover tuition costs for higher education. However, in recent years, colleges have introduced tuition payment plans as an alternative way to manage educational expenses. These plans allow students and families to pay tuition in installments during a semester or quarter, rather than facing the burden of a lump sum payment.
But are tuition payment plans a better option than student loans? There are pros and cons you should consider to help you make an informed decision.
The Pros of Tuition Payment Plans
Here are a few reasons a tuition payment plan might be a good option.
Interest-Free Option
One significant advantage of tuition payment plans is that they often come with no interest charges. This means that you won't accrue additional debt over time, which can be a big relief compared to student loans, which can accumulate interest from the moment they're disbursed.
"A tuition payment plan is an excellent resource for families to use to help pay for college," said Tom O'Hare, an independent education advisor and founder of Get College Going. "They are interest-free, with a small application fee — $60-$100 per year — and allow families to make monthly payments based on their financial resources. My position is that tuition bills financed through a payment plan can reduce a student's long-term education debt after graduation."
Make Your Money Work for You
If the idea of accruing interest on a student loan worries you, a tuition payment plan with no interest charges is certainly appealing.
Convenient Payment Structure
Tuition payment plans provide a structured way to manage education costs. They break down the total tuition into smaller, manageable payments spread over the course of a semester or quarter, making it easier to budget for educational expenses.
No Need for Loan Approval
Unlike student loans, which may require credit checks and approval processes, tuition payment plans are typically available to all students and their families. This can be especially beneficial for those with limited credit history or concerns about loan approval.
If you have concerns about credit approval for student loans, tuition payment plans are typically more accessible.
The Cons of Tuition Payment Plans
On the other hand, there are some reasons you might want to avoid a tuition payment plan.
High Fees
One of the main drawbacks of tuition payment plans is the potential for high fees. Many plans charge enrollment fees and late payment fees, which can add up over time. In some cases, even if the payment plan itself is interest free, the late fees can incur interest.
According to the Consumer Financial Protection Bureau, there may have been cases in which students were enrolled in a tuition payment plan without their consent and were charged the associated fees.
No Deferral Option
"Payment plans typically require immediate payments at the start of each semester or quarter, which can be challenging for families with limited cash flow," said Jennifer Finley, content manager at Academic Influence.
Make Your Money Work for You
She added that student loans, on the other hand, offer the advantage of deferred payments until after graduation or leaving school. This helps ease the immediate financial burden of tuition.
Lack of Consistency
The disclosure of information about tuition payment plans can vary significantly from one college to another. Some schools explicitly state that these plans are not loans, while others consider them educational loans. This lack of consistency can lead to confusion among students and their families, potentially leading to late payments, disenrollment or eviction during the school term.
You should carefully examine the disclosure practices of your chosen college's tuition payment plan to ensure you understand all the associated costs and potential consequences.
Debt Collection Practices
The aggressive debt collection practices associated with tuition payment plans can be a significant concern. Late payments may lead to consequences such as disenrollment, eviction during the school term, or referral to debt collectors. Some colleges have required students to waive their right to participate in class action lawsuits in case of disputes.
But if you can afford to pay tuition in installments without incurring high fees or late payment penalties, tuition payment plans may be a viable option.
Which Is a 'Better' Option?
The choice between tuition payment plans and student loans ultimately depends on your individual financial situation and preferences. Consider your long-term financial goals and how student loans or tuition payment plans fit into your overall financial strategy.
While tuition payment plans offer advantages such as interest-free payments and accessibility, they also come with risks, including high fees and inconsistent disclosures. Whether they are a better option than student loans depends on your specific financial circumstances and priorities. It's essential to carefully evaluate the terms and conditions of both options and choose the one that aligns best with your goals and budget.
More From GOBankingRates