Back to School: 5 Items To Shop for Early and 5 You Can Wait To Buy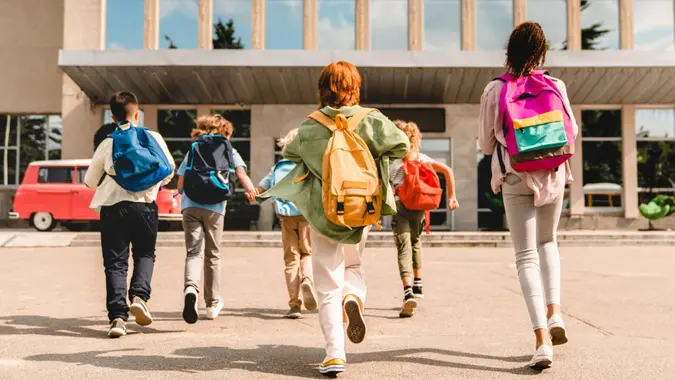 Inside Creative House / Getty Images/iStockphoto
Back to school season often comes too quickly for parents (and kids). You're still enjoying the last warm, leisurely moments of summer, and suddenly it's time to start buying school supplies, setting alarms, and packing lunches again.
Here It Is: Our 2022 Small Business Spotlight
Learn: 7 Things You Should Never Do When Planning for Retirement
Considering that the average household will spend an expected $864 on elementary and secondary school supplies this year, according to the National Retail Federation, that's a hefty chunk of change you'll want to carefully consider how to spend. To save you some trouble for now, we broke down five school supplies you definitely want to shop for early — and five you can wait to buy later.
Buy Now!
No matter what you're buying, you really should start your school shopping early, according to the Kids Activities blog. This will help you avoid the last-minute crowds and take advantage of back-to-school sales that start cropping up before summer is over. Here are the items most beneficial to buy early:
Computers or Laptops and Other Tech
If it's time to replace or furnish your child with a laptop, tablet, or other piece of tech that they need at school or for homework, you'll want to jump on the early back-to-school sales. These are going to be the highest priced items on your school shopping list, but like all other in-demand items, the best ones and best deals in your price range will probably sell out fast.
Make Your Money Work for You
Clothing
If you haven't bought your child new clothing since the end of last school year, there's a pretty good chance they've grown out of at least half of it over the summer — when kids notoriously shoot up like weeds. So not only will their wardrobe be in serious need of an upgrade, but back-to-school sales on clothing will be happening at the end of summer.
According to the Krazy Koupon Lady, places like Old Navy, JCPenney and Walmart will have a lot of great back-to-school deals on clothes that you don't want to miss.
Take Our Poll: Do You Tip for Service?
Backpacks
Perhaps one of the most important and coveted school supplies is the backpack that holds it all. Kids are often carrying around a tremendous number of things, from books and Chromebooks to binders and lunches. You don't want to be picking through the dregs of shoddy backpacks when your kid needs something sturdy.
Additionally, if you're ordering one online at the last minute through a retailer like Amazon at the height of school shopping chaos, they are often out of stock. Don't find yourself in such a lurch.
Make Your Money Work for You
A Good Binder
Remember that not all school supplies are built the same. While the dollar store might seem like a great place for cheap supplies, kids need a sturdy binder that can hold folders, papers, pencil cases and more without falling apart midway through the year. And anything worth buying will likely sell out quickly.
Mechanical Pencils
Generic pens and pencils can always be purchased in droves, but for the nicer handling, refillable mechanical pencils, you don't want to wait. This hot ticket item will likely sell out fast.
Wait to Buy!
Not everything on your kids back-to-school supply list is an urgent need. Here are a few items you can probably wait to buy:
Notebooks
Your kid will definitely need some kind of notebooks, composition books, or paper journals, but most teachers have a specific kind they want for their classes. Don't rush to buy what usually abound until you know what kind, and how many, your kid will need. These are the kinds of things that it's worth buying at places like Dollar Tree, because quality isn't as big of an issue.
Make Your Money Work for You
Headphones
Most kids need some form of headphones these days, with more and more computers in classrooms. But don't rush to buy expensive AirPods, noise canceling headphones, or gaming headphones until you know what the teachers require and allow. A simple set of earbuds may do the job, and you can find these in generic form just about anywhere headphones are sold.
Glue Sticks
It's kind of hard not to go a little bananas when you hit that school supplies section. However, things like glue sticks, while they seem useful, are often not necessary for every grade. Children in elementary school may need them, while middle and high schoolers may not, so those should be on your wait-and-see list when teachers offer specific requirements for their classrooms.
Pens
Unless your kid has a fixation on a very specific kind of pen, this is one item you're rarely going to see go out of stock. There are always multiple brands and versions of pens. Many schools don't even allow kids to write in ink (unless it's erasable), so buying these is probably just a waste of time. Wait and see what teachers require.
Brand Name Stuff
No matter what it is, your savvy kid (particularly teens) are always going to try and talk you into buying the more expensive, brand name items because they're cooler and they want to fit in with other kids. But, according to CNBC, this is just a waste of your money.
The best thing to do instead is draw firm boundaries, but if that doesn't work — seek a compromise. Maybe you can offer to buy your child one brand name thing while the rest will be the more affordable options. Good luck!
More From GOBankingRates
Make Your Money Work for You