The Costs of Enrolling in Advanced Placement Classes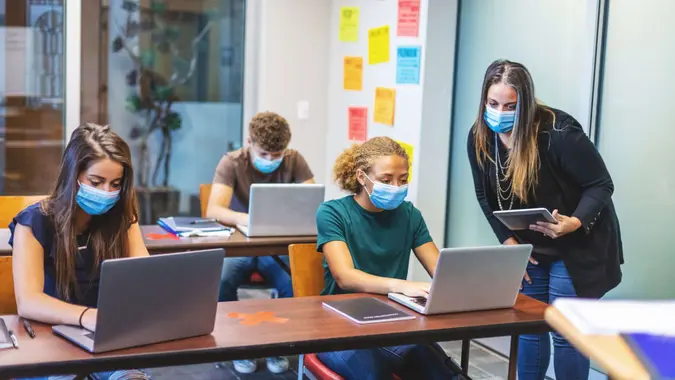 eyecrave / Getty Images
High school students may be offered the opportunity to take Advanced Placement classes, considered equivalent to a college-level course. These classes tend to be more challenging and offer a number of perks, including possible college credit (depending on AP exam scores), improved college admissions chances and could help students be better prepared for the demands of college classes. But they also come with a number of added costs that you may want to consider before encouraging your child to enroll.
See: 15 States Where Private School Costs More Than College
Read More: Here Are the 50 Most Expensive High Schools in America
AP Exam Fees
AP classes are meant to prepare students to take an exam at the end of the course, which can count toward college credits or advanced placement, depending on the student's score and which college they attend. But these come with hefty fees — $95 to $143 per exam.
Take a Look: Explore the Cost of Education in the United States

Make Your Money Work for You
Fee reductions are available, however. According to College Board, "If you have significant financial need, you may be eligible for a $33 College Board fee reduction per AP exam. Depending on your state, there might also be additional funding available to supplement the College Board fee reduction and reduce your cost even further. Check with your AP coordinator to find out what support may be available to you."
Money Advice: 21 Budgeting Tips for College Students
Tutoring
AP classes tend to be academically rigorous, so your child may need extra tutoring to keep up with the curriculum. The cost for tutors can vary. According to My Guru, pricing for private tutoring ranges from $49 to $129 per hour.
Vote: Should Teens Save for College or Retirement? Take Our Poll
Take a Look: 10 Online Colleges With the Most Affordable Bachelor's Degrees
Test Prep
Even if your child doesn't need a tutor to keep up with the demands of the class, you may consider hiring a professional to get them ready for the AP exam. Study Point recommends six 60-minute sessions of exam prep per subject, with costs for tutoring ranging from $60 to $150 per hour.
Find Out: 15 College Degrees That Won't Make You Money
Make Your Money Work for You
Extra Supplies
A graphing calculator is typically needed for AP calculus and AP physics courses. According to Conquer Your Exam, the Texas Instruments Nspire Graphing Calculator is the preferred choice for AP calculus — it's quite pricey at $145.
More From GOBankingRates
Last updated: Aug. 5, 2021
Make Your Money Work for You