Do You Make Enough to Put Your Kid Through College?
With tuition costs on the rise, will you have enough?
A college education can be incredibly valuable, but with total student loan debt approaching $1.5 trillion in the U.S., it clearly comes at a cost. With the cost of tuition on the rise, plenty of American parents might be wondering: What is it going to take for me to put my child through college?
Fortunately, a new study from GOBankingRates has estimated how much you'll have to earn to afford college in every state without taking out student loans or compromising on other necessities.
Click here to read about what this person wish they knew before paying for college.
The study looked at tuition and fees for in- and out-of-state students and then factored in how other basic costs in your state would add up. Then, after applying the 50/30/20 rule of budgeting to the figures — which says 50 percent of your after-tax income should be spent on "needs," 30 percent on "wants" and 20 percent given to savings and debt repayments — the study determined the minimum household income necessary to pay for college and live a comfortable life.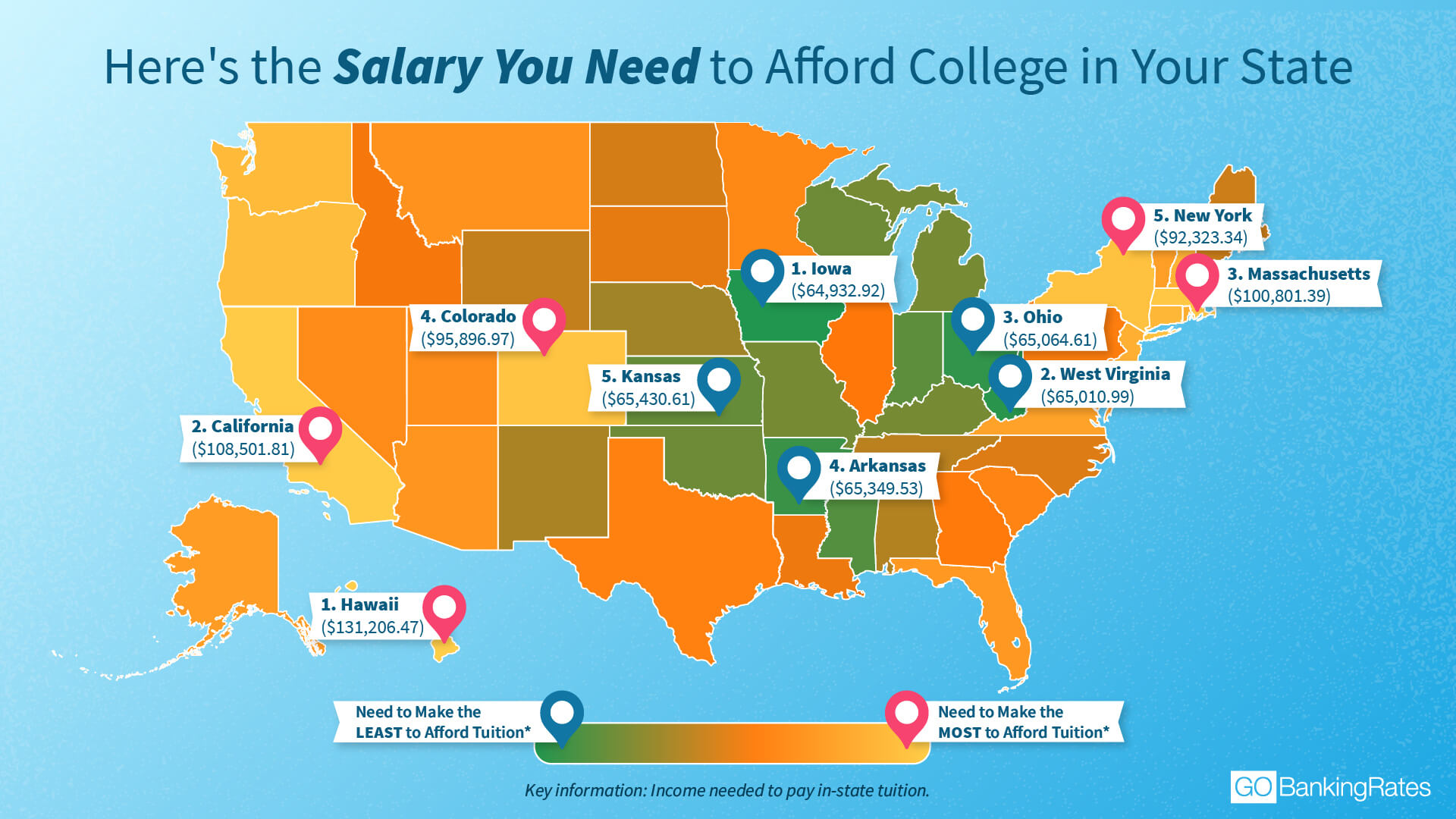 Find Your State: Here's the Average Cost of Education in Every State
The results demonstrate that growing tuition costs are clearly making it difficult for middle- and working-class families to send children to college. The lowest estimated salary needed is in Iowa, where you would need just under $65,000 to pay for college without missing mortgage payments or having to cut back elsewhere. However, that's almost $10,000 more than the median household income in America. Meanwhile, Hawaii residents would need over $130,000 to send someone to college and still make ends meet.
Although there's a clear correlation between tuition costs and the necessary salary, there are also some notable exceptions. In particular, New York and Michigan stand out as bucking the trend. New York is actually one of the states with lower tuition costs — it has the 11th-lowest average in-state tuition and fees at public institutions and the fifth-lowest average out-of-state tuition. Despite this, it ranks among the five worst states in terms of what it requires to afford college due to its sky-high cost of living and housing.
From Alabama to Wyoming: The Cost of Living Across America
Michigan is similarly interesting — but for opposite reasons.  The state has the sixth-highest average in-state tuition costs and the second-highest out-of-state tuition and fees. However, it's a relative paradise for the thrifty, with the cost of basic necessities and the median list price for a home both among the lowest in the country. Even with pricey colleges, Michigan still had the 11th-lowest necessary salary for living comfortably and sending a child to university.
Here's the full list of the salary you need in every state to afford in-state and out-of-state tuition:
Household Income Needed to Afford College
State
Income Needed for In-State Tuition
Income Needed for Out-of-State Tuition
Alabama
$71,912.73
$87,142.73
Alaska
$85,644.81
$101,044.81
Arizona
$83,303.54
$101,833.54
Arkansas
$65,349.53
$77,799.53
California
$108,501.81
$131,411.81
Colorado
$95,896.97
$115,696.97
Connecticut
$90,425.94
$107,055.94
Delaware
$86,696.20
$105,396.20
Florida
$83,754.63
$99,274.63
Georgia
$77,361.32
$95,551.32
Hawaii
$131,206.47
$151,636.47
Idaho
$76,747.11
$92,077.11
Illinois
$76,965.48
$86,825.48
Indiana
$65,473.37
$85,283.37
Iowa
$64,932.92
$82,212.92
Kansas
$65,430.61
$80,110.61
Kentucky
$68,880.86
$82,290.86
Louisiana
$75,468.71
$89,448.71
Maine
$73,965.93
$91,005.93
Maryland
$87,132.49
$99,612.49
Massachusetts
$100,801.39
$117,291.39
Michigan
$69,057.77
$92,967.77
Minnesota
$81,923.00
$91,513.00
Mississippi
$68,064.50
$79,134.50
Missouri
$69,468.85
$81,788.85
Montana
$82,665.86
$98,975.86
Nebraska
$70,089.64
$82,129.64
Nevada
$82,218.55
$96,458.55
New Hampshire
$89,996.04
$102,356.04
New Jersey
$88,690.06
$101,420.06
New Mexico
$70,385.90
$83,525.90
New York
$92,323.34
$103,883.34
North Carolina
$74,722.51
$91,862.51
North Dakota
$74,579.97
$85,799.97
Ohio
$65,064.61
$79,554.61
Oklahoma
$69,013.89
$83,073.89
Oregon
$91,701.63
$111,641.63
Pennsylvania
$77,542.10
$90,062.10
Rhode Island
$88,097.91
$104,777.91
South Carolina
$80,875.14
$99,615.14
South Dakota
$75,058.11
$79,088.11
Tennessee
$73,493.73
$90,343.73
Texas
$79,356.90
$95,726.90
Utah
$82,220.00
$96,160.00
Vermont
$85,785.25
$108,735.25
Virginia
$86,233.40
$106,683.40
Washington
$90,519.51
$110,339.51
West Virginia
$65,010.99
$78,670.99
Wisconsin
$68,887.17
$82,857.17
Wyoming
$73,871.43
$85,481.43
Click through to read more about the salary you need to afford the average home in your state.
Methodology: GOBankingRates surveyed monthly living expenses in all 50 states. The cost-of-living comparison included the following factors: (1) median mortgage costs by assuming a 20 percent down payment, 30-year fixed loan, the current Zillow interest rate for every state and multiplying that by 12 (1 year), sourced from Zillow's home price index and determined using Zillow's Mortgage Calculator; (2) annual groceries costs, taking the Grocery Cost of Living Index and multiplying by $10,139, which is the low-cost monthly grocery cost for family of four with children ages 6-8 and 9-11, sourced from Missouri Economic Research and Information Center's cost of living index; (3) annual electricity bill, sourced from the U.S. Energy Information Administration's 2016 average monthly bill data for every state; (4) annual vehicle ownership and usage costs, sourced from GOBankingRates' Most and Least Expensive States to Own a Car study; and (5) annual healthcare costs, sourced from the Henry J. Kaiser Family Foundation's 2016 data on the average family premium per enrolled employee for employer-based health insurance. Median income amounts are according to the Census Bureau's "Median Household Income by State: 1984-2015."  College tuition and fee costs at in-state public four-year institutions for 2017-2018 are sourced from the College Board.
Monthly costs were totaled and multiplied by 12 to get the annual dollar cost of necessities in each state. This dollar amount for necessities was then doubled to find the actual annual income needed to live comfortably in the city, assuming a person is following the 50-30-20 budgeting guideline, which requires an income double the cost of necessities. The amount of money specified for savings is equal to 20 percent of the total income needed, and the amount specified for discretionary spending is equal to 30 percent of the total income needed.
More on Saving Money on Education: