How to Apply for Scholarships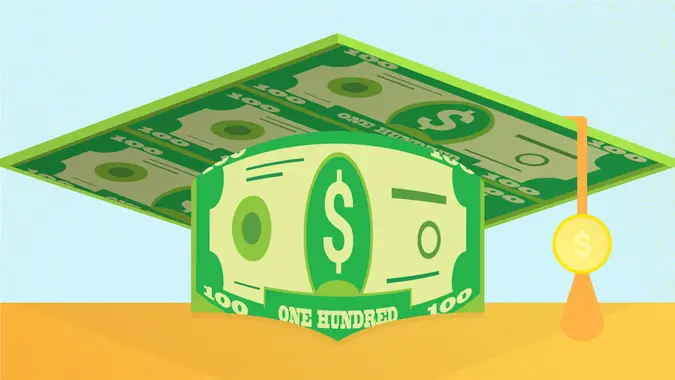 ©GOBankingRates
The younger you are, the more likely you are to have borrowed money for college. A Federal Reserve study released in 2016 found that among people age 60 and older, only 27 percent borrowed money for a bachelor's degree. That number explodes to 66 percent for people between ages 18 and 29.
The mean debt amount is over $30,000, according to the Federal Reserve, but you can make your college degree less costly by winning college scholarships. Though many scholarships target high school students, it's worth looking for one even if you're already in college. Scholarships are available for all different ages and grade levels, and when you're a college student, any options to pay for school can help.
Here are five things you should do when applying for scholarships:
1. Find Scholarships by Researching Your Options
The internet has made it easy to start your scholarship search and figure out how to pay for college. With a few clicks of a mouse, you can use sites and resources such as Fastweb, The College Board, Niche.com and Scholarships.com to narrow down thousands of scholarships to ones you're uniquely qualified for based on your age, race, affiliations and life circumstances.
And don't forget your high school's counseling office. Your guidance counselor might be able to tell you about local scholarships that don't get advertised online. In addition, the counselor can direct you to schools that are extraordinarily generous with financial aid packages or are likely to offer a merit scholarship to a student with your resume.
Make Your Money Work for You
2. Build a Winning Resume
The precise information required for each scholarship varies, but there are a few things you can expect to be required, including your school transcripts, SAT or ACT scores, resume listing your extracurricular activities, essays and letters of recommendation. Don't wait until senior year to throw together a resume at the last minute because these aren't things you can improve overnight.
If you get to senior year and have a 1.9 GPA, even a 4.0 fall semester isn't going to get your overall GPA over 3.0. And if you haven't been active outside of the classroom in prior years, it's hard to demonstrate dedication to a particular sport, instrument or other activity that might make you eligible for a scholarship.
Related: 6 Strategies to Win More Scholarship Money
3. Prepare Your Applications
Whether you apply for scholarships online or submit paper applications, read the application instructions carefully to make sure you're eligible and have provided the scholarship committee with exactly what it needs. If the committee asks for your resume in a certain format, match it. If the essays have a word count, stick to it.
Start preparing early for letters of recommendation so the recommender has time to write a quality letter. Pick a non-family member who knows you well and has seen you at your best. Good choices include a teacher in your favorite subject or coach of the team you captain.
Finally, don't reuse applications, even if they're for similar scholarships. Yes, customizing your application for each scholarship takes time, but it also reduces the risk of mistakes. A reference to the wrong organization or typos in your application can severely reduce your chances of winning. Having a parent, teacher or friend proofread your essays can help you avoid blatant errors that could get your scholarship application disqualified.
Make Your Money Work for You
Don't Be a Statistic: Average Student Loan Debt in Every State
4. Apply, Apply, Apply for Scholarships
Winning scholarships, especially in national competitions, can sometimes come down to a numbers game, so apply for as many as you can. Even small scholarships add up, and your chances of winning increase when there are fewer applicants. For example, a national scholarship competition might offer a $25,000 prize, but if it has 50,000 scholarship applications from across the country, your chances of winning are slim, even if you have an amazing resume. Your chances of winning a local scholarship competition are much higher if only a handful of people apply because it might offer a relatively small prize. Even a $1,000 scholarship can ease the burden of paying for college.
Beware of so-called scholarships that require a fee to enter or request personal information, such as your Social Security number, as part of the application process. These are usually scams.
5. Don't Ignore Federal Student Aid
Fill out the Free Application for Federal Student Aid as part of your college application process. Not only does this qualify you for federal aid such Pell Grants, it can also qualify you to receive need-based aid from the school. The FAFSA calculates your Expected Family Contribution, which colleges use to figure how much financial aid they'll offer.
Up Next: 9 Ways You're Leaving Free Money on the Table
Even if everyone has an equal chance, one in 50,000 means an estimated return of 50 cents for the national competition whereas a one in 10 chance for $1,000 has an estimated return of $100. Too many people ignore the small stuff — don't make the same mistake.
Make Your Money Work for You